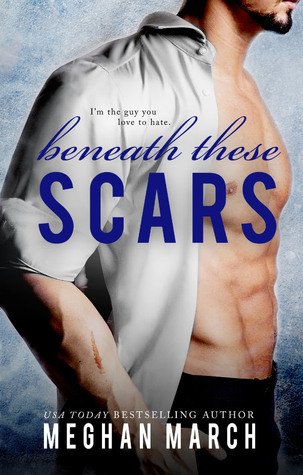 Beneath These Scars

by Meghan March
on September 22, 2015
Buy on Amazon
Goodreads


I'm the guy you love to hate.

In every story in my life, I seem to end up playing the villain—and I've got the scars to prove it.

That role works fine for me, because I'm sure as hell not anyone's hero.

I run my life and my empire with an iron fist—until she knocks my tightly controlled world off its axis.

She's nobody's damsel in distress, but I can't help but want to save her anyway.

I guess we're about to find out if there's a hero buried … beneath these scars.
I am taking this holiday week off to go back and read the books that I didn't get a chance to read when they were released. Meghan March's Beneath Series is one of my favorites – sexy, fun and suspenseful reads. And somehow this woman was able to accomplish the impossible – she made me fall in love with Lucas Titan!
Readers have met Lucas in prior books – Lucas is the man we have come to hate because of what he represents. Lucas is the arrogant jerk who blackmailed the heroine in book 2 and I have to say I HATED him. Until this book.
Lucas is still arrogant in Beneath These Scars but we learn more about the man behind the facade.  Yes Lucas goes above and beyond to obtain his success but I have to say that his arrogance, his demanding attitude made him SO HOT in this book.
Yve Santos is running from the man who abused her. She's sassy, independent, and a strong woman but her past makes her scared and untrusting around men.
The connection between these two is electrifying HOT HOT HOT. But more than that, these two scarred people couldn't be more perfect for each other as I saw in them the opportunity to heal one another. What's between them is more than sex, it's hope for a better tomorrow and a better life if they can open their hearts and let down their walls to obtain that happiness.
And will they?
Well, of course I won't tell you but I will say that this series gets better and better with each book. Meghan writes about great characters and gives readers stories that are exciting and romantic. The Beneath Series warms the heart and puts a satisfied smile on my face each and every time. This is a must read series from an author I love! I can't wait for more!
♥READ THE SERIES♥
Book 1 – Beneath This Mask
Book 2 – Beneath This Ink
Book 3 – Beneath These Chains
Book 4 – Beneath These Scars