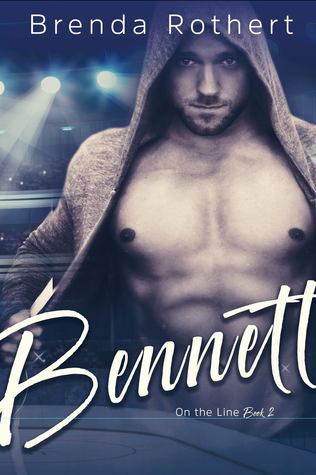 Bennett

by Brenda Rothert
on March 15, 2016
Pages: 236
Buy on Amazon
Goodreads


Bennett Morse devotes his time to chasing two things: an NHL career and women. He's the easygoing member of his three-man line on the Fenway Flyers, content to play the game he loves and soak up the female attention it brings – as long as it's from a different woman each time. He learned the hard way that choosing only one leads to heartache.

Newly single attorney Charlotte Holloway finds just what she needs in Bennett – a sweet, sexy man to ease the burn of her recent breakup. One night is all she wants from the left winger who seems to have all the right moves. Soon circumstance draws her back to Bennett, and the sparks between them become a fiery blaze. But with the stakes high, will they risk it all and put their hearts on the line?
OK, I am writing this review with the blurb next to me as I want to keep my review to only what is mentioned in the blurb.  
Bennett
 was a wonderful experience and I want the reader to experience it as I did for its range of emotions and for the beautiful way the story unfolds.
It should be noted 
Bennett
 takes place along the same timeline as
Killian
, book 1 in this On the Line series so 
Bennett
 can very easily be read as a standalone.
Bennett
 is the story of minor league hockey player 
Bennett
 Morse and Charlotte Holloway. All I am going to say about Charlotte is she is newly single, ok I will also add I so wanted to strangle her ex so many times in this one. The moment he became her ex (nope not cheating read the book), the moment he found out her secret, the moment he thought he could fix her problems… ugh yes he irked me, which means the author did a great job!
Bennett
, ah 
Bennett
, yes he is a hot hockey boy but more importantly there was so many times in this book that he melted my heart. I loved that 
Bennett
 wanted Charlotte, that he pushed, that he didn't give up on her despite her being scared. And I loved loved how Charlotte came first and he proves this in spades so many times, yes, once I wanted to reach into my kindle and strangle and hug him all at the same time for putting her first!
I loved this line from the book:
"Maybe that's why it's called 'falling in love' instead of 'slowly and carefully stepping into an amorous relationship."
The heartache in 
Bennett
's past was raw and touched my soul, as did his questioning the why around it. The what if's and the action he chooses because of it.  How he finally tells Charlotte was so powerful, his emotions bleed off the pages.
"I cared for her so much it hurt sometimes. It was how I was feeling about Charlotte right now. My feelings for her were an out-of-control freight train, barreling down the tracks. I'd vowed not to let this happen again, but not only did I think it wasn't possible to stop the train, I didn't want to."
There were times in this book that Liam (the third linemate whose story is yet to be told) made me laugh, there were times I wanted to strangle him but in the end I can't wait for his book next!
Just wait til you see the role Liam plays in this one, nope not a menage or love triangle – sooooooo far from it… read the book!
Thank you, Ms. Rothert for the Fenway Flyers men and for this powerful and layered story.
♥ Books in the Series ♥