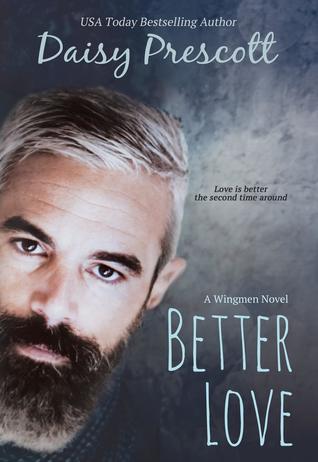 Better Love

by Daisy Prescott
on November 1, 2016
Pages: 266
Buy on Amazon, Buy on B&N, Buy on iTunes, Buy on Kobo
Goodreads


Maybe that old song got it right.

Maybe love can be better the second time around.

When one of my wingmen needs help, I'll do anything for him, including calling in a favor with the one person I swore I'd never speak to again.

Not after I walked away from that life five years ago and ditched the trappings of my success. The keyword being trap.

I left it all behind.

Including her.

Now the ambitious, brilliant, talented, and undeniably beautiful Roslyn Porter is back in my life. I'm not the same person she knew. I'm trying to be a better man.

***

No man is an island, but Dan Ashland comes close. He's content with his quiet life on Whidbey, a world away from the rat race on the other side of the ferry.

Dan has three great loves in his life: solitude, pizza, and Roslyn Porter.

Better Love is a standalone second chance romance featuring Dan Ashland and the fourth book in the Wingmen series.
I adored, truly loved so many elements of this story… but mostly I loved that it was about adults. Dan is a silver fox while Roslyn is an accomplished and driven woman.
To add to this silver fox and professional woman story love, it is a second chance romance! So two themes I gravitate to in a book!
The best thing for me about Better Love was that the changes in Dan were not about words but actions. You are a witness to a different man, he reacts different to situations than he did years ago, he wants different things from life, he has a different outlook and all of this makes this second chance romance work. As a reader, you can truly feel that now is the right time for Roslyn and Dan!
Dan the pizza man is so much more than he seems; having landed on the island for a simple life, I adored him knowing what was missing and desiring to go get it!
How Roslyn steps back into Dan's life was so believable and why Dan is now ready for forever was eloquently portrayed in this story and made for a second chance romance that touched me and one with a happy that had me grinning from ear to ear!
Thank you Ms. Prescott for making a forty something man sexy and romantic and desirable without being an alpha jerk!
This book can easily be read as a stand alone.