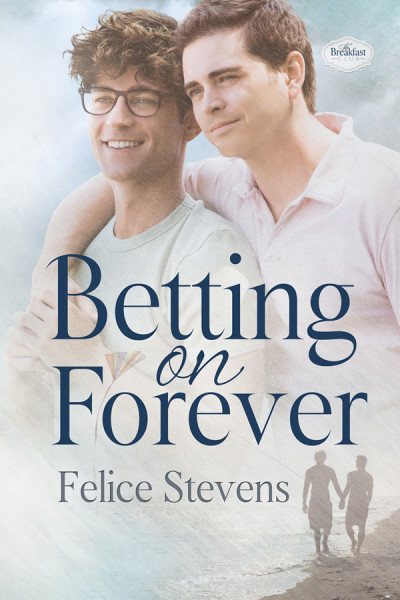 Betting on Forever

by Felice Stevens
on November 17, 2015
Goodreads


A weekend fling in Atlantic City couldn't be more out of socially shy Zach Cohen's comfort zone, but a bet with his best friends forces him to put aside the humiliation he's hidden for years, stepping away from his computer screens and on-line world. When he meets Sam Stein, despite their spark, Zach expects nothing more than a night of passion and a kiss goodbye. Yet weeks later, he can't keep the man out of his head.

After a split second decision with tragic results ends his twenty year police career at the same time his relationship falls apart, Sam Stein is drifting through life. At his best friend's urging he agrees to a trip to Atlantic City to clear his head. What Sam doesn't plan on is meeting Zach Cohen, whose sweet nature and honesty has him thinking maybe he could move forward, until Zach leaves him without explanation, reinforcing Sam's belief that people can't be trusted.

Well-meaning friends refuse to let Zach and Sam hide from each other, forcing them to realize their weekend is much more than a one night stand. Before that can happen, Zach must come to terms with his past and stand up for his own independence, while Sam has to learn to take a chance and believe in himself and people again. All bets are off when dreams become reality and forever doesn't seem to be long enough.
I was so excited to read Zach Cohen's story, the mild mannered quiet member of the bunch!
Zach's first meeting with ex-cop Sam Stein was well constructed and instantly had me rooting for these two!
I loved how shy Zach wasn't meek, he was a highly successful businessman, and though on the service they seem to be complete opposites, they were masterfully woven to create multi-dimensional characters.
Ms. Stevens created a world that truly pulled me in, not only did she bring New York City to life, she built a vivid world inside of this city.
I loved the park scene with the young girl, it brought so much home through the words of an innocent child.
Sam and Zach clearly share a bond that continues to deepen with time. I loved how they both opened up to each other in ways they never had before.
Zach sharing things he never shared with even Marcus or Julian drove this deep bond home.
Speaking of Julian and Marcus, it was wonderful to visit with them. And the bond the three friends Julian, Marcus and Zach share continued to touch my heart, witnessing the bond evolve as dynamics changed warmed my heart.
Julian and Nick's relationship moving forward (Beyond the Surface book 1) added to this story and had a scene that played right into this story line.
Speaking of secondary characters, the use of both Sam and Zach's mothers made this story so powerful.
Each brings baggage to this relationship having less than healthy parental relationships but each grows as they find a balance with their mothers.
I adore this cast and I am so excited to read Marcus next in Second to None!
Marcus is too funny and has such a big personality…witnessing him fall should be fun!
♥READ THE SERIES♥
Book 1 – Beyond the Surface
Book 2 – Betting on Forever