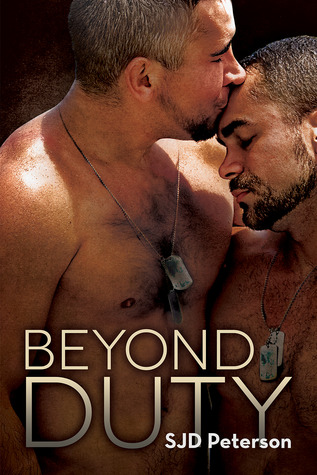 Beyond Duty

by S.J.D. Peterson
on June 4, 2012
Buy on Amazon
Goodreads


Part of the Goodreads M/M Romance group's Love is Always Write event. Story Prompt

PHOTO DESCRIPTION: Sexy Marine sitting on the floor, shirtless with just fatigue pants, another sexy Marine leaning down with his hand resting on the other Marine's lower stomach. Matching tattoos on their shoulders and upper arms.

STORY LETTER:
Dear Author,
He's been in my life for two decades. Don't Ask Don't Tell ended too late for us as we were months from retirement. We spent so much of our lives in the closet, hiding our love that I worry if we can hold it together when we're out. I'm scared of losing him. For me, he's the hottest thing I've ever seen still and I know he could get guys half my age without trying hard. Why would he stick with me now? But he always knows...he knows when I need him to center me—to remind me of what we have. We're in it together to the end.

If an author selects this...I LOVE BDSM. Please, please...

Edited to clarify: I see the man facing forward as a sub and the other man as his dom. They've had stolen moments over the years but never the time and privacy to truly explore their D/s needs at the level they have desired. Now they do since they have retired. I enjoy a little angst (no cheating) but definitely want a HEA. Moderate BDSM would work great. Author, up to you if you take this mind. Ultimately, author, if you pick this one I'll be pleased no matter what you do to give my guys a story!

Sincerely,

Virginia
I loved Mac and Gunny's story. Two grown men in their 40's who have been by each other sides as Marines for over 20 years but without labels or public shows of affection.  This is a stand alone, that is so well done! Mac and Gunny will stick with me for a long time to come.
The repeal of Don't Ask, Don't Tell didn't come until  just as Gunther "Gunny" Duchene and Macalister "Mac" Jones, career US Marines are about to retire.
Mac has plans to make a statement while Gunny just wants to move their lives forward and be happy, quietly together.  I will pause and say how these two men came to be exclusive during their time in the military was really well done! I loved the twist.  But now, there is nothing holding them back from being open about only wanting each other was so powerful.
Mac's desire to be open, his naivety in the face of moving forward with Gunny had me griping my kindle waiting for the shoe to drop and then witnessing Mac come face to face with bigotry was so powerful. This man who finally thought he was in a place to embrace this love for Gunny is pushed back at so many turns.  Seeing the world's judgment of him was so well done and highlights what so many men have to go through just to be loved.
Mac's speech at the end was just WOW. My heart was full…and I had tears in my eyes. No words can't change everyone's opinion but you can touch a few. Ms. Peterson did a wonderful job with the balance in this book.
Watching Mac and Gunny being able to embrace their love and to move forward with a life together touched my soul!
I was so excited to learn that readers have been asking for Mac and Gunny to visit Guards of Folsom, the BDSM club which is the center piece of Ms. Peterson's series with the same name (a series I love and highly recommend).
I am hoping she writes this so I can enjoy Mac and Gunny truly embracing "retirement" and a kink they both share.
Again I loved Mac and Gunny and I truly hope readers will pick it up!