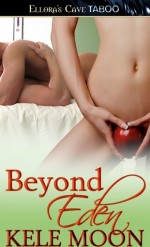 4 Stars!!!
Summary
Three lifelong friends find themselves tangled in a web of love, pain and dangerous secrets in this erotic Garden of Eden tale.
Tall, dark and handsome Danny Carlow has always gotten whatever he wants except for the two he wants more than anything-his best friends, lovers Paul and Eve. Determined, he waits like a snake in the grass, poised for the right moment to offer them a temptation too delicious to resist.
Artist Eve Everton makes the painful decision to leave her true love Paul for the siren call of New York City. Ten years later, with her life in shambles, she returns. When Paul's waiting arms aren't available, Eve falls for Danny's charm and finds herself a willing accomplice in the dangerous games Danny plays.
Former college football star Paul Mattling is now a successful attorney with a bright future ahead of him. But behind those brilliant blue eyes are secret desires for a taste of the forbidden. Will he play it safe or give in to Danny and Eve and bite the apple?
Reader Advisory: Not for the faint of heart, the pain in this story is vivid and real, the emotions even more so. Haunting and poignant, Beyond Eden presents a darker side of BDSM. You might gasp. You might cry. You might find yourself reading it again and again.
Denise's Review
Eve Everton and Paul Mattling were high school sweethearts, the books takes place 10 years after they are separated by her departure to New York to pursue her dream of becoming an artist.
Eve is reunited with Paul and their childhood friend Danny Carlow. The author tells you how since kindergarten the three of them were inseparable.
Eve's return to Florida has her learning that Danny and Paul are now roommates; so after running into Danny Eve is forced to see and spend time with Paul.
To the outside world tDanny and Paul appear roommates and best friends but they are secret lovers with a complex Master and slave relationship one it turns out is for Paul's protections. Paul who appears to be a boy scout is really into pain. Danny owns his bisexuality, Paul does not.
Eve has returned still loving Paul but Paul is engaged to a proper girl, who has no idea of his lifestyle.
Danny quickly makes it clear to Eve that he wants her and has always loved her. Danny slowly shows her parts of his world. I do not want to say much more as I do not want to ruin the plot for those who chose to purchase and read the story of three friends who re-connect.
I found the relationship between the three characters to believable and their interactions with each other ever engaging and sometime even comically.
Ms Moon does a wonderful job showing how deeply each of the characters feel for each other; each has a unique and heartfelt relationship with the other.
As a warning to readers, there was one scene I did have some difficultly with; I guess we don't know our comfort level until we each it. This book is dark, Paul's pain fetish is severe. Kele did pull the scene off very well, she was able to rely compassion and love though this very dark (and long) scene where the three interaction and the reader truly understands Paul.
I do have to say the male's nicknames for each other made it hard for me to connect; them calling each other Danny Boy and Paul Boy just did not drawn me further into a connection with them. Though on the other side them calling Eve, Evie Girl was cute.
The Epilogue was really well done, I even went back the next day and re-read it. It tied the story up nicely and laid out each characters place.
About the Author
A freckle-faced redhead born and raised in Hawaii, Kele Moon has always been a bit of a sore thumb and has come to enjoy the novelty of it. She thrives on pushing the envelope and finding ways to make the impossible work in her story telling. With a mad passion for romance, she adores the art of falling in love. The only rules she believes in is that, in love, there are no rules and true love knows no bounds.
So obsessed is she with the beauty of romance and the novelty of creating it, she's lost in her own wonder world most of the time. Thankfully she married her own dark, handsome, brooding hero who has infinite patience for her airy ways and attempts to keep her grounded. When she leaves her keys in the refrigerator or her cell phone in the oven, he's usually there to save her from herself. The two of them now reside in Florida with their three beautiful children, who make their lives both fun and challenging in equal parts—they wouldn't have it any other way.
Twitter Kele_Moon
Website http://www.kelemoon.com
Facebook http://www.facebook.com/kelemoon