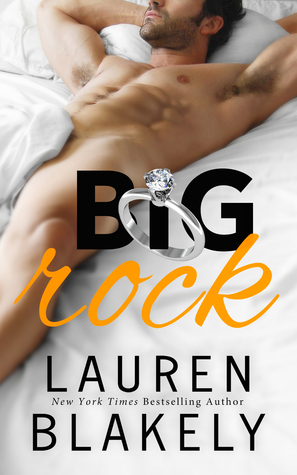 Big Rock

by Lauren Blakely
on January 6, 2016
Pages: 250
Buy on Amazon
Goodreads


It's not just the motion of the ocean, ladies. It's definitely the SIZE of the boat too.

And I've got both firing on all cylinders. In fact, I have ALL the right assets. Looks, brains, my own money, and a big c*&k.

You might think I'm an a*&hole. I sound like one, don't I? I'm hot as sin, rich as heaven, smart as hell and hung like a horse.

Guess what? You haven't heard my story before. Sure, I might be a playboy, like the NY gossip rags call me. But I'm the playboy who's actually a great guy. Which makes me one of a kind.

The only trouble is, my dad needs me to cool it for a bit. With conservative investors in town wanting to buy his flagship Fifth Avenue jewelry store, he needs me not only to zip it up, but to look the part of the committed guy. Fine. I can do this for Dad. After all, I've got him to thank for the family jewels. So I ask my best friend and business partner to be my fiancée for the next week. Charlotte's up for it. She has her own reasons for saying yes to wearing this big rock.

And pretty soon all this playing pretend in public leads to no pretending whatsoever in the bedroom, because she just can't fake the kind of toe-curling, window-shattering orgasmic cries she makes as I take her to new heights between the sheets.

But I can't seem to fake that I might be feeling something real for her.

What the fuck have I gotten myself into with this…big rock?

BIG ROCK is a standalone, dirty romance novel written from the guy's POV by NYT Bestselling author Lauren Blakely…
It has been some time since I have read a Lauren Blakley book and I am so pleased I decided to pick this one up.
Yes, this blurb grabbed my attention:
It's not just the motion of the ocean, ladies. It's definitely the SIZE of the boat too. 
And I've got both firing on all cylinders. In fact, I have ALL the right assets. Looks, brains, my own money, and a 

big

 c*&k.
But don't let the dirty talk fool you. This is a heartfelt friends to lovers story! I adored this male POV book.
The premise isn't unique…. a "pretend" engagement between best friends but this one was executed so well. I love the plot and how it was executed! It made sense to me and I understood the why they were doing this.
"Okay. So we've got no ****, no sleepovers, no weirdness, no lying. We do this for a week, and we return to being friends."
Spencer and Charlotte have been friends since college and we meet them, they are successful business owners, running a bar in NYC.
As these two start to move from friendship to seeing the love that was right in from of them,  you will fall in love with Spencer:
"Charlotte is kissing me.  On the streets of New York.Her lips on mine.  She tastes fantastic."
This book has funny moments, emotional moments, yes hot moments but in the end moments so many moments that had me knowing that Spencer and Charlotte were meant to be together.
Spencer is NOT the arrogant man you might think from the blurb, he is family oriented, kind, compassionate and loving!
He will make you giggle and smirk as you read this one:
I'm horny as hell. I feel like I've taken Charlotte Viagra, and this hard-on is a cruel and unusual punishment for lusting so badly after my best friend.
When lies are revealed Spencer's desire to get what he wants so fits the man who is painted.
"I don't cheat, whether I'm in a fake relationship or a real one."
"Have you ever been in a real one?"
"Sure. And by real, you mean the type of relationship where I know her last name, right?"
I adored the end of this book. It took so much full circle and proved that Spencer is such a caring and loving forever kind of man!