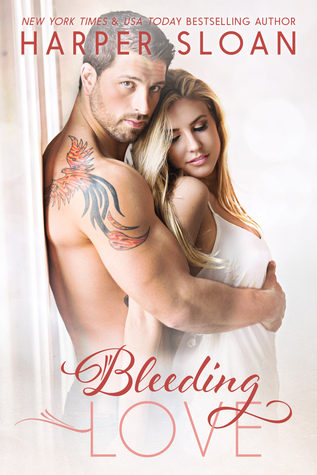 Bleeding Love

by Harper Sloan
on July 14, 2015
Buy on Amazon
Goodreads


I've loved once. I gave everything that I had to that love. Blindly believing that nothing could ever take that feeling away from me. Away from us. And when my little world of happiness was ripped from my fingers, I felt a loss that still haunts me to this day.

Now I use that lingering grief as a shield to keep my heart from loving again. It's that fear that keeps me from letting anyone, except my daughter, get close enough to make it hurt. To make my heart bleed when I inevitably lose again.

Until the day I met Liam Beckett and everything I thought I had protected myself from was shoved back in my face.

He's on a mission to prove to me that a love worth having is a love worth fighting for.

*Bleeding Love is the second book in the Hope Town series. It will follow Liam and Megan. Each book in the series is a HEA and can be read as a standalone.*
The blurb for this book is one I think will pull many people in… I've loved once. I gave everything that I had to that love. Blindly believing that nothing could ever take that feeling away from me. Away from us. And when my little world of happiness was ripped from my fingers, I felt a loss that still haunts me to this day.
Bleeding Love is Liam and Megan's story. Liam is Liam Beckett the son of the characters from Ms. Sloan's book Beck (Corps Security book 3).  And Megan is a character we meet in Unexpected Fate, book 1 in her Hope Town Series.
Now having said all that, this book can easily be read as a stand alone though you will likely smile brighter if you read the prior books in the series as watching the men from the Security Corps series as fathers to grown children is so enjoyable.
The tag line to this book  "A love worth having is worth fighting for" is so true to the story told.  Liam is a man who knows what he wants and witnessing him fight for Megan (and Molly) touched my heart.  Liam is truly John Beckett's son. Oh I would remiss if I didn't mention how wonderful it was to watch John and Dee parent grown Liam!
Megan has been hurt, not just the hurt we think we know but wounded on so many levels. The way her relationship with Jack was painted spoke to the depth a friendship can run and that family isn't about blood but about love (this theme is again proven as the reader experiences the bond Liam forms with Molly).
I love a hero who knows what he wants and isn't afraid to go after it:
"I've been waiting, Megan and after last night, I'm done waiting. It's time for me to help you see."
This is just one of many lines that had me loving Liam as he forms a plan to pull Megan from her depression and thrives to show her how to feel again.
The epilogue of this book brought a tear to my eye; life is not about forgetting those lost or moving on but about integrating that into your life and this scene did that in spades!
Thank you, Ms. Sloan for Liam, for showing the readers how deep love can run and for reminding readers that there is an endless capacity to love!
♥ Read this Series ♥
Book 1 – Unexpected Fate
Book 2 – Bleeding Heart