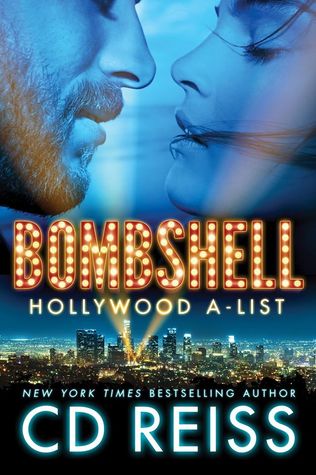 Bombshell

on May 1, 2017
Pages: 366
Buy on Amazon
Goodreads


From New York Times bestselling author CD Reiss, a standalone romance about a nanny, a Hollywood star, and a love they never expected.

Hollywood bad boy Brad Sinclair always gets his way, whether it's the role he wants or the bikini-clad model he has to have. But when a bombshell gets dropped in his lap in the form of a dimpled five-year-old from a forgotten relationship, he knows his life is about to change forever.

Cara DuMont isn't exactly thrilled when she gets assigned to be the nanny for the latest box-office king. She has one rule: no celebrity fathers, especially single ones with devilish good looks and rock-hard abs.

But as soon as Cara meets Brad and his adorable little girl, she knows she's in for a world of trouble. Because there's something about the way Brad looks at her that makes her believe that some rules are meant to be broken…
I loved Brad in Shuttergirl and was so excited to see him get his story in Bombshell. I don't read a ton of single dad books as Denise usually reads them for the blog but I had to pick this one up because I love C.D. Reiss, her writing style and her stories.
I LOVE stories in Hollywood – all the glamour, the lights, the famous people. Brad Sinclair is on his way up in the world of acting when he finds out he has a 5 year old daughter—his little "bombshell". Her mother has died and she has come to live with him. And with being so busy and clueless in the dad department comes the hiring of not one but two nannies to add to his already big crew of people who keep his life running.
Cara DeMont is the epitome of a good nanny – she loves children, is actually good with them and knows to be professional and hands off with her employers. So it comes as a shock to her to not only get hired by Brad (if only for a month) but to feel such a physical connection to him and to like him as a person and for him to star in some of her nightly dreams (omg HOT!)
This story is a journey for Brad to learn the importance of family above his career – to realize what's really important in his life – to have all that comes with stardom or to get to know and learn who his daughter is, to make himself a better man for her, and to find the one person to make his life right and whole.
I absolutely LOVE C.D. Reiss's writing, her stories always so enjoyable and the sexy times are seriously the hottest I have read—EVER! Brad and Cara's story is funny at times, heated at times and together with his daughter Nicole – it was simply irresistible. I couldn't put it down!
The reason for my rating—I guess I wished that despite Cara saying she would never have a "thing" for her boss, I felt that she gave in almost too soon and didn't make Brad work for it. Another thing that bothered me was that I felt that Brad needed her too much to be his glue, to help to take care of him and his daughter and it almost felt like there was no real love there for who she was as a person vs. what he needed from her both physically and emotionally. It made it feel like later that his love wasn't really genuine and was more out of necessity vs. than the actual love and romance part. I wished for more romance when it comes down to it – the pretty words that I was so sure would fall from his mouth didn't affect me as I had hoped.
Overall though I enjoyed this book and would definitely read more in this series…maybe Blakely will have a story next??!?!!? (hint, hint!)
Amazon US | Paperback | Amazon UK | Amazon CA

The front door opened. I expected a housekeeper or butler, but it was the actor himself.
I hadn't forgotten how beautiful he was; I'd just chosen not to think about it.
"Ma'am," he said. Southern boy. Parents together. Christian elementary. Public secondary. Two years at USC Drama. Dates his costars for a month after the wrap party, then moves on. Poring through the trades and making calls, I'd discovered he'd spend at least eight of the next twelve months overseas doing action movies, but most had postproduction in town.
"Mr. Sinclair," I said, holding my hand out. "Nice to see you outside a bathroom."
He shook my hand.
I'd shaken plenty of famous hands attached to gorgeous men, but my imagination was sparked by the way his fingers slid against mine to grasp them and the way our palms pressed together. My mind clouded over with ripped sheets, hard muscles, and soft skin.
"Pleasure's mine," he said and my brain skipped like a trip on a cracked sidewalk over the word pleasure.
He didn't give me the oversincere hand-over-clasp to show me how damn happy he was to see me, but there was something intimate about that half a second.
Just a consultation.
I followed him into the house. Dora Donovan had designed it. Looked like her with her faux-midcentury white couch and shag rug. That wasn't going to work with playdates unless he wanted to keep an upholsterer on staff.
We went through the living room to a smaller room with a pool table smack in the middle. It had a stained glass Budweiser lamp over it and was racked for nine-ball. Dora Donovan had nothing to do with this room, for sure.
"Wanna sit?" He held a chair out for me. The glass-topped table was just inside the open patio doors and was set with iced tea.
I sat.
"I'm not a date," I said kindly, indicating the iced tea setup. "Just so you know. You don't have to do things like hold the chair for me."
"Habit, I guess."
He sat opposite me.
"Chivalry is nice. But with the nanny, whomever you hire, it can be misconstrued."
He smirked a little, as if misconstruing his own thoughts. I cleared my throat and pulled my jacket closed.