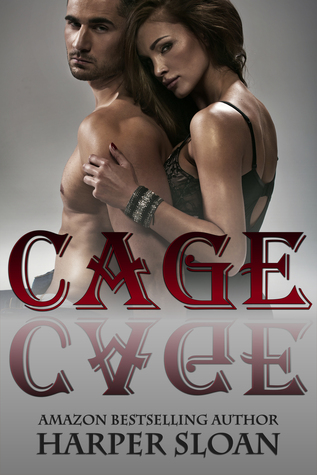 Enjoy a bonus scene given to us by Harper below!
Enter for a chance to win a signed copy of Cage using Rafflecopter below.  Good luck!
---
4.5 STARS!!!
Synopsis
Greg Cage was born to protect. While growing up, he was his mother and sister's shield against the world… until he failed. For the last decade, he has carried that guilt and need for vengeance around… until it was stripped from him. Now, with his best friend getting married and no longer needing his protection, he is even more lost, completely adrift, and desperate for some control. All he has ever known was how to protect: his family, his friends, and his country. Can he go against everything he has ever known, and give up that control?
Melissa Larson will never let anyone hold the reins in her life. She has been the rock in her family for more years than she can remember, and the fight to keep them together is her main priority right now. She has always been fiercely independent and proud. The last thing she will ever do is ask for someone else's help. But when that choice is out of her control, forcing her to rely on others to save her and her family, and pick up the pieces that are left, will she be able to let someone else be her strength?
The second Greg locks eyes with Meli, he knows that she is someone he needs. Someone he craves. Meli knew the second she met Greg that he would be nothing but trouble and heartache. Her life takes an unexpected turn, and that bitch Fate is back to wreak more havoc on another member of the Corps family.
All hell breaks loose, leaving Greg no choice but to call in a favor. He hooks back up with his old friend Braxxon Breaker from the Breakneck MC. Together, they make sure that nothing threatens anyone Greg loves again.
Denise's Review
Cage ,book 2 in the Corps Security series, tells the story of Greg Cage a man you meet in book 1 Axel where he is portrayed as a big brother like figure to Izzy.
Cage's introduction to Melissa Larson is a first for me, she is nurse at pediatricians office and their first encounter was extremely unique and so fun to read.
As the reader gets to know Melissa and as the reader watches Greg get to know Melissa, the pull these two share is apparent and tangible.
Ms. Sloan quickly takes the connection these two share to a whole new level; not just physical, not just attraction but a deep rooted common bond that is highlighted with an amazing use of tattoo art.
Melissa's backstory leaves her with more to worry about that just herself… I truly do not want to give this part away as it is so wonderful to experience Greg accepting Melissa and all that comes with wanting to share his life with her.
This book has some amazingly well crafted group interactions, the author gives each man his own personality and their responses to each other truly allow the reader to feel their bond.
The story develops into one of love and loss…. and asks the reader what would you do for family?  A question Greg knows the answer to and he proves it in spades that the answer for him is anything!
I truly believe, its not what life gives you, its what you do with it!  I love that life lesson and this book portrays that in vivid color.
Yes, I fell in love with the mystery that is Maddox and he has a few scenes at the end that will make you smile from ear to ear.  Oh speaking of the end, I adored the end of this book.
Ms. Sloan proves the power of words; not just the words she writes but the use of one simple word from one character to another (yes you will know it when you read it)
You do not have to read book 1 to enjoy Cage so feel free to pick this book up; I truly enjoyed this story and I think many readers will.
Harper Sloan has become an author to watch for me!!!
I am anxiously awaiting Beck who is up next!
Bonus Scene
I've been sitting in my truck, staring unseeing out the windshield. My skin feels tight, my blood too hot, my heart beating too fast. The smile on my face though, feels like it will never leave. Never… not once did I think this would be reachable. When I pictured my future, it was always with the acceptance that I would just be cool Uncle Greg and maybe find someone compatible enough to spend my life with. I didn't expect love. I had given that hope up years ago.

Then I met Melissa and everything I thought I could settle for was gone in an instant. I craved her. The feelings she gave me and the love I knew would come from her.

We haven't had an easy time of it. There was the time when we almost lost Cohen that I thought I would once again end up with nothing. But my girl is strong. We overcame together. My girl… my wife. And now, now we have a bright future ahead of us. My son is, next to her, the best thing to happen to me.

Until last weekend.

I will never forget the day she came home from visiting her sister and mother's graves. Normally, that would be something all three of us would do together. Cohen liked to spend time talking to his angels and I know it gives Melissa some peace to have somewhere she feels they are. She pulled up and sits in the car for a while. When I could detach Cohen's small body from where we had been wrestling ninjas and turned to see her beautiful smile, I thought life couldn't get much better than it was right then.

Then she got out, walked up to us, and plopped herself right down in my lap. Cohen started dancing around the yard in a battle only he understood. Melissa turned her smile towards me, leaned in, kissed me and whispered against my lips words that touched my very soul.

"If it's a girl, maybe we can come up with something to honor both our sisters." Statement. Not a hypothetical 'if we have one in the future' kind of statement either.

And now here I am ready to go into work and I can't get this stupid goofy grin off my face. The second the guys take one look at me, they will know. It's not easy keeping something so life changing to yourself. But with news like this, I can't wait to share. Hell, I would be screaming from the rafters if I could.

"Gregory!" I hear from across the lot.

"What's up, Sway?" I ask, walking over to where he is standing.

"I can see that gorgeous face of yours blinding me all the way in my salon." He's standing here, hands on his hips, tapping one red leather booted foot. His long blonde hair falling over his shoulder and naughty gleam in his eyes. No shame at all in the fact that I'm pretty sure he just took all my clothes off in one look.

"Stop thinking about me naked, Sway," I laugh. "I got some good news this weekend. You can't wipe this smile off if you tried."

"Oh, Gregory… that sounds like an invitation to try!" We both laugh. Truth be told, I doubt there is anything that can knock me off my high. "Well? Are you going to tell Sway what has you all happilicious?"

Happilicious? The hell?

"You're something else, Sway." I laugh, shaking my head. "Melissa told me this weekend we're pregnant, well… she's pregnant, but you know what I mean." Even saying it brings a fresh round of pure joy to flush through my system.

My girl, pregnant.

"Ohhhh! A baby!" Sway starts going on and on about Uncle Sway this, baby showers that, and that is my signal to leave.

Right when I open my mouth to tell him bye I hear clapping coming from behind me. Turning to find Axel, Beck, Coop and Maddox all clapping like demented seals. Even Maddox has a grin on his face.

Beck is the first to speak up. "Congratulations brother. Didn't know it was possible with all those holes and rings you have through your dick."

"Would have thought with as many as he's rocking those little swimmers wouldn't of had a chance." Laughs Axel.

"What!" Gasp Sway, "Gregory, what is this?"

Isn't this just lovely. I was wrong, there is apparently something that could wipe my smile clear off.

"Nothing, Sway." I say while leveling the four morons my hardest 'shut the hell up look'.

"Gregory, do you have piercings?!" He practically pants.

"Thanks a lot, jackasses." I ground out. They all just laugh. Even Maddox is laughing so hard he has tears in his eyes.

"How far of a stretch is it that you'll forget you heard that?" I ask Sway.

"Oh, darling, I'll forget that juicy piece of yum the day pigs learn to fly. And to think, I thought you were the straight-laced one of the bunch. Who knew you were hiding all that." His eyes roam over my body before landing right on my crotch.

Jesus Christ. "Sway, I'm a married man now. Stop thinking about my dick." Really, as annoyed as I am with the idiots still laughing by the door to the office, Sway's face really is comical. A mix between shock and awe. "Plus, Maddox has one. Lust over him. He's single." I laugh and push my way through the group. All laughing even harder now, except for Maddox.

"Oh my God! Congratulations, Greg!" Emmy screams when I walk through the front. She politely ignores the fact that the whole state of Georgia might know about my piercings now. "I bet you, Melissa and Cohen are thrilled."

"Thanks, Em. We couldn't be happier." I give her a warm smile and hug. We talk for a few minutes before I continue down the hall. It doesn't take long before the four amigos are filing in. I should have seen it coming. No way they would leave it at the door.

"Well?" Coop says.

"Well, what asshat?" I throw back before dropping down into my chair.

"Congrats man, Izzy told me last night." Axel says, at least having the decency not to mention my junk again.

"Well what, my ass. All that shit you have jammed through your dick and you still knocked her up?" My answering growl is enough to have Coop shut his mouth and hold his hands up. "Just asking. I thought Dee was full of shit when she mentioned all that party in your pants."

"You really need to learn how to shut up, or buy a filter." Beck says in a loud whisper.

"What? Can you honestly tell me you aren't the least bit interested in why he has all that going on?" Beck just shakes his head at Coop's question.

"For the record, I don't make it a habit of thinking about his dick at all." Axel shakes his head before sitting in one of the chairs next to my desk and picking up a stress ball. "But, while we're on the topic, what in the hell compelled you to do that shit?"

"Are we really going to do this? Should we maybe whip them out and compare size while we're at it?" I run my hand through my hair in frustration. Ever since word of my piercings got out I had a feeling this would be coming.

"No need for that, already know mine trumps all you little boys." Maddox finally chimes in, a wicked grin forming.

"Wanna bet?" Coop mocks and stands, making to unzip his pants.

"If you pull that shit out in my office I will cut you." He wisely sits back down when I reach for my scissors.

"Alright, if you really need to know, I lost a bet. An old friend bet me I wouldn't do it. Then stepped up the bet that I wouldn't get more than him. So, got wasted and did it. Melissa loves them so all in all it's the best bet I ever lost. The end."

They all just look at me. Maddox is the first to break the silence. "You guys should take notes. As funny as you think it is, the ladies love it. Congrats on the baby, brother." And with that he leaves the room.

I get a few mumbled congrats before Beck and Coop get up and leave. Axel never leaves his seat. Still just throwing that damn ball up in the air.

"What? I can tell you have something to say." I lean back and get ready to hear him out.

"Did you really have to put ideas in Izzy's head? She now has this brilliant idea that I need some… what did she call it, oh yeah, trifecta of pleasure. What the hell?"

I throw my head back and laugh so hard my sides cramp. "Do those women tell each other everything? Jesus."

We talk for a while before he gets serious again. "I'm happy for you. For all three of you."

And just like that, my heart feels full to capacity, my skin feels tight and that damn smile so big it hurts comes rushing back. "Thanks man. Thanks."
About the Author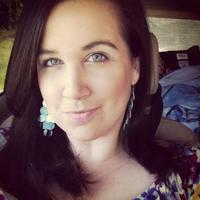 Harper lives in small town Georgia just a short drive from her hometown of Peachtree City. She (and her 3 daughters) enjoy ruling the house they dubbed 'Estrogen Ocean', much to her husbands chagrin. Harper has a borderline unhealthy obsession with books; you can almost ALWAYS find her with her eReader attached. She enjoys bad reality TV and cheesy romantic flicks. Her favorite kind of hero–the super alpha kind!
Harper started using writing as a way to unwind when the house went to sleep at night; and with a house full of crazy it was the perfect way to just relax. It didn't take long before a head full of very demanding alphas would stop at nothing to have their story told.
---
GIVEAWAY
Book 1 – Axel