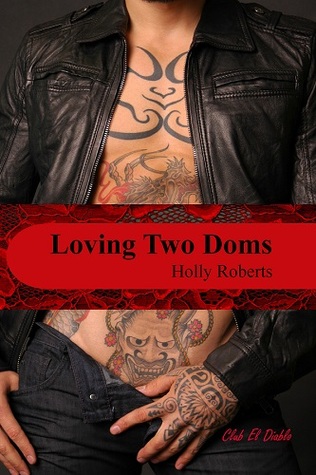 Enter for a chance to win an ebook of this book below.
---
4.5 STARS!!!
Synopsis
Blood Rights lead guitarist, Matt Mathews, and keyboard player, Stephon Cross, live a passionate life of shared women, kinky sex, and close friendship. But something's missing.
Stephon's past haunts him and only his friend Matt understands and brings balance to hold Stephon's tightly leashed anger in check. Matt loves his friend but he's tired of one-night-stands and longs for one woman to fulfill them both and help tame Stephon's beast.
Jewel, a strong but physically scarred waitress, working in a small café, wants to be loved and cherished, but learned early that life isn't a sweet melody.
Can Jewel resist Matt's devilish charm and his friend Stephon's roving hands when Matt isn't looking? And, when she discovers their kinky secret can she give her heart by Loving Two Doms?
Denise's Review
Loving Two Doms tells an endearing and hot story of Matt Mathews and Stephon Cross, ex-military men who are bandmates in Blood Rights.  Stephon and Matt balance each other, they have a close bond; one the reader can feel. And they have a life most on the outside would envy.
These two men know their place in the bedroom are as Dom's; dom's who are missing a woman to share their life with.
I thoroughly enjoyed how this story unfolded, Matt's encounter with and the courting of Jewel was wonderful. She has no idea of his fame and money; the attraction is at the core of who these two are.  Jewel is not familiar with the lifestyle or even that the men want to share a woman.  Watching Jewel struggle with internal conflict when Stephon starts to touch her casually was so fun.
I really enjoyed the catalyst that pushed Jewel toward the men, it was well written and I believed Jewel would embrace the help offered given what happens to her.
But can a very vanilla and wounded woman accept that two men can love and cherish her; how will she react to their connection to each other and desire to share her for good… as this played out I found myself not wanting to put my Kindle down and thinking about there characters when I did!
As these two decide Jewel is just that woman, will the men's military past and Stephon's struggle with that cost them everything?
Well, you will have to this book to find out!
Ms. Roberts did a wonderful job at connecting the readers to these men, there was happy ending that made me smile and I was ecstatic to learn Ms. Roberts is writing this threesome a novella with a longer more permanent happy!
This book is part of Ms. Robert Club El Diablo series but can easily be read and enjoyed as a stand alone; that is how we read it!
Books in the series center around the same club but feature different characters.  If you enjoy menage reads, don't hesitate to pick up this book and jump right in.
BONUS Scene
Jewel

Jewel's eyes opened and traveled around the semi-dark interior of the ritzy hotel room. Just a sliver of sun came through the heavy drapes causing the room to flow with shadows. The blanket and sheet rested at the bottom of the bed, pushed there after returning from the club the evening before. Jewel would always remember it as the night she discovered she was capable of exhibitionism. Stephon and Matt made her feel beyond sexy, and when they teamed up and took over, her mind focused entirely on them. It didn't matter who watched, these two men were her world. But today, that world would change and the three of them would step off Damian's private jet in California. Her stomach performed a somersault at the idea of a new home.
She looked at the two men. Matt's hand rested on her hip but Stephon lay turned away. They slept deeply and after a few minutes, she slithered down the bed and managed to get off without waking them. She made her way to the curtain and tried to open it but then realized it had an electronic switch. Shaking her head, she knew she would never be used to the luxury that now surrounded her. She found the switch and managed to control the drape until it parted about a foot. She needed it open just enough to see.
Her eyes didn't leave the two peaceful faces as she crawled partway back up the bed. Their ink fascinated her and she wanted an uninhibited look. Both men had ink on their backs but it was self-explanatory. Matt's was a finely sculpted electric guitar with incredible detail and Stephon's, obviously inked by the same artist, was a blazing replica of his keyboard. But, the tribal sleeve over Stephon's right arm and shoulder mesmerized her. He didn't have the plethora of tattoos like Matt and it made Stephon's stand out more. Her eyes tracked each swirl before sinking lower to the large dragon that started on his right hip with the tail ending on his abs. The dragon's claw extended down and around his leg and flames traveled into his groin. Without conscious thought her fingers trailed over his hipbone.
She gasped when Stephon's hand grabbed hers. "What are you up to love?" His raspy British accent sent chills traveling across her skin.
"I wanted to see your ink." She whispered with a tentative smile.
"You've been up close and very personal with the ink under your hand." He said with a sexy growl.
His devilish grin made her blush. "You've given me little time to admire your art and when I'm, up close and personal, as you call it my mind is on other things." She continued to whisper hoping not to wake Matt.
His stomach muscles rippled with his low laughter and his fingers released hers. "Please have a look." He placed his arms behind his head but continued to stare down the length of his body and watch her every move.
He appeared relaxed but she could feel his muscles bunch under her feathery touch and soon his biggest giveaway was his hardening cock.
She couldn't help her mischievous grin. "Tell me about this." Her fingers skimmed the dragon, moving to the claw.
He closed his eyes for a long moment before opening them. His soft words flowed throughout the room but Matt didn't stir. "I got it a month before I left for boot camp. The word dragon means sharp-sighted one. It seemed to fit the direction my life was taking." His grin went up a few notches. "Dragons are also known for protecting great treasures. As you can see, mine does the same."
She gave a playful slap to his thigh and then left his treasured area, running her hands up his abs to the ink on his right shoulder that continued over his neck and arm. She looked at him in question. His expression turned serious.
"The tribal came after our military service ended. Matt and I went together."
Her eyes shifted to Matt's left side and understanding dawned. She looked back at Stephon. "They continue… from each other. I hadn't noticed."
His eyes gazed steadily into hers. "Yes, where mine leaves off, his picks up. Most people don't notice unless we stand side by side, shirtless."
Her lips tipped up but she lowered her voice. "I hope you don't do it often. I can't imagine the riots."
Stephon chuckled and the mood lightened. Matt's warm hand settled on her shoulder. "What trouble are you causing this morning?"
Stephon answered for her. "She's interested in our ink."
Matt's voice grew sexier. "All of our ink?"
"Yes all." She said while moving her hand to the artistically covered skin on Matt's hip and then trailed her fingers to the wicked clown on his lower abs. "Do I want to know?"
"That one's in memory of my mother."
"An evil clown?" Her incredulous voice filled the room and both men laughed. She looked up at Matt's face and saw a touch of red on his cheeks. "Tell me."
"Yes, tough guy, tell her." Stephon teased. He obviously knew the story.
Matt's sigh was long and melodramatic. "My mother kept the evil clowns away when I was a boy. After an unpleasant trip to the circus, I was petrified they would get me. She drew this symbol," Matt showed her his left hand, "with a sharpie to keep them away."
Jewel didn't know whether to laugh or cry. "So you tattooed an evil clown on yourself, why?"
"It's about overcoming fear. But I had the one inked to my hand to balance the symbolism. I'm not completely brave."
That made her laugh. They'd fought for their country and were the bravest men she'd ever met. Her hand went to the scar on her face. "There are things I'll never be brave about."
Two sets of arms pulled her further up between them. They always seemed to work in tandem, knowing what the other would do or say. Matt placed a few pillows behind himself against the backboard of the bed and Stephon did the same.
"We need a mirror over the bed and you would see what we see, love." Stephon's silky voice whispered across the skin on her neck.
Their closeness made her feel dreamy. "What do you see?"
Matt ran his fingers over the marred side of her face, but it was Stephon who answered. "Our tribal ink declares our relationship. It's a continuous flow, one to the other. Your tribal is scar tissue. Lying between us, you blend perfectly and accent our connection."
Matt's thumb smeared away the tears rolling down her cheeks and Stephon's arms wrapped tightly around her. She felt his lips run across her jaw and then Matt's hands pulled her head up so she looked into his eyes. "Our ink aches from time to time and your lips make it all better."
She laughed through her tears. "You have so much more that I want to learn about. I like your Chinese dragon too and notice it also protects your precious jewels."
"There you're wrong." He nuzzled her ear and then kissed her cheek. "You are the jewel we protect."
Stephon's hand traveled over her hip and then across where the wet folds of her pussy waited.
She inhaled sharply when his finger slipped inside. "Don't we need to start packing for the trip?" Her voice trembled with longing to do anything but.
Matt squeezed her breast and applied biting pressure to her nipple. "We'll pack you first."
Her laughter turned to a moan as they made good on their promise.
About the Author
Writer of erotic romance / BDSM. Love coffee, chocolate, and wine. Avid reader.
I live with my teenage heartthrob (though we are older now) and we at the mercy of our two demanding dogs.
---
GIVEAWAY
To enter for a chance to win an ebook of this great book, leave a comment after this blog post (including your email). Winner will be picked TONIGHT! Good luck!