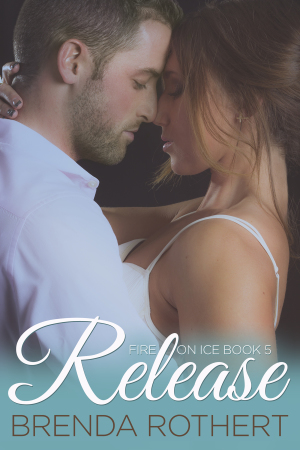 Release

by Brenda Rothert
on December 13, 2014
Buy on Amazon
Goodreads


NHL player Orion Caldwell protects his own. He's an enforcer to his core, but he was the one left defenseless when his longtime girlfriend broke his heart. Now he's all about his game, but spending the offseason in his hometown forces him to confront painful issues –both old and new.

Samara Cross just wants to be invisible. After living a nightmare, she came back to her hometown seeking solace. But her quiet new life is upturned by the hot, charismatic hockey player who's taken a sudden interest in her.

Orion and Samara find something unexpected in each other, but when the hockey offseason ends, so does their time together. They struggle with their separation, confronted by ghosts of the past and an uncertain future, discovering that sometimes the only way to hold on to something precious is to let go.
Release tells the story of NHL Enforcer, Orion Caldwell. I want to pause here and say this book can easily be read as a stand alone as Orion is a minor character seen in a prior book in the series. And although I love this series and Bound/Captive sit atop my top 2014 list, you can dive into this book if the blurb or review grabs you.
As I said Orion is an Enforcer on the ice, what that means is he is a protector. Ms. Rothert does an amazing job at crafting that personality off the ice as well.   Orion truly loves fiercely, his family, his friends and his love interest, Samara Cross.
The author does a wonderful job at showing how love can heal; how I don't want to tell you. The pain Orion and Samara each bring to the relationship is so enjoyable to watch play out but I will say it was truly well done and spoke volumes to what true love, a deep connection love, can bring you.
Orion is a truly make you smile, warm your heart and sometime make you giggle kind of character.
One of my favorite examples of a witty Orion:
"I have one in my wallet."
My lips parted in a surprised grin. "What are you waiting for?"
He pulled his wallet from his back pocket. "I just need to make sure it's not expired."
My heart swelled with love for him. In a world full of men looking for a quick lay, I'd found a gem who treasured the intimacy of sex.
"We're good," he said, grinning and tossing it to the bed.
The hurt from past experiences was used in so many ways but mostly for me I loved how it was used to show the depth of Orion's character; his true caring for Samara's well being and his desire to love her for love.
The friendship and relationship these two develop before they end up in bed was amazingly well done!
This book also had some truly powerful scenes as well:
"Seriously," he said in my ear. "I'm proud of you too. Your ass is gonna be sitting in a rocking chair with me one day talking about the old days when we played together. I love you."
He pulled away and met my eyes one more time, his face streaked with tears.
"Love you too, brother," I said. He nodded and turned for the door.
As this passage suggests, the road to happy does have some bumps in it, though the end is not the happy you would envision for Orion when you first meet him,  it is so perfect and truly the embodiment of his being a protector and loving fiercely! And the why he is at "this" happy made me love him even more
I am excited this journey will lead us to a new spinoff series because I am very excited for Killian Bosch's story!!!

Samara
I'd been alone since before I could remember. The hole in my chest had gotten smaller as Orion and I grew closer, but it vanished when he kissed me after we were pronounced man and wife.
Mrs. Caldwell. Samara Caldwell. Mrs. Orion Caldwell. Variations of my new name played over and over in my head on our flight to a Jamaican resort for our honeymoon. I was skimming a book on my e-reader, but my heart wasn't in it. I only wanted to daydream about my new name and my new husband.
My stomach rumbled, reminding me I hadn't eaten any of the breakfast Orion had ordered from room service this morning. We'd spent our wedding night at a boutique hotel near our reception site, and we'd been up consuming our marriage until the sun started to rise. An extra few minutes of sleep had sounded more appealing than food at eight AM.
"Can we get something to eat when we land?" I asked.
He looked up from the sports magazine he was reading. "I arranged for dinner in our room as soon as we check in."
"You did?" I smiled with appreciation. "That sounds great. I'm exhausted."
The corners of his mouth quirked up in a smile. "Can't imagine why."
I lowered my voice so the others in first class wouldn't hear. "At the rate we're going … well, I wish I would've started taking the pill."
"It's no big deal." He patted my thigh and then gave it a gentle squeeze. "I brought a shitload of rubbers."
"How romantic," I teased.
"Would it be more romantic if I pulled out?" He arched his brows inquisitively.
"I don't … I don't know if it's romantic, but it's kinda hot," I admitted in a whisper, shrugging.
"Yeah?"
"Yeah."
He leaned in, nuzzling his nose against my neck. "I've never done that," he said, his breath warm and soft on my skin.
"And you'd like to?"
"Look at me, baby." He nodded slightly at his crotch, and I let my gaze wander to the distinct outline of his erection against his jeans.
"Are we landing soon?" I asked. Orion kissed my neck painstakingly slowly, the tip of his tongue tracing along my collarbone. It was a good thing we were alone in our row.
"'Bout ten minutes," he said.
Despite my fatigue, I felt a familiar stirring of warmth between my legs. This talk about doing something he'd never done before was making me hot. Not to mention his lips on the delicate skin of my neck.
"Ten minutes," I said with a sigh. "Okay."
I enjoyed his attention to my neck until we landed. We hustled off the plane and into the shuttle that was taking us to our resort. Unfortunately, it wasn't very private, and we had to settle for knowing looks and our hands resting high on each other's thighs.
The tension had built to a level that was almost uncomfortable inside me. I had an ache between my legs and my nipples tingled with awareness. I was counting the minutes.
When we got to our hotel, we checked in and went straight our room. Our luggage was on its way, so we had to stay fully clothed for a few more minutes.
The room was spectacular. It was all dark wood and muted floral patterns, and it was actually a suite consisting of two large rooms. A warm breeze blew in through the doors that led to a private patio. They'd been left open, displaying the breathtaking beach view.
Orion cupped my jaw in his large hand, kissing me deeply. His tongue swept into my mouth and found mine. The view was forgotten as our hands roamed each other's bodies.
No matter how many times we touched, he still set me on fire every time. He cupped my ass and I gripped his biceps as we slowly, blindly found our way to the couch.
He'd just laid down on top of me when a knock sounded at the door.
"Hang on," he said, springing into a standing position. He was fully recovered from the kidney transplant surgery and was back to working out daily. The small scar on his side was the only reminder of the surgery that had given his nephew a new lease on life.
I lingered in a blissful state of arousal as I listened to the bags being unloaded near the door.
"Thanks, man," Orion said.
"Yes, sir." The door clicked closed and I smiled.
He was back on the couch seconds later, his shirt off. We pulled at each other's clothes, our lips finding bare skin as soon as it was exposed. I sat up and ran my lips over the pink scar on his side that would fade in time. His status as a hero to me, though, would never grow fainter.
My scar from being stabbed nearly four years ago wasn't something either of us seemed to notice anymore. It was there, but only served as a reminder of what I'd overcome. And I no longer needed a physical reminder. I carried the knowledge inside my heart.
Orion wasted no time once all our clothes were off. I was glad, because the past hour had been enough foreplay. I was ready to stop playing.
I slid my legs up over his shoulders and he grinned before sliding inside me.
"Ah, fuck," he muttered. "You're wet."
I moaned my approval and arched my hips up against his. He responded to my unspoken message with hard, fast thrusts.
"I love you so fucking much," he said, his face strained from holding back. "I'll never get enough of you."
I was close – so close – my nerve endings buzzing from the orgasm waiting to rip me apart. Just one touch from him would do it.
"Yes," I whimpered. "God, I'm close, Orion."
His face twisted with pleasure and strain. His grunts of satisfaction and the sound of his skin slapping against mine pushed me over the edge and I cried out loudly, my nails sinking into his biceps.
In a split second, he leaned back to pull out of me. He wrapped a hand around his cock and I felt warm fluid spraying my belly. His deep groan of satisfaction was stretched out until he dipped his head down to kiss me.
"Fuck rubbers," he muttered. "That was incredible."
I smiled and reached a hand up to stroke my fingertips through his hair. "It was. I can see you getting creative with this."
His brows arched and his lips pulled up in a smirk and I knew we were just getting started. I had a feeling our honeymoon would last a lot longer than this trip to Jamaica.
♥READ THE SERIES♥
Book 1 – Bound
Book 2 – Captive
Book 3 – Edge
Book 4 – Drive
Book 5 – Release