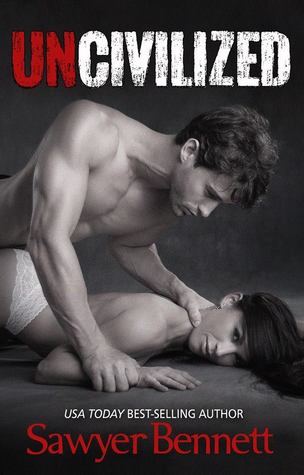 Uncivilized

by Sawyer Bennett
on September 8, 2014
Buy on Amazon
Goodreads


**Warning: This book is a wild, sexy beast of a read. 18+**

Putting a woman on her knees before me is what really makes my cock hard. I fuck with dominant force and absolute control. I demand complete surrender from my conquests.

Savage man, loner, warrior… I am dangerous at my core. I have lived amidst the untamed wild of the rainforest, in a society that reveres me and where every woman falls before me in subjugation.

Now I've been discovered. Forced to return to a world that I have forgotten about and to a culture that is only vaguely familiar to my senses.

Dr. Moira Reed is an anthropologist who has been hired to help me transition back into modern society. It's her job to smooth away my rough edges… to teach me how to navigate properly through this new life of mine. She wants to tame me.

She'll never win.

I am wild, free and raw, and the only thing I want from the beautiful Moira Reed is to fuck her into submission.

She wants it, I am certain.

I will give it to her soon.

Yes, very soon, I will become the teacher and she will become my student. And when I am finished showing her body pleasure like no other, she'll know what it feels like to be claimed by an uncivilized man.
Uncivilized is a stand alone book from author Sawyer Bennett; yes as the blurb says this is her raciest book to date … but this book is so much more than sex. This powerful and thought provoking book is a must read especially if you are seeking a different story.
Zach is a man who was raised by a remote tribe after his parents died when he was a young boy. After 18 years living with a isolated tribe in the Amazon, Dr. Moira Reed, an anthologist, is sent by his godfather to "reduce" him. The rescue Zach is in quotes because Zach is happy with the tribe, it is his home.
Uncivilized is told in two POV's Moira's and Zach's, this for me was so critical as these two truly have very different perspectives and they see the world around them so differently. The author did a wonderful job allowing the reader to get into each character's mind.
Sex can be a release, sex can be the manifestation of a physical connection and sex can be the exploration of deep emotional connections, in Uncivilized Ms. Bennett brilliantly portrays sex as all of that and so much more. This book for me truly offers the reader perspective, a space to truly think about sex, and how it fits into society. Allowing the reader insight that how we perceive sex, what we deem acceptable is tied to what we know, how we are socialized.
The book also asks the questions, what is home, what is acceptable, and on many levels, you may find yourself asking what is normal… is it just a set of boundaries assigned by the society you have been accumulated to?
Ms. Bennett did a outstanding job connecting the reader with Zach, though he battles against returning, his remembering small things like the smell of chocolate chip cookies may have your heart breaking for what was a little boy who lost his whole world when he was orphaned at 8 years old. As visits to things from his young life have Zach pulled into the mind, pulled into glimpses of his young childhood, the turmoil he faces was powerful, the reader can feel his conflict.
Dr. Reed's conflict over her attraction to Zach, Moira's patience with Zach, her challenges and joys with Zach truly had my heart hoping these two could find a way to make their two worlds meet.
I also enjoyed the use of Zach's Uncle Randall, his godfather, the man who found him and asked Moira to bring him back. He was a wonderful character, he offered patience and perspective to this lost man.
I want to make sure to say that the cover art for this book was truly used throughout the book; it is an image you get in your head early on and replays throughout as a theme in the book. So well done!
As Zach and Moira come to truly explore trust, as they come to find a way to bring their two pasts together life steps up and throws them a major curve ball. This twist had my heart breaking but in the end I really think it was the only resolution that could have felt true to these two characters created because sometimes you need to go back before you truly know what your path should be.
A big Thank You to Ms. Bennett for a different story line, for a story that made me think and for a story that may make a few readers question what is normal.

Zach

The squelch of wet and rotted leaves reverberates through the quiet jungle as I carefully make my way to the fresh water spring. The air is heavy and lies across my skin like a wet blanket. My machete is firmly grasped in my hand and my eyes are keenly aware of my surroundings. I've slipped back into my former lifestyle as if it were only yesterday that I was here in the Amazon, when in reality, it's been two years.

Just like riding a bike.

I can smell the water before I reach it and within another twenty meters, I'm peeling back a curtain of banana leaves to get my first glimpse of the crystal pool that Paraila assured me would be here.

It's beautiful. An almost perfectly round pond of fresh water bordered by a large rock formation on one side and lush, tropical plants growing around the remaining edges. The smell of orchids and lilies is strong and it's just fucking perfect for what I have planned.

Moira's hand presses into my lower back and I reach my own hand back to link my fingers with hers. Giving a slight squeeze, I tug on her and she steps out from behind me so she can get a look at the spring.

"Oh, it's beautiful," she whispers reverently.

"Yes, it is," I agree, but I'm looking at her and not at the cool water.

It's the last day of our two-week visit and our time here has been good. But I'm ready to get back to civilization, completely sated with my visit and feeling satisfied about seeing Paraila again. He's doing well and maybe he has more years left than I originally gave him credit for.

This trip was a complete and utter surprise to me. I had no intentions of ever venturing back to Amazonia again, but Moira and Randall schemed and conspired, and put this together, springing it on me the first day of my summer break. My freshman year at Northwestern was everything I had hoped it would be, and just a little over a month ago, Moira agreed to marry me. All in my life is astoundingly perfect, made more so by the trip back to my home to see my family and Paraila. This, though, is probably our last visit here. Moira and I will be getting married at Christmas and then we'll start on our own family. After we have our first child, there won't ever be anymore visits here, because I'm not leaving my kid behind and I'm not ever bringing my child here.

"Get naked, baby," I tell her as I push through the banana leaves and pull her to the edge of the pool.

Dropping her hand, I make short work of getting my hiking boots and clothes off, watching Moira do the same. We watch each other with silly grins on our face, happy to finally have some alone time together. It's been a major pain in the ass having no privacy with her. We shared a hammock each night in Paraila's longhouse and I could do nothing more than hold her sweetly. It was absolute torture watching my other tribe mates fuck all willy-nilly around us, practically releasing sex pheromones into the air that made me horny as hell. One night, Moira whispered to me, "Just put me down in the dirt on my knees, Zach and fuck me like the Caraicans do."

I was so fucking hard after hearing that and my balls ached, but I wasn't about to fuck Moira in front of my tribe. I wasn't sharing what I have with anyone because it's sacred.

When Moira peels her sports bra off and her plain, white cotton panties, I don't wait another second. Leaning down I put my shoulder into her stomach and haul her up over my shoulder. In two steps, I'm jumping into the middle of the spring and Moira gives a sharp yelp of surprise when the cool water hits us.

We break the water's surface, Moira sputtering and slapping water at me and my hands already crawling all over her body as my feet plant solidly on the rocky bottom. The water comes up to the bottom of my chest and Moira immediately locks her legs around my waist to hold herself up.

"I can't believe you just did that," Moira complains, wiping her long hair out of her eyes.

My hand goes in between her legs and I smoothly push a finger into her pussy. "Shut up and let's get to the fucking part. I'm dying to be inside of you."

Giggling, Moira wraps her arms around my neck and gives me a hot kiss. When she pulls away, her eyes are sparkling with desire. "It's been a long time."

I pull my finger out of her tightness and hoist her up in my arms, latching my lips around one delectable nipple. It has been a long time. Three days by my count, because while I wasn't about to fuck Moira in front of my tribe, it didn't stop me from hauling her off into the jungle for a quickie from behind.

"Are you sad to be leaving tomorrow? Moira asks, here words soft and comforting, made even more so by her fingers in my hair gently massaging my scalp.

I give a quick bite to her nipple and pull away to look at her. Her eyes are shimmering with desire and concern for me.

Nuzzling into her neck, I slip my finger back into her causing her to jerk in my arms. "A little sad, but more than ready to get back to our life there."

I can feel her nod against me in understanding and just so we can stop the talking and get to the fucking, I distract her from more conversation by pushing another finger inside.

"You're so tight, baby," I murmur against the warm skin at the base of her neck. "Guess that's what happens when we don't fuck like animals like we're used to doing."

Moira snorts in amusement and tugs on my hair so my head raises back up. Her lips smash down onto mine and she gives a swivel of her hips, starting to ride my fingers. Fuck that's sexy and my dick starts to throb with insistency.

Pulling my fingers out again, I grip Moira under the base of her ass and start to walk us out of the pool. When my feet hit the cushion of plush grass that surrounds the water, I drop to my knees and lower her to the ground. Because her arms are still wound tightly around my neck, she tries to pull me down on top of her but I resist. Reaching up, I grasp onto her wrists and peel her arms away.

She looks at me curiously for a moment but then her eyes flare wide in understanding of what I really want. I don't even need to tell her… she knows just from the feral look on my face.

Moira rolls over onto her stomach and immediately comes up on her hands and knees before me. She waits… knowing what I really want but she's going to make me put her there. I glide my hand up the slender line of her back and grasp her by the back of her neck, growing even harder from her moan of need.

Push, push, pushing her down… lowering her cheek to the ground with my other hand on her hip to keep that ass tipped up invitingly to me. When her face comes to rest on the grass, I can't help but grin in response to the subtle smile on her face and the dreamy look in her eyes. She gets off on this shit as much as I do, and while I may be the one forcing her to bow before me, we both know that Moira's the one with all the power right now.

My hand slides from her hip to her pussy and I drag my fingers through her wet folds. Satisfied that she's as ready for me as I am for her, I plunge in balls deep, a satisfied groan tearing out of my throat.

"God I love you, Moira," I manage to grit out, holding myself still within her body.

"I love you too, baby," she whispers and gyrates her hips… sucking me in even further.

I start to move in long, slow strokes, savoring the feel of my love wrapped around me. It doesn't matter that we are fucking deep in the Amazon jungle. I'm with Moira which means I'm definitely home right this very moment.