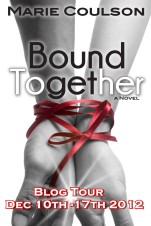 4 STARS!!!
Summary
Layla Jennings is a fiery, independent and level headed nineteen year old. Always playing by the rules and doing what's right, she has been the apple of her father's eye and her mother's treasure. But moving to college in Long Beach is about to turn Layla's world upside down. With the gorgeous, pierced, guitar playing, wannabe rock star Oliver living across the hall, Layla finds herself thrown into a world of music, money, torn friendships and blood simmering sexual tension.
But on taking a job in a local coffee shop she meets the deliciously handsome Jared Garrett. Convincing herself that he is a waste of oxygen she tries to put the young successful business man out of her mind. But when he continues to show up she finds herself constantly thinking of him. Dazzled by his boyish good looks and discovering a whole new world of carnal and erotic pleasures, Layla finds herself falling head over heels in love but with Jared hiding a vital secret can she ever truly trust him?
Denise's Review
Congratulations to Marie Coulson on a wonderful debut novel; Bound Together was a truly enjoyable book.
Bound Together held my attention as Ms.Coulson developed well rounded characters that made for an engaging read.
The female character Layla is well written, as the story developed her internal conflict was tangible and you could feel her attraction to the two men in her life (oh more on Jared and Olivier in a bit).
Layla is a nice balance of fun and responsible. Her relationship with her friends and families were really well done, it built on the story and helped foster the readers connection to Layla. Layla's friends Liz and Amy as well as few other supporting characters added to this story.
And now for the story development of the book; enter two men, two handsome men who are different and equally compelling both to Layla and the reader.
Ms Coulson's crafts two fun and entertaining first encounters for Layla and each of these men. Oliver "Ollie" Green is a gorgeous, pierced, guitar playing, wannabe rock star who lives across the hall from Layla in her dorm at college. Jared Garrett is young successful business who knows that he wants and he wants Layla.
The author paints these men is wonderful detail, Ollie is a loving, caring, fun and compassionate young man that any women would want to hang out with.  Jared is intense, passionate (oh the over the top gestures), a bit dark, obsessive and kind of like an addiction.
Ms Coulson has both men making gestures and showing affection to Layla in ways that would melt most women's hearts. Both men are clear about their feelings and their expression of it to Layla will make your heartfelt (well and break a bit as you know only one man can have her in the end) All of
this really adds to the readers experience, you see why she would desire both men.
Layla's wit and sarcasm for me was truly entertaining; oh she can be frustrating but more often than not I found myself loving her sass.
The range of emotions Ms Coulson makes the reader feel makes for a truly can't put down read.
I will say this book is a bit of cliffhanger; and I am very much looking forward to book 2 Torn Apart.
Each of the three characters had a backstory I am hoping to learn more in book 2 as to Why certain things happened, I do not want to spoil anything for the reader, so I will simply say enjoy the ride; the ride on the motorcycle, the ride in the jaguar, the ride to win Layla's heart!
For more information about the author, please visit her sites:
Twitter @marie_coulson
Website http://www.goodreads.com/book/show/16090876-bound-together http://authormariecoulson.wordpress.com/
Facebook http://www.facebook.com/authormariecoulson
Enter to Win a Prize from Marie!
a Rafflecopter giveaway