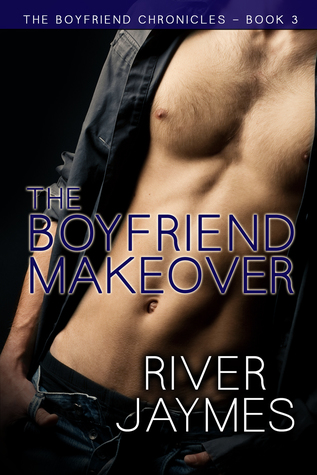 The Boyfriend Makeover

by River Jaymes
on November 20, 2016
Buy on Amazon
Goodreads


Noah Tanner loves life and the gay men who live it. Bisexuals rock too. Questioning? Even better. One-offs come and go like dates on a calendar, but his friends and his calling never do. He's spent years raising money for San Francisco's homeless in honor of the boyfriend who died. Ensuring the success of his upscale charity event is currently job one. He's closing in on his goal, but the deliciously scruffy, oh-so-sexy Bachelor Bid contestant, Dr. Kyland Davis, is proving far too distracting.

Former Texan and no-nonsense surgeon Ky Davis prefers his beat-up Stetson boots to Louboutins. He's sacrificed a lot to help raise his siblings—including keeping his orientation a secret. After a difficult year for his sister, he'll do anything to see her smile again, even agree to participate in the fundraiser she's been hired to organize. Unfortunately, the accompanying makeover by the irreverent and gorgeous Noah Tanner might be his undoing…

CONTENT WARNING: This book contains Man-on-Man action, adult situations and *ahem* language.
I love Ms. Jaymes' writing and was so excited she has returned to share more of this cast I have come to adore! Noah has been a character who played a role in this series from the very beginning and to see Noah finally get this story in The Boyfriend Makeover and his happy truly had me excited to dive in!
Seeing that Noah was paired with Dr. Kyland "Ky" Davis the sexy surgeon from book 2 had me grinning from ear to ear as both men were masterfully woven into the existing cast.
Both men's backgrounds and upbringings were kept true to the characters crafted and at times your heart will ache for each as they fight the demons of their pasts to embrace the love in front of them.
This book is hot, the scene with the kitchen shears is WOW and so perfect for a surgeon but I digress this book is so much more than hot; it truly pushes the reader to think what would you give up, what would you push about yourself and  how much are willing to work on yourself when you find the one what completes you.
I so loved Ky! He has a heart the size of his homestate of Texas, he pushes Noah's his buttons (speaking of button super hot dressing room scene but again I disgress) and pushed him to accept who he is, a gay man but in the end Ky is the one who proves love is about wanting the other person to be whole.  Ky's desire for Noah to heal speaks volumes of his character and of his deep love for Noah.
In the end, the love these two find was so perfect and I so very much enjoyed seeing the man from the prior books living their happy.  Given how interwined these men's lives are I wouldn't recommend this book be read stand alone. Having said that it would make an epic binge series read so click away!
I should note this book may have been rated higher if there was not such a gap between books, I often had to struggle to remember what seemed to be key pieces of information.
♥READ THE SERIES♥
Book 1 – The Backup Boyfriend
Book 2 – The Boyfriend Mandate