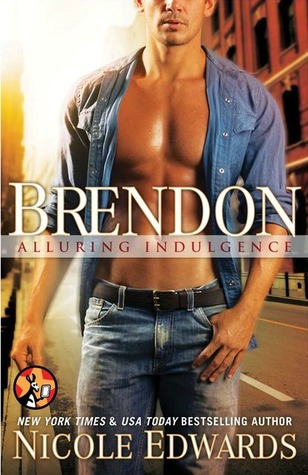 Brendon

by Nicole Edwards
on May 11, 2015
Buy on Amazon
Goodreads


From New York Times and USA Today bestselling indie author Nicole Edwards comes the final scorching installment in her Alluring Indulgence series, erotic romances featuring the Texan Walker brothers and their sizzling-hot love interests.

Brendon Walker's life was altered drastically when his twin brother fell in love. Coming to grips with his new reality hasn't been an easy road, and he fears he's all but given up.

Cheyenne Montgomery is familiar with the spotlight, and she's familiar with fame. What she isn't familiar with is the incredible lure of the sexy Walker brother who makes her heart beat wildly. Seeing him spiral out of control has been tough on her. So what will it take for Cheyenne to convince him that change can be a good thing?
Happy Release Day to Nicole Edwards and her new book BRENDON!
I am going to start by saying I am not sure if the 5 stars is for just Brendon or for the series as whole because I write this coming off tears from reading the epilogue.  A powerful, masterfully written epilogue in a voice the reader of this series has not heard before but has been dying for.
I adored how it was written, what it stood for and the hint of more to come. YES, you heard me… it appears Coyote Ridge has more stories to tell!!!
Readers of this series.. and I will pause and say if this book interests you and you have not read the series, please stop reading and go 1-click Kaleb so you too can fall in love with the Walker Family.
Brendon as you guessed is the story of Brendon Walker, the last Walker brother to have his story told and with Cheyenne Montgomery, a country singer who Brendon has been circling around for some time (and a few books).
I adored how this book opened as the reader finally learns how Cheyenne came to be a friend of the Walker family or more specifically how she became friends with Travis the oldest Walker Brother.
I loved how Ms. Edwards puts the struggles we have seen between Cheyenne and Brendon into context; she did not make this story about drama but about two adults attempting to process coming together under complicated terms.
As always Curtis Walker, the patriarch touched my soul, made me smile and put a grin on my face by calling his sons "boy."  And the interactions between the Walker brothers yet again was so much fun to read and portrayed unique bonds between each man.
Those dedicated fans who have read all of Ms. Edwards series are rewarded with mentions of many… as one of those fans I will say I love the use of Z and RT from her Sniper 1 series and now I am even more excited to see what develops between these two. I will also say the use of Sniper 1 in the plot lines was perfect, it made for an engaging story line.
No worries if you only read the Alluring Indulgence series as these mentions are woven into the series really well.
The "why" Cheyenne moves to Coyote Ridge works and "how" Brendon learns to embrace these feelings he has never felt before so worked for me; they truly helped me fall in love with this man who for the past two books was truly struggling to move his life forward.
I loved watching these two come together and learn more about each other; the deeper than the chemistry and attraction that shone through from their first meeting.
The happy Bren and Chey find was one crafted to fit them and made me smile!
And again I will end as I opened….OMG the voice you hear in the epilogue is one I have been dying for and I am so happy that we will be getting more of the residents of Coyote Ridge!
♥READ THE BOOKS♥
Book 1 – Kaleb
Book 2 – Zane
Book 3 – Travis
Book 4 – Holidays with the Walkers
Book 5 – Ethan
Book 6 – Braydon
Book 7 – Sawyer
Book 8 – Brendon