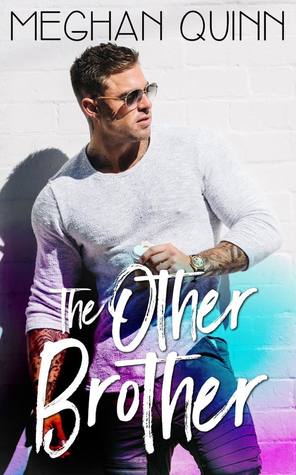 The Other Brother

by Meghan Quinn
on November 2, 2017
Buy on Amazon
Goodreads


I got the call. The dreaded call every child fears. My dad wasn't well, and the man who had always been my everything needed me.

There was only one thing to do; pack up and head back to my hometown. I had finally made my dream life in the city with the great job and loving boyfriend. But was there really a choice not to go?

I found a wonderful job, a quaint house to rent, my boyfriend was working on joining me in Binghamton, and my favorite pizza place was only miles away. Life was good.

Until I met my neighbor.

It's been three years since I'd seen Aaron Walters, and my God is he all kinds of sexy gorgeous. Figures. He was supposed to be my forever, the man I grew old with, but he had different plans. How can a man who ripped my heart apart still trip me up? How can he make me still want him now more than ever?

I'm tempted, I'm drawn toward him, I'm completely and utterly unaware that I'm dating his biological brother.

Now two men own my heart. The question is, which brother will I choose?
I love second chance romance stories but when you combine that with funny, witty banter and a hero who has come full circle from a past of pain and hurt, you basically had me from "hello." lol
Meghan Quinn is the queen of wit and humor and she has shown what an amazing author she is by also writing stories from the heart. I truly enjoyed The Other Brother.
Aaron Walters and Amelia dated when they were younger, having such heat and passion and love for each other that you knew that they were meant to be together forever. Until they weren't and Aaron let her go because he didn't want to hold her back… he wanted her to find better.
Amelia is dating Trey, a seemingly great guy, until she receives the dreaded call that her father needs her and she moves back home to Binghamton to help.
But as fate would have it, when she moves home to her temporary place, her neighbor is none other than her ex boyfriend Aaron Walters! OMG! And how he has changed for the better!
You see Aaron wants his girl back… he will settle for friendship if that's what she wants, but he wants to tell her and show her how much he still loves her. And his words, his gentleman-ness, his heart—he has a heart of gold and is the epitome of romantic book boyfriend.
And while Amelia has a boyfriend she loves, she can't resist what her heart wants.
When readers find out the OMG moment with Aaron—just WOW—I was completely blown away. What I loved about him—even more than his heart—was how he finally came to understand his worth and how much he was loved. Aaron may have always thought that he was the forgotten one, but he has always acted and behaved as one of the good guys.
I loved this story, but there was just something about it that made me feel disconnected. I can't even really pinpoint for you what it was but I wanted to LOVE IT and I just didn't—but I did enjoy it immensely. This was a 3-3.5 STAR read for me 😉
I love Meghan Quinn's writing and books—she has showcased that she can write it all and I love that about her as an author. Can't wait to see what she has in store for us next!

Why? Why does he have to magically appear in my life? Moving back to Binghamton, I thought about the possibility of maybe running into him, but I thought it unlikely, something that would never really happen.
Boy, was I wrong.
What a sick joke life is playing on me.
Aaron Walters, the boy who broke me into pieces is my neighbor.
I can't fathom the impact I feel already.
Seeing him in hip-hugging jeans and a tight, plain shirt did a number on me. It kept me up all night as memories of what we used to have flooded my mind.
His voice.
His stature.
The way he used to kiss my neck.
The way I felt so protected in his arms.
Too bad his arms couldn't protect me from his devastating, heart-breaking self.
And hell, he looked good. Too good.
He's always been tall with handsome features and a chiseled jaw, but now he's bulked up to the point that I could see his abs flexing under his shirt, the same shirt that stretched over his biceps.
But it wasn't his muscles or handsome features that once again made my heart ache, it was those eyes. So bright, so blue, so kind, but still so sad. It reminded me of the first day I met him, of the day he stole my heart from every other man on the market.
Broken, unsure, yet yearning for love. It was all there, and like experiencing a moment of déjà vu, I was transported back into a time when I felt invisible, like I could conquer anything with him at my side.
Once again, I was wrong.