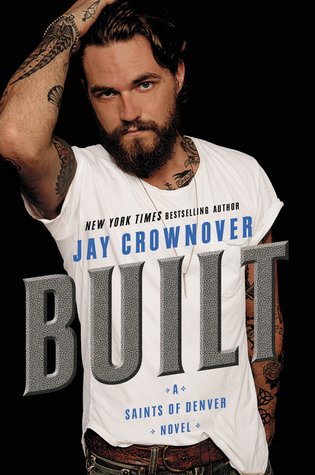 Built

by Jay Crownover
on January 5, 2016
Pages: 352
Buy on Amazon
Goodreads


The first in the new SAINTS OF DENVER series from NYT bestselling author of the MARKED MEN series, Jay Crownover

Sometimes you have to tear everything down to build something new…

Sayer Cole is frozen inside. At least, that's what it's felt like for as long as she can remember. She's yet to let anyone past her icy exterior – and the one guy she thinks might melt her heart couldn't possibly be interested in someone so uptight.

Rough, hard and hot-as-hell, Zeb Fuller has rebuilt his life and his construction business since protecting his family sent him to jail all those years ago. His elegant client, Sayer, makes him feel like a Neanderthal in denim, but despite the many hints that he's been dropping to get to know her better, she seems oblivious to his charms.

Just as things finally start to heat up, Zeb's past comes back to haunt him and he needs Sayer's professional help to right a wrong and to save more than himself. As these opposites dig in for the fight of their lives, fire and ice collide in an unstoppable explosion of steam…
Built is the story of Sayer  Cole and Zeb Fuller.
Sayer brings a dark and sad past to this one; one that makes it hard for her to accept love. Though at times I wanted to strangle her, this so worked for the crafter crafted. I love how she was a professional woman and I adored how her career wove into the secret that steps up from Zeb's past.
Oh Zeb's past, yes his too is dark but he has grown from that, learned from his mistakes, built a successful business.  Zeb has such a big heart, his dealing with Poppy, his working to give others a second chance, it all made me love him… but …wow… wait ….just wait til Hyde arrives, then I thought my heart might explode with love for Zeb.
Sayer is attracted to Zeb, the kind of man she has never been with before, her description of him grabs me (and I loved the tie into the book title)
"Tall, tatted and built. Like a guy who hauled heavy stuff around and swung a hammer like Thor should be. Zeb was impressive to say the least."
I do not plan to tell you who Hyde is but I will say this part of book grabbed my heart and would not let go.  This was the main element that had me devouring this book in one sitting, I was so anxious to see how this element played out in the plot! Oh, side note…I was so happy with the outcome, perfect to the cast and for the happy!
Zeb has a truly enjoyable dirty, sexy mouth, and he is very clear he wants Sayer (something I love)
"Now you have two choices: we can sit down and eat this awesome spaghetti I just made . . . clothing optional, or we can go to bed  . . clothing not optional." His eyebrows snapped low over his mesmerizing eyes and a muscle twitched in his cheek under his beard.
"I'm good with either one as long as you realize the second option is happening regardless."
Zeb was so good with Sayer and him knowing she had to come to accept love on her own was perfect for this story
"I choose you, Sayer. Lover, lawyer, and all the shit you are in between that, I choose it. I choose us. When you're ready to accept that, you come find me."
Not the typical I love you scene… but so freaking perfect for this couple and how Sayer needed to get to a place where she could want this relationship
"When this is over, and I'm on my way out the door, I'm going to tell you that I love you."
In the end, the happy found was so perfect and the $100 bet not only brought tears to the characters eyes but mine as well!
P.S the epilogue was adorable and so relatable to many readers who will pick this one up!
I am new to Ms. Crowner's work and although this book is listed as book 1, I often left like I was missing something. So maybe this one would have been more enjoyable had I read the intertwines series first.