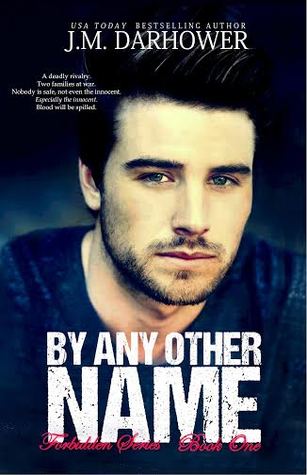 By Any Other Name

by J.M. Darhower
on February 23, 2015
Buy on Amazon
Goodreads


A deadly rivalry.
Two families at war.
Nobody is safe, not even the innocent.
Especially the innocent.
Blood will be spilled.

Genevieve "Genna" Galante knows a thing or two about causing trouble. After all, it's engrained in her DNA. As the only daughter of Primo Galante, notorious boss of the Galante crime family, her life is dictated by a certain set of rules… rules Genna was never very good at following.

Matteo "Matty" Barsanti never wanted anything to do with the family business, but as the first-born Barsanti son, certain things are expected of him. It's his duty, according to his father, to help take down the enemy... even if that enemy means something to him.

A chance encounter on an elevator changes the course of lives, causing the biggest trouble of Genna's young life. The only good Barsanti is a dead Barsanti. She's heard it said time and time again. So what happens when she falls in love with one of them?

The story of star-crossed lovers caught in the middle of the biggest rivalry New York has ever seen, determined to make it… if only they can survive their parents' feud.
I LOVE Mafia stories lately…its something different and exciting that I need every once in a while on my reading schedule because it brings that element of suspense and intrigue.
I also LOVE forbidden love stories most especially star crossed lovers novels. Forbidden love is completely intoxicating and By Any Other Name was just that!
I have to say one thing about J.M. Darhower's writing is that she is ALWAYS able to completely capture my attention from page 1.
Our story starts in NY where the son and daughter of two of the biggest Mafia crime families meet and connect in a broken elevator. Not knowing who the other is, a friendship is formed with the possibilities of something more as their connection was instantaneous.
I adored Genna Galante and Matty Barsanti. Their conversations and interactions and just everything about them!
Matty, the kind of guy you would want to take home to introduce him to your family. Someone who is a complete opposite of what you would think of a "Mafia" guy. He wants out. He wants Genna. He's a momma's boy and I fell for him completely <3
Genna is spirited and wild. She tells it like it is but deep down inside just wants to be loved and more importantly free from her over protective father and brother.
But this wouldn't be a story if they didn't find out who the other really is and that any emotion other than hate is acceptable. How can anything between these two ever end well?
They try to date in secret, moving past their family's feud but with secrets and lies growing bigger on a daily basis, what happens when feelings and emotions can't be stopped despite the anger and hate both families have for each other? And with war imminent, can trust, faith and peace every be restored? Is revenge ever really sweet?
You will have to read this book to find out!
I know I am not saying much in this review as I feel that you need to experience it yourself. But I will say this…if you are looking for something fast paced and well written mixed with violence, hate, war, revenge and ultimately love, then look no further. This is ultimately a story of family and as this is book 1 in a new series, I look forward to reading more and finding out if these warring families can ever find it in their hearts to forgive past mistakes and move forward.
J.M. Darhower never ceases to amaze me with her writing talent. Her books are always completely captivating, fresh and without a doubt always leave me wanting more. Yes Romeo and Juliet type stories have done before but not with the finesse that Ms. Darhower is able to incorporate into every page of this book. I WANT MORE!