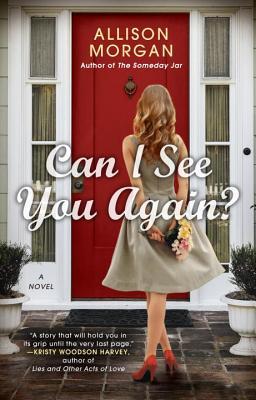 Can I See You Again?

by Allison Morgan
on August 9, 2016
Pages: 384
Buy on Amazon, Buy on B&N, Buy on iTunes, Buy on Kobo
Goodreads


From the author of The Someday Jar comes a witty and warm novel about a matchmaker who's an expert at matters of the heart—except when it comes to her own...

Matchmaker Bree Caxton has a 98% success rate, a book about to hit the stands, and an amazing boyfriend. Until, that is, he gets cold feet about their future and runs from their relationship.

Afraid no one will buy a book on love from a woman whose love life is a mess, Bree begs her one matchmaking failure, Nixon Voss, to pose as her boyfriend. But when they become a hit with readers, they must carry on their charade just a little longer. Fortunately, they're both having fun...

But then Bree's ex decides he wants her back and a newspaper presents a challenge that could expose the truth about her rocky love life. Now she must find the courage to embrace what is, or risk losing something much bigger than her reputation: her heart...
Enjoy a sneak peek into Can I See You Again? below and make sure to enter the AMAZING giveaway!!!
Fans of pure, straight up romance that is a delight and so much fun to read will love Can I See You Again? by Allison Morgan.
I absolutely LOVED this book! Thank you to Megan from Reading Books Like a Boss for the recommendation!!
There is just something about this book that made me smile throughout my read. I laughed, I felt the sadness, and I felt the hope. My goal to read new authors this year has made me so happy because Allison Morgan has become another must read author to add to my list. This book was pure delicious fun, no drama for the sake of drama, just a well written, engaging love story that I couldn't stop reading.
So what's it about?
Matchmaker Bree Caxton has a 98% success rate and is an expert on relationships and all matters of the heart unless it's her own. You see Bree's boyfriend has cold feet and decides that he doesn't want to be in a relationship anymore. And he tells her this at a time when she needs him the most because her book about relationships is about to be published and how can she be an expert in her field when she can't even hold down a relationship of her own?
Enter Nixon Voss, one of her clients looking for love. Nixon is a wealthy, handsome businessman who even with Bree's help, can't seem to find "the one."
With some begging, Bree asks Nixon to pose as her boyfriend to satisfy her publicist's marketing campaign and what readers will come to find out is that sometimes that one could have been right in front of your nose the whole time and it takes some crazy scenarios to bring that love to light.
I loved everything about these characters. Nothing was over the top and it was more of a slow build realization of the chemistry that was between Nixon and Bree. As these two get to know each other and build upon their professional client relationship to friendship and to even more, I loved their connection, them realizing what they want out of life, and their sweet moments that made me laugh and smile knowing in my heart that they just needed to just open their eyes to realize what was staring at them both in the face – love.
Can I See You Again? is romantic and fun and I couldn't help but smile with every turn of the page. I hope Ms. Morgan writes more books like this because in a time when there are so many books being published daily, Can I See You Again? is a real feel good, gem of a book that will make any book lovers heart happy and we definitely need more of this on our TBR lists!

"Look." Nixon clicks off his screen. "I appreciate your help. I really do. But you know this whole arranged-dating thing isn't me. I'm here because my mom forgets I have a business to run and insists . . . actually, commands . . . that I have a date on my arm for my cousin's wedding. If I don't, she'll have to explain to friends and neighbors, the caterer, the florist, and anyone else within earshot that the Voss family name is in jeopardy because I haven't married and spawned a grandchild, which in her eyes is equivalent to the earth slipping off its axis. So, according to my mom, if I don't have a girlfriend at the party, I'll be responsible for the end of humanity."
"Be nice." I fiddle with a file, trying not to laugh at Mrs. Voss's expense even though Nixon's not off base. I recall her phone call several weeks ago—she noticed my billing statement on his counter and jotted down my number—explaining with an unwavering tone and heavy Spanish accent that each passing day is one less she'll be alive to spend with her grandchildren. And the Amado Jesús can strike her dead before she'll allow niños without marriage. She's giving Nixon until his cousin's wedding before Mamá steps in and finds a daughter-in-law herself.
Yes, her approach is abrasive, but I admire her conviction, her certainty. All she wants is to share her love with her family. Who can fault a woman for pinpointing exactly what she desires from life? And, though Nixon may disagree, he's a lot like his mom, confident and steadfast. But the two differ in the sense that work is his baby. Poor Mrs. Voss, how is she supposed to spoon-feed mashed sweet potatoes to a Fortune 500 company?
"Let's be honest." I tuck my hair behind my ears and drop my elbows on my thick glass desk. "You're not here because your mom said so. You're here because you're a thirty-five-year-old man with no one to share your life. Your house is cold and sterile. There's probably expired milk in your fridge. And more than likely, gray hairs are sprouting up in inappropriate places. Your comfort zone is shrinking and, at the end of the day, you're alone."
"Shit, Bree. Don't sugarcoat it. Give it to me straight."
"I know it sounds harsh."
"It sounds like you're stalking me."
"Only when your shutters are open."
He laughs.
"All kidding aside, love isn't easy. Don't get discouraged because we've had a few misfires. And don't let my casual attitude fool you. I take my business seriously. And I'm good at what I do." I thumb toward the wall behind me, which is blanketed with framed pictures of some of the happy couples I've introduced over the last six years. "I've attended countless weddings. Seven of my clients have named their firstborn after me, and the newly married owner of Dutch's Safe Haven Zoo dubbed his last rescue in my honor."
"Well, you know you've made it when that happens. What was it? Majestic lioness?"
"It really doesn't matter."
"California condor?"
"You're missing the point."
"Rarely seen snow leopard?"
"A squirrel, all right?"
"Squirrel?"
"Yes, I know. Nothing that unpredictable can be trusted. Moving on"—I scoot toward the edge of my seat—"I've facilitated relationships between aging lounge singers and triathletes. I've married pilots to prison guards, CEOs to sanitation workers, vegans to paleo dieters. Bree Caxton and Associates is one of San Diego's most prolific matchmaking companies. I've devoted my life to finding love and I have a ninety-eight percent success rate." I lean closer toward him. "Do you realize, Nixon Voss, you're my two percent?"
"Are you really afraid of squirrels?"
"I wish you'd take this seriously."
"Is it the soft, bushy tails or the doelike eyes that terrify you?"
"Very funny." I reach for his date's head shot. "Here is a perky blonde with a Colgate-worthy smile. She's adorable. You chose her. So tell me, what killed it?"
"I don't know. She seemed too obvious, a little young."
"Young? That's what I've said for months. And for months, you've overridden my choices and selected girls, eleven to be exact, that aren't your right match. And for some crazy reason, I've allowed it." Mrs. Voss's voice plays through my mind. Mi familia. "Your mom is right. No more."
"No more what?"
"This." I wave his date's picture in the air. "You think you want a twenty-something model/actress with big boobs and a tight ass, but you're wrong."
"How are big boobs and a tight ass ever wrong?"
"Think of it this way, you're a venture capitalist who negotiates with financiers across the world, right?"
"Right."
"You speak three languages and have a master's degree in business."
"I do."
"How can you expect to find a connection with some barely legal play toy? It isn't probable. You don't share the same energy. Girls that age don't care about exchange rates or investment returns. They don't care about variances in sea levels or the shipping economy. They care about bikini waxes, polishing their nails with the color of the season, and mango-flavored vodka. That's who they are. That's who they should be." I point at Nixon. "But that's not you."
"It's not?"
"It's not. You need a thirty-something, strong, independent, less obvious woman who is filled with a driving passion. Someone who challenges you."
Nixon leans against the chair's backrest and studies me for a few seconds from head to toe. My neck muscles tighten from his scrutiny.
A mischievous corner smile curves his lips. The same smile that I'm certain paved Nixon's way into countless women's panties. Not that it matters to me, but the smile does have its charm.
"So . . ." he says, "I need someone like you?"
"What? No, not like me." I reach for a pencil, though I've nothing to jot down. "Well, yes, technically, I suppose . . . exactly like me." Bree, what have you done? You've given Nixon the wrong impression with your sassy "you're my two percent" garbage. Some expert you are, leading the poor guy on. I pull the lapels of my blazer closer together, then with the eraser tap the framed picture of Sean and me paddleboarding in Cabo. "Sorry, Nixon, not me. I'm here for you professionally."
"Whoa, I'm totally kidding. Did you think . . . me and you?" He laughs loud enough to grab a glance from Andrew seated across the room.
It isn't that funny.

*Giveway now over – Congrats to Sheila Lawrence*
Enter to win a copy of  Can I See You Again? AND the Someday Jar (open US ONLY)
All you have to do is share this excerpt and giveaway on your social media account(s) (Facebook, Twitter, Instagram, etc). Sample message below:
A gem of a book that will make any book lovers heart happy – Can I See You Again? is a must read! #ExcerptAndGiveaway @shhmomsreading @amorganbooks
 Please make sure to post a link to your shares below. ONE winner will be chosen Thursday September 8th. Thank you for sharing!
 ♥ Also by Allison Morgan ♥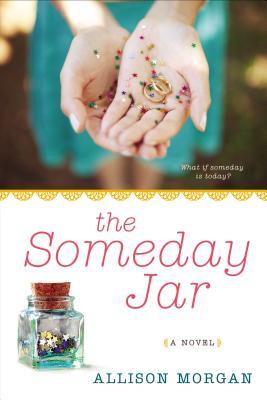 Fans of Sophie Kinsella and the Shopaholic series will fall in love with Lanie Howard—young, fabulous, and desperate to transform her life—in this funny, quirky, and endearing story about finding perfect happiness in life's most imperfect moments.
WHEN LIFE GIVES YOU LEMON-DROP MARTINIS…
Real-estate broker Lanie Howard figures she has the perfect man, the perfect job, and the perfect life. Then she stumbles across her old Someday Jar, the forgotten glass relic where she stashed all the childhood wishes—no matter how crazy—that her father encouraged her to write down on the backs of Chinese restaurant fortunes. She used to be fun once! What happened to her?
DON'T CHOKE ON THE RIND.
Although Lanie is wary of uncorking her past, when an attractive stranger saves her from a life-or-death encounter with a lemon peel at the bottom of a martini glass, she realizes that life is way too short for regrets. Now, jar in hand, Lanie decides to throw caution to the wind, and carry out everything she had once hoped to do, even if it means leaving her perfectly "perfect" life behind…
Amazon
 |
B&N
|
iTunes
|
Kobo