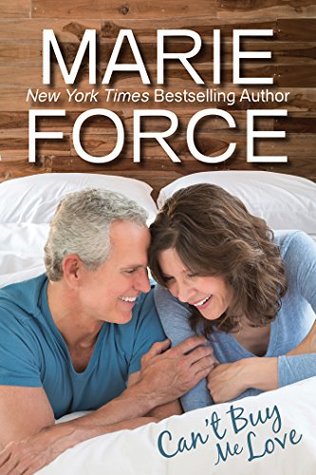 Can't Buy Me Love

by Marie Force
Series: ,
on June 9, 2017
Pages: 223
Buy on Amazon, Buy on B&N, Buy on iTunes, Buy on Kobo
Goodreads


Mary Larkin was hard at work as the office manager at the Green Mountain Country Store when Cameron Murphy brought her dad, Patrick, in to visit. That fateful first meeting, which took place in You'll Be Mine, sets the stage for Mary and Patrick's long-awaited romance in Can't Buy Me Love!

Mary enjoys her predictable, satisfying life in Butler. If it's a little lacking in excitement, well, that's okay with her. But after meeting Patrick and getting to know him better at his daughter's wedding, Mary is intrigued by the well-known, sexy billionaire businessman.

Patrick is equally intrigued. For the first time since he suddenly lost his wife thirty years ago, he has met a woman who makes him feel less lonely, and all he wants is more of his Sweet Mary from Vermont. Flirty phone calls become a weekend away together that takes his relationship with Mary to the next level.

But with six hours and two vastly different lives standing between them, can Mary and Patrick find happily ever after together? And after telling her father to keep his hands and everything else off Mary, will Cameron approve of her father's new romance?
I loved Can't Buy Me Love by Marie Force!
This book about mature characters was pure romance and Marie Force at her best.
Though listed as book 2, this series continues love stories woven around the Abbott Family of Butler, Vermont. Having said that, this book is easily read as a standalone and makes for a great introduction to this wonderful author's writing style if you haven't read her prior books.
Can't Buy Me Love is the love story of Patrick Murphy who finds himself in Butler, Vermont when his daughter Cameron finds her soulmate with Will Abbott (in All You Need is Love book 1 of the Green Mountain series) and Mary Larkin the longtime office manager of the Abbott family's general store.
One think the thing I loved most about this book is that the author made it so clear that this was something DIFFERENT for both characters—this was done with actions, words, and the reactions of an amazingly well-crafted supporting cast.
Mary and Patrick had me glued to my kindle, kept my heart soaring and had me believing love is possible at any age.  Mary's reaction to Patrick perfectly suited her character and Patrick's desire to obtain what he wanted—in this case he wanted Mary—so suited this highly successful man.
I fell in love with Patrick so many times in this book—his desire to make Mary happy, his willingness to try to move at her pace, his ability to assure her and his pure love for her—shown through in spades.
If you love romance novels, this book is a must click!
As a side note for readers who have read the prior books and fell in love with this with this cast, you get to see so many of them moving forward. Oh and there is a wonderful scene between Cameron and her father that touched my heart!
And I am so excited for Here Comes the Sun next—Wade Abbott's book, a single member of the family finding their happy… hint hint Max soon please!
Reading Order
Green Mountain Series
Book 1 – All You Need is Love
Book 2 – I Want to Hold Your Hand
Book 3 – I Saw Her Standing There
Book 4 – And I Love Her
Book 4.5 – Ask Me Why
Book 5 – It's Only Love
Book 6 –  Ain't She Sweet
Butler, Vermont Series
Book 1 – Every Little Thing
Book 2 – Can't Buy Me Love