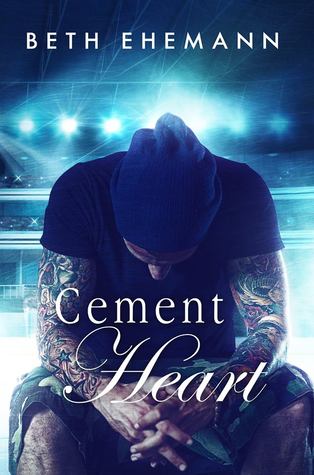 Cement Heart

on March 15, 2015
Buy on Amazon
Goodreads


Lawrence Finkle, known simply to his die-hard Minnesota Wild fans as Viper, isn't used to hearing the word no. He lives his whole life just a little on the reckless side. After all, life is just one big game, right?

Wrong.

When what was supposed to be an innocent bet goes horribly wrong, he's left to deal with the aftermath—and the guilt. In an effort to make things right the best way he can, he ends up falling for the one person on the planet he never should have.

The old saying goes that two wrongs don't make a right . . . or do they?
This book tells the story of Lawrence Finkle or as the fans of the Minnesota Wild and readers of The Cranberry Inn series know him as Viper.  Let me pause and say this book is 100% stand alone though you see Brody and Kacie, the couple from The Cranberry series, they are simply secondary characters here in this story.
And Viper's love interest who I will NOT mention by name (since it was not given in the blurb and watching it unfold was so powerful) is introduced in this book.
This is book has alternating POV's though more male than female. I so adored reading both especially given the subject matter and plot twists.  Ms. Ehemann truly nailed the male POV as I felt like I was in Viper's head.
Standing witness to the softening of Viper's heart, watching him fall in love and eventually embrace all that means, truly warned my heart.  Now Viper's journey to that happy is one filled with deep heartache, anguish really as in this case the happy comes from tragedy.  This shows the reader its not about what life gives you but what you do with it.  When faced with a future you never imagined, in the face of a horrible accident you feel responsible for… how to do find a way to push forward??
Well, for Viper it was not easy but he did; he moved forward. Finding a happy he never imagined, a happy he would have never planned but a happy that does work for him and will truly have you as a reader smiling and believing in the power of love.
Now despite the words above, despite the heartache in this book and the tears, this book also brought humor with lines like this…(Yes I loved Viper's grandma!)
"I looked back and forth from my glass to hers. "Why does your tea look different?"

"Because my tea is whiskey." She grinned proudly.

"Whiskey?" I stared at it incredulously before checking the time on my phone. "It's ten thirty in the morning."

"Lawrence, when you're my age, you learn to do things when you want to do them, not when it's socially acceptable. Hell, who knows if I'll still be around at dinner time? While we're on the subject, I had half a tub of mint chocolate chip ice cream for dinner last night. Cheers!" She raised her glass again and winked at me.
So Ms. Ehermann, thank you for a story that provides the reader with a great range of emotions!