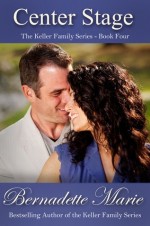 4 STARS!!!
Summary
Book 4 in the Keller Family Series
John Forrester is a simple man whose never needed more than his work, his truck, and a small apartment with his flat screen TV. After a bad breakup with his ex-wife John swore he'd never get married again and has done his best to keep to himself. But one woman always creeps into his mind—Arianna Keller.
Arianna Keller had an amazing career, center stage on Broadway. However, her run in New York is over and circumstances have forced her back home to Nashville, Tennessee.
The relationship John and Arianna have forged over the years as friends has always had a romantic spark, which has been ignored. Now they are working together to restore an old theater and their desire for each other can no longer be denied.
It's only a matter of time before sparks ignite into a passionate fire. But Arianna is keeping a secret which threatens to destroy more than her relationship with John—it threatens the lives of the entire Keller family.
Christine's Review
Another great addition to the Keller Family series!  Arianna Keller is the older sister and too into her career and independence to want to get married or have children.  She wants to belong to herself.  Something happens in NY which makes her realize how important it is to be closer to her family so she moves home to be with them.  John Forrester's ex-wife burned him and he doesn't have trust for any woman – he too is not looking for any commitment and is also into his work.  This relationship has been three books into the making so it happens quickly.  They don't want to like each other or have feelings for each other but they do.  After their first shared kiss, they realize how much they mean to each other and that there is comfort in being with each other.  Both people believed that true love couldn't happen for them but they were very wrong.  I love the family dynamic in this series.  They are all so close and all they want is to protect each other.  Without giving anything away, the characters in this books share an experience together that make them realize the importance of life and love and being together.  Bernadette Marie is a romantic at heart.  She shows that you don't need the hot sex scenes to write romance and to feel passion between characters.  I cant wait to read the next phase in her series which focuses on the children of the original Keller clan – Eduardo is next coming May 2013 – Lost and Found.
If you have not read about this family, I definitely recommend that you start from the beginning:
The Executive's Decision (Regan and Zach) – Get this one now while it's free!!
A Second Chance
Opposite Attraction
An ARC copy was provided by the Author for an honest review.
About the Author
Notebooks and pens have been my obsession since childhood. Later it became books and stories others weaved into the perfect escape. The day I received my first typewriter was the day the passion for spinning a tale hit me – and it hit hard.
I was thirteen when I first sat down to write the great-American love story. I didn't have much to say at thirteen. But over the years I did fall in love, get married, have children, and an array of amazing adventures happened along the way. And the passion for writing stayed with me.
That first book took me twenty-two years to write the way I really liked it. When I was done, I boxed it up, put it away, and went to write twelve more books that next year and a half. In December of 2009, I signed my first contract and the published author was born.
I enjoy writing about close-knit families, the bond of friendship, and of course falling in love. Happy endings are a must and characters that my readers can associate with keep me typing into the wee hours of morning.
Contemporary Romance is the genre I call home for now, but in the future be assured that you will see a Paranormal Romance or a Historical and who knows – maybe someday you'll see a Romantic Suspense.
I enjoy writing for those whose guilty pleasure is the happily ever after. I hope you'll come along for the ride!
Twitter writesromance
Website http://www.bernadettemarie.com