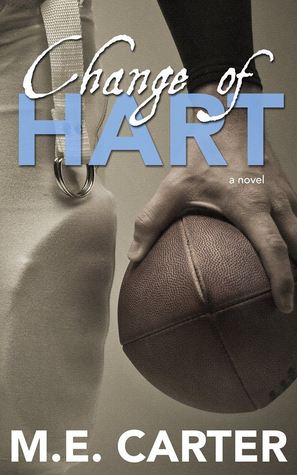 Change of Hart

by M.E. Carter
on December 15, 2014
Pages: 250
Buy on Amazon
Goodreads


My name is Jason Hart.

As the best defensive lineman in the country, I eat, sleep and breathe football. And I like it that way. I've only got a few more years before I'll have to retire, so expending energy on anything other than football seems like a waste of time.

That is, until I have a random meeting with a little boy who just lost his father. We have more in common than you might think and it creates an unlikely bond. As our friendship grows, so do my feelings for his mother.

I know Addison, as a recent widow, isn't ready to date again. But I want to get to know her better, in spite of all her rejections.

Is it possible that I, a self-proclaimed bachelor, could be having a Change of Hart?
This book was true example of a blurb grabbing me and jumping right into a book! As soon as I opened the book, it pulled me in from the first page! I loved the male POV and the instant feeling of wanting to read more!
Change of Hart tell the story of NFL player Jason Hart and his chance meeting with young boy, a very cute and heartwarming first meeting.  The bond that Jason and Jaxon develop transcended words!
Jason's desire to get to know the boy puts him in the orbit of Addison, the boy's mother and well, from that point on, Jason's world takes a whole new direction.
I had so much fun experiencing  Jason deal with these new emotions. I love the romance between Jason and his friend and teammate Deuce, a true bromance that often had me smiling from ear to rear.
I thoroughly enjoyed the journey Jason and Addison find to their happy! Witnessing them become friends, share in each other's lives and in the end finding a love they never expected made for a wonderful read.
In the end, the happy this family finds warmed my heart and pulled me out of a book funk!
This was an outstanding debut novel and I look forward to more great things from Ms. Carter.