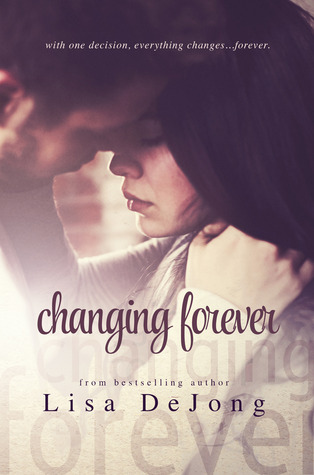 Changing Forever

by Lisa De Jong
on June 24, 2014
Buy on Amazon
Goodreads


I've always let my past dictate my future, letting it paint a picture of exactly what I don't want to be. Where I don't want to end up.

Drake Chambers is as arrogant as I am stubborn. A college quarterback, a national star. I thought he was just another one of those guys … the type every girl should stay away from, but he's carrying more than the weight of the football team on his shoulders.

He unravels the feelings and beliefs I've held onto for so long.

I thought we had it all figured out. Two people who'd finally found their happily ever after, but the past always has a way of sneaking into the present.

With one decision, everything changes … forever.
I truly enjoyed When It Rains and After the Rain so when Ms. De Jong said she was writing Changing Forever about Emery and Drake, two characters we have met in prior books I was ecstatic.
I loved Emery from the start. As a reader, you can see that she is very lonely and I was desperate to know what her real story was. I enjoyed her interactions with Drake, a quarterback for their college's football team, a boy who seems to have it all but as we get to know him, we see that he has also had a tough life that he doesn't really reveal to anyone. Drake may act like a cocky womanizing kind of guy, but deep down he really isn't and I loved not only his character but how he wanted to become a better person for Emery, the first girl who has really gotten under his skin.
This was a tough journey for these characters as they had to overcome so many obstacles in their path to happy. It was a push/pull kind of relationship where for every step forward there were two steps back. Often times throughout my read, I felt disconnected and frustrated with the characters, wishing for more emotion and more depth that I know that Ms. De Jong can write, and she often times does it really well.
So I was sad that this book didn't work for me as prior books have. In the beginning of the book, Emery seems so independent and strong and I felt often times that she caved a lot when it came to Drake and his pushing her away. I totally think that its ok to love someone so much but to not totally change because of them. I also felt that with Drake that he had to work harder for her, he had to show Emery her worth and the things he would do to win her back – I felt that he didn't do this enough.
So yes, this was a somewhat predictable read about moving forward and truly living your life; accepting happiness and change in order to have your forever. Was it well written – yes. Would I read more from this author – OF COURSE! This one just didn't work for me as others have but I look forward to reading more from this author!
♥SERIES READING ORDER♥
Book 1 – When It Rains

Book 1.5 – After the Rain

Book 2 – Changing Forever