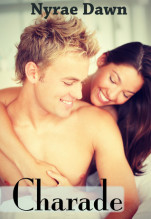 Nyrae Dawn is giving away an ebook copy of her book Charade.  Enter to win by leaving a comment on our facebook page.  Winner will be selected tonight.  Good luck!
4.5 STARS!!!
Summary
Nineteen-year-old Cheyenne tries to portray the perfect life to mask the memories of her past. Walking in on her boyfriend with another woman her freshman year in college threatens that picture of perfection.
Twenty-one-year-old Colt never wanted college and never expected to amount to anything, but when his mom's dying wish is for him to get his degree, he has no choice but to pretend it's what he wants too.
Cheyenne needs a fake boyfriend to get back at her ex and Colt needs cash to take care of his mom, so they strike a deal that helps them both. But what if Cheyenne's past isn't what she thought? Soon they're trading one charade for another—losing themselves in each other to forget about their pain. The more they play their game, the more it becomes the only thing they have that feels real.
Both Cheyenne and Colt know life is never easy, but neither of them expect the tragedy that threatens to end their charade and rip them apart forever.
Christine's Review
This is my first Nyrae Dawn book and it will definitely not be my last!  This is a beautiful story of two people who are afraid to let others in, who don't want to depend on others because they are always let down.  Will they learn to trust and find true love?
Cheyenne Marshall is 19 years old, beautiful and smart and has a hard time trusting anyone or letting them in through the wall she has built around her to protect herself.  Who can blame her – her mother abandoned her when she was a child and she caught her boyfriend Gregory cheating on her.  Her seemingly perfect life isn't so great two weeks into her freshman year at college.  She constantly feels rejected and that she will be left behind.
Colt is 21 years old, has blond hair and arresting blue eyes and is covered in tattoos.  His mother is dying of cancer and though she wants the world for him – he doesn't care.  He feels his destiny is to become like his parents – getting into drugs and alcohol and amounting to nothing.  Colt attends college to appease his mom and he struggles with paying the bills to support himself and her.  And I want to note here that though Colt tries to make himself out to be the bad boy – he really isn't…don't let him fool you…he has an AMAZING heart and is a wonderful son and caretaker!
Hell bent on showing Gregory she doesn't need him anymore and that her life has moved on, Chey asks Colt to be in a fake relationship with her to make Gregory jealous.  In return, Colt will get paid for his helping Chey maintain her perfect life status.  Though both characters express their dislike for each other, I can't help but sense the chemistry between them.  I smile as I watch them pretending to be in this relationship because I feel like it's so real.  And I actually think Cole is funny with his witty banter and truck driver cursing mouth lol!
"I'm fucking good at this boyfriend shit. Who would have thought?"
There was a lot of hurt and pain in this book for both characters but it was mixed so well with those feel good moments that leave you all warm and tingly inside.  I loved that both characters were there for each other to support each other, to protect each other and to keep each other feeling safe.  Both characters are damaged but with each other –together they work.  They try to maintain this charade but we, the readers and even their friends, know better. 
"Be real with me."
 
He's almost more serious than I've ever seen him.  It takes my breath away.

"I thought this was a game," I remind him.

"Not anymore and you know it.  Everything else in my life is all fucked up.  This is the only thing that's real."

I gasp.  It's what I want to hear.  What I need to hear.  What I feel in each of my scarred heartbeats.

"I'm tired of running." Colt fingers my hair.  "I want one thing that's not broken…that's not fucked up or dying.  Mom's life has always been broken.  She had a drug addicted mom and lived in the system.  My old man was a prick and a druggie.  This is the only thing that's real.  Don't run from me, Tiny Dancer."

Each of his words pump up my heart – so big and full I think it might explode.  Or maybe it's just the right pressure.

"I'm not going anywhere," I tell him.  I think the corners of his mouth tilt up in the dimpled sexy smile. "I'm more real with you than I've ever been with anyone in my life."
 
 
And as both characters finally let down their guard and begin to really live life and to enjoy it, will they continue to play games and pretend?  Or will they be where they want to be – with each other?
I truly loved this book, the characters and Nyrae's writing style.  I was scared for Colt and Chey in the beginning because they didn't start off in a good place.  But as their relationship grew, I really rooted for them to work out.  These were real characters with relatable issues and I couldn't get enough of them – I couldn't put this book down!  It was also an emotional read for me so be prepared with your tissues…I enjoyed the alternating points of view.  I have become quite a fan of these types of reads as I like to know what goes on in each character's head and to see how their thinking progresses throughout the story.  I definitely recommend this book for people who are looking for a good New Adult love story – the epilogue was amazing!  I can't wait until Façade!  Thank you Nyrae for an enjoyable read!
Character Inspirations
Musical Inspirations
 A song for Chey and Colt – Distance by Christina Perri featuring Jason Mraz
A song for Colt – Pieces by Red
 

 
 
About the Author
I am a compulsive reader and writer who loves YA fiction.
I love nothing more than writing about young adults. There is something so fresh and fun about it. You can pretty much always find me with a book in my hand or open document in front of me.
I live in Southern California with my husband and two children.
Website http://www.nyraedawn.blogspot.com
Facebook http://www.facebook.com/nyraedawnwrites?fref=ts
Goodreads  http://www.goodreads.com/NyraeDawn