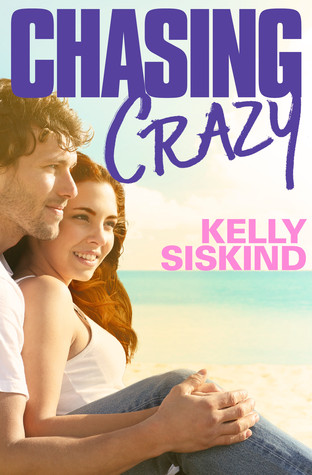 Chasing Crazy

by Kelly Siskind
on January 12, 2016
Pages: 340
Buy on Amazon
Goodreads


"Chasing Crazy is an entertaining and compelling story about owning who you are. With an endearingly awkward female protagonist, a swoon-worthy male love interest, and Siskind's superb storytelling, this is one of the best New Adult contemporary romances I've read to date." ~ USA Today Bestselling author, K.A. Tucker

Dear Mom & Dad, I dropped out of school. I'm going backpacking. Sorry. Love you both.

At nineteen, Nina has endured two lifetime's worth of humiliation. Tired of waiting for it to get better, she decides to get going—across the globe to New Zealand. There she soon faces what she most fears: a super sexy guy ready to be Nina's next mistake.

Once Sam's life was all about having fun. That was before the accident. Now his friends have bailed and his world is broken. But when a gorgeous girl on his flight looks at him with passion instead of pity, Sam feels his old self coming back to life.

Now traveling together, Nina and Sam know this isn't just a fling. They're falling fast, hard, and deep. More than anything, Sam wants Nina to forget her fears. But to help her do that he must reveal his own painful secret—and risk Nina never seeing him the same way again.
Chasing Crazy is the debut novel by Kelly Siskind and I am so glad that I picked this one up. One of my New Year's resolutions was to try new authors this year; either authors I have never read before or authors with their debut novels and Chasing Crazy is one of my first for 2016. Well written, fun, and engaging – I am so glad I found a new author to follow 🙂
I have to say that I was roflmao by chapter 1 as the first rule of traveling is "always pee before boarding." This is a rule I always follow but you will have to read this book to find out why I was already smiling at the beginning of this book.
So what's this book about?
Well poor Nina, our heroine, is a complete klutz…this poor girl just wants to fit in yet disaster strikes at every corner and she can't escape it. The beginning of the blurb caught my attention right away:
Dear Mom & Dad, I dropped out of school. I'm going backpacking. Sorry. Love you both.
Nina wants to reinvent herself and find herself so she is traveling across the world to New Zealand to live her life and to hopefully learn to overcome her frights.
On the plane (hint chapter 1 lmao), she meets Sam. Sam, who has his own secrets, is also traveling to New Zealand to find the guy that he once was, to leave his insecurities behind, and to just have fun.
These two souls who meet in an almost kismet kind of way, who yes are attracted to each other though they try to deny it, are really like two peas in a pod because of how much they really need each other to overcome their issues and to "chase crazy" aka live life to the fullest.
What I loved about this book besides it being a new author to me was that I had a constant feel good feeling in my belly and a constant smile on my face. I loved the characters, their insecurities and all. But most importantly, I loved the emotions, the character growth and most especially the ending that made my heart happy because everything that was meant to be happened.
There was no drama for the sake of drama, and nothing that was overdone in this story. Chasing Crazy was just a good read that kept me engrossed in the book on a snowy day, that kept me warm despite the chill, and left me with happy thoughts of a love that was meant to be.
I look forward to reading more from this author.