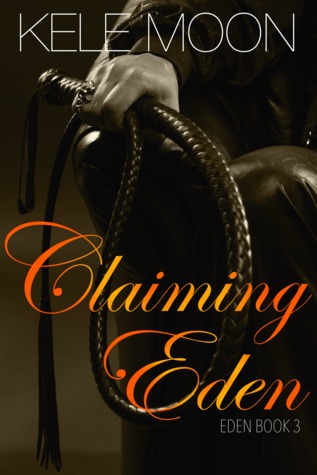 Claiming Eden

by Kele Moon
on January 26, 2016
Pages: 182
Buy on Amazon
Goodreads


Fiercely loyal, Danny will do anything for his best friend and lover Paul. Yet when he turns to beautiful Mistress Circe for training to be a Pro-Dom Danny is forced to learn how deep his love for Paul really goes. In order to train with her Circe expects Danny to do the one thing he hates above all others...submit.

Reader Advisory: This story visits the dark side of BDSM, where the only thing more intense than the scenes the characters participate in, is the love they have for one another.
Claiming Eden was a 4 star read for me but make no mistake about it – this is a 5 star series for me!
If you have not read this series stop reading this review and #1click Beyond Eden and Finding Eden today!
Claiming Eden is not a standalone book, as it is part of how Danny and Paul became Dom and sub.
I told the author I wished I could unread these books so I could re-read them together, the story of how Danny, Paul and Eve find their happy is so powerful.
Claiming Eden provides the readers of the prior books in this series with how Danny becomes a Dom and some more of the why Paul is who he is.
Claiming Eden had me falling even more in love with Danny; he was so determined to be everything Paul needed, he proved he would do whatever it took to keep Paul safe. Yes, Danny finds he too enjoys the lifestyle but it is his love and desire to keep Paul safe that drives this part of their backstory.
Paul truly has a desire to service…
"I want to spend eternity on my knees for you"
If you are a fan of BDSM, I highly recommend reading this series! Ms. Moon builds a menage storyline that is layered with love and deep connections. The readers know these childhood friends are each other's everything!
In the end, the epilogue left me wanting more; more of Mistress of Circe and Jason! I want to know the backstory between these two and I so hope the moment we see in the epilogue leads to a second chance romance. Yes, Ms. Moon that is a request for another book!
Notes for readers: The series is numbered as they were written and as I read them, but the story chronologically occurs by reading #2, #3, then #1 so I think it might be fun to read in that order as well. Again I truly wish I could unread these so I could try them in this order.