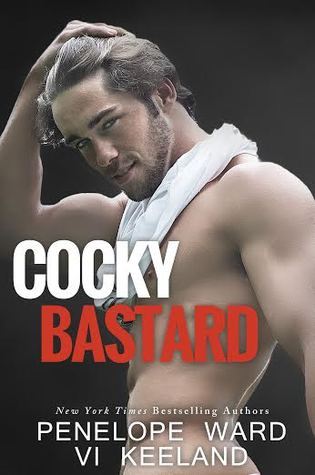 Cocky Bastard

by Penelope Ward, Vi Keeland
on August 17, 2015
Pages: 327
Buy on Amazon
Goodreads


From New York Times Bestselling authors Vi Keeland and Penelope Ward, comes a sexy new standalone novel.

He was someone who belonged in my wildest fantasies instead of a rest stop in the middle of Nebraska.

A sexy, cocky, Australian named Chance was the last person I expected to run into on my cross-country drive.

When my car broke down, we made a deal. Next thing I knew, we were traveling together, spending sexually-tense nights in hotels and taking unplanned detours.

My ordinary road trip turned into the adventure of a lifetime. It was all fun and games until things got intense.

I wanted him, but Chance wouldn't make a move. I thought he wanted me too, but something was holding him back.

I wasn't supposed to fall for the cocky bastard, especially when I knew we'd be going our separate ways.

All good things must come to an end, right?

Except our ending was one I didn't see coming.
While I LOVED both characters in the first half of Cocky Bastard…the second half had me questioning both of their behaviors and some things just didn't sit well with me.
I loved when Chance and his Aubrey first met. Their chemistry and bantering back and forth was off the charts fun and sexy. I found myself smiling at my kindle, really enjoying how they got to know each other and seriously I just wanted them to get it ON! 🙂
The second half of the book fell a bit short for me. I found it a bit hard to believe that after spending so short of a time together (7-8 days) that love could be so instant and so deep that two years apart, Chance would go all out to win Aubrey back. And when the reveal comes as to why he left in the first place, Aubrey's reaction and her attitude (she was still so hell bent on keeping him at a distance) just seemed like a lot of wasted time apart when they should have been making up for lost time. I understand her issues with trust but his reasoning was totally legit and not stupid that I thought she should have given him more of a chance than to string the poor guy along.
Despite this, I was truly engaged in the story and really loved the first half. I just wish the second half worked better for me. The emotions, the feels, Chance's true heart and desire to win her back all came shining through and I really adored this man.
Great collaboration between these two authors…it was really seamless that I honestly couldn't tell who was writing what part. I would definitely read more from this duo and am looking forward to Stuck Up Suit.