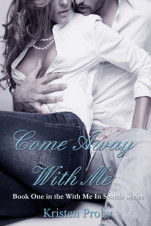 4 STARS!!!
Summary
*Warning: Contains profanity, explicit sex, and a super sexy couple!
Being confronted on the beach by a sexy stranger wasn't part of Natalie Conner's plans for a peaceful morning taking photos. And why on earth would he think she's taking pictures of him, anyway? Who is he? One thing's for sure, he's hot, and incredibly romantic, feeding Natalie's wounded soul.
Luke Williams just wants the world to give him a break, so seeing yet another camera aimed at his face has him ready to pounce on the beauty behind the lens. When he finds out she has no idea who he is, he's intrigued and more than a little tempted by her. Natalie has a body made for sex, a sassy mouth and Luke can't get enough of her, but he's not ready to tell her who he really his.
Natalie is a no nonsense girl who doesn't do well with lies and secrets. What will happen to this new relationship when she discovers what Luke's hiding?
Denise's Review
Come Away with Me opens with Natalie Conner's plans for a peaceful morning taking photos interrupted by a handsome stranger. The handsome stranger, Luke Williams just wants to live his life in peace so seeing yet another camera aimed at his face while enjoying a serene morning was just too much for him.
This opening scene grabs your attention and starts to build a relationship dynamic that makes this book a truly enjoyable read.
Natalie has had heartache in her life but has grown into a strong, competent female, who thought she did not need a man in her life for it to be complete.
Nat has her own career and her own money. She does not need Luke but it is truly a pleasure to watch her want Luke in her life. The author does a wonderful job telling Natalie's story; your heart will break for her and then build back up as Nat embraces life and moves forward.
Luke is rebuilding his life, working to live life by on his own terms. Luke is very open about his feelings for Nat. I adored his love for her body and his ability to sense her feelings and want to deal with them openly. He often says "Look at me; Talk to me." On a personal note I found myself smiling every time Luke's used his nickname for her which was "beautiful."
It was engaging to watch Nat learn to accept Luke's devotion and love of her body, something she did not always seem so sure about.
Luke's desire to spoil Nat with over the top gestures makes for a romantic read; one that will have many readers wishing they were Nat.
In Come Away with Me, the love scenes were both steamy and tender; it was nice to read Luke and Natalie enjoying each other emotionally and physically. As this couple works for their happiness, it is a romantic read.
Besides the main characters, there is a great cast of secondary characters; the author developed Nat's best friend Jules and she used Luke's and Jule's families throughout the story to further build your connection to the story.
Come Away with Me is a great debut novel by Kristen Proby. It is a touching story with a heartwarming end.
I truly enjoyed the epilogue, the second half of the epilogue was a nice touch; no I won't tell you what it is you will have to read the book to find out.
I love when an author proves you don't need a cliffhanger or To Be Continued to make readers who to read a book 2. She wrote a wonderful story with compelling characters that make readers want to read more.
Ms Proby plans to release 7 books in the series; each about another couple, I love a good family saga; one where you see the prior couples in the background as their lives move forward and each family member finds happiness.
I am looking forward to reading book 2, Fight with Me, this one about Jules, Nat's best friend.
A copy of Come Away with Me was kindly provided by Kristen Proby in exchange for an honest review
About the Author
Kristen Proby has made a living as a massage therapist, a medical biller, a registrar in an Emergency Room, and a professional photographer. But what feeds her soul is writing romantic, erotic love stories about strong women who don't necessarily need saving, and gorgeous, alpha-type men who want to save them anyway.
She is the author of the upcoming Come Away With Me, Book One in the With Me In Seattle series. Book two, Fight With Me, is scheduled for release in February, 2013.
Kristen lives in the amazing Pacific Northwest where, conveniently, her muse lives too.
Kristen loves hearing from readers! You can contact her on her Facebook page, www.facebook.com/BooksByKristenProby.  Happy Reading!
Twitter Handbagjunkie
Website http://www.goodreads.com/kristenproby
Facebook http://www.facebook.com/?ref=tn_tnmn#!/BooksByKristenProby?fref=ts