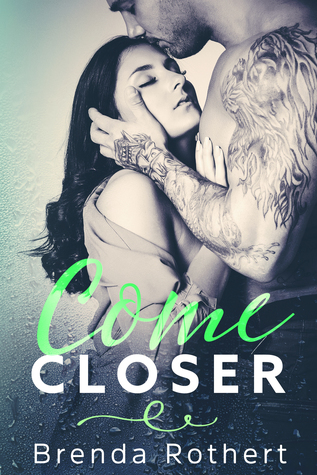 Come Closer

by Brenda Rothert
on February 7, 2017
Pages: 209
Buy on Amazon, Buy on B&N, Buy on iTunes, Buy on Kobo
Goodreads


Sometimes appearances deceive. Take me, for instance. I look like a respectable doctor with his shit together, but the rural Montana mental hospital I work at is actually a sanctuary from my demons. At just thirty-five years old, I've already failed on an epic scale. Treating patients at Hawthorne Hill is part of my atonement.
I've found peace when a new patient turns me inside out. Allison Cole is a beautiful, haunted survivor who fell into silence after witnessing a murder. But even without words, I'm drawn to her. The closer we get, the more I'm tempted to cross my professional boundaries and give in to my desire.
Soon I find myself in a desperate race to put the pieces of Allison's silence together. Her life becomes inextricably entwined with mine as I fight to save the second chance I never thought I'd have. I'll break whatever rules I have to in order to protect this woman who's been to hell and back. For her, I'll do harm.
I am struggling to put the review for Come Closer into words, but I want to start with saying that it was truly a powerful read. I know I am going to have to fight to stay on track as this book stole my heart and dealt with a cause that resides deep in my soul.
As many who know me personally and many who have witnessed the amazing support of the book community know, I lost my brother and only sibling Keith to suicide 12 years ago, he was bipolar.
The opening setting of this story, the physician Dr. Deldago is, the amazing place the Hawthorne is, had my soul wishing this was real life and not fiction. In my mind I just keep thinking why can't this be real? This is about more than a book boyfriend who I wished was real, this is about wanting the help for those who desperately need it. Ms. Rothert's beautiful use of language to describe the wide range of mental illnesses that can affect people put a lump in my throat and brought me to my knees. I can't remember the last time I read scenes so deeply moving.
When I first started Come Closer I struggled…why??? Because it was so real…and my heart was breaking as I wished a place like Hawthrone really existed; the place filled with patients Dr Delgado is so devoted to. Mental health facilities in our county are so abysmal. There are so many people who could use the help, guidance and compassion of someone like Dr. Delgado.
Daniel Delgado is such a well crafted male lead. His character was complex, layered with an intriguing backstory and his inner turmoil as this forbidden attraction bled off the pages as did why this was so different for him.
The female lead in this book was also outstanding. Her pain was tangible, her struggle one that grabbed my heart. The reason she is at Hawthrone blended to create a story line that was a combination of love, mystery, intrigue and in the end finding a forever you never even imagined. A forever that did return her spirit and one that allows her prior ambition to blend with everything anew.
You can feel the attraction these two share even before they speak words to each other (there is more than this, trust me it works, read the book) and once they start to communicate the bond develops even further.
Though I would love to share more about my love for this story, I really don't want to give anything away. So I highly recommend you 1-click, and live for a few hours in this masterfully woven tapestry that is a very unique love story!