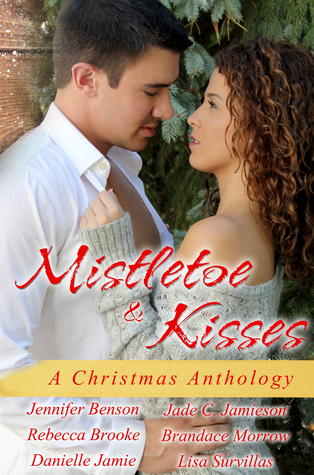 Mistletoe & Kisses

on November 4, 2014
Buy on Amazon
Goodreads


Six of your favorite contemporary romance authors bring you six memorable holiday stories.

Proceeds from the first two weeks sales will be donated to Legacy X where the mission is to create a place where people find their true self, define what their purpose is and a place where we inspire them to leave a legacy they are proud of. Legacy X was founded by Justin Spencer, drummer for the Las Vegas headlining group Recycled Percussion.

**Secret Santa by Jennifer Benson

Tonight is the night of the office holiday party and Olive Harper, a paralegal for a New Jersey law firm, was put in charge of the planning. To her surprise, a new employee has been hired at the firm and has brought his brother, Murphy, as his guest. When Scott wakes up on a strange couch in a strange house, he is curious and concerned until he is greeted by the beautiful woman whom he met last night at an office holiday party. Instantly intrigued by her long night shirt and knee high socks, neither Murphy nor Olive could know where a chance meeting at an office holiday party could take them, but thanks to a Secret Santa, they are about to find out.

**Coming Home by Rebecca Brooke

Tanner Marano has finally found the girl of his dreams and after lots of hard work and heartache, Danielle is finally his. Now all he wants to do is make her his wife, but with meeting his parents and deployments, Danielle is more nervous than ever.

Danielle Renton went through immense heartache only to be brought back into light by Tanner. He is her own knight in shining armor. Yet there is a secret she's keeping for fear it will push him away.

When Tanner comes home with everything be as he left it?

**Christmas Wish: A Holiday Novella by Danielle Jamie

Callie Greenwood's life has never been easy. Her father up and left when she was six and her mother passed away from breast cancer when she was just thirteen, leaving her grandparents to raise her. But since her grandfather passed away and her grandmother was put into a nursing home, she's been on her own.

Desperate for love, Callie foolishly settled for the cliché bad boy, thinking he would change his ways for her. Sadly, she learns the hard way that life doesn't care how bad you have it, and that you can't make someone love you. When Callie needs Jase the most he abandons her, just like her father did sixteen years ago.

Determined to not spend the holidays alone, Callie decides to spend the holidays at her Aunt Ella's bed and breakfast in Lake George, New York.

Little does she know that everything for her will change when she checks in to the quaint town at Christmas. Callie expected to spend two weeks sipping cocoa by the fire place, listening to Bing Crosby and spending time with her Aunt. The last she ever expected was to meet the handsome but mysterious Brody O'Reilly...

This Christmas heartbreak, secrets, and romance will collide making it a holiday she'll not soon forget.

**Christmas Stalkings (Bullet 4.5) by Jade C. Jamison

Val, Brad, and the kids decide to take a short but needed winter vacation to get away from it all and enjoy each other's company, but one thing is stopping them from relaxing like they should. Since fronting her new band Val Hella, Val has discovered the darker side of fame—she has a stalker, one who seems intent upon stepping up his game to get what he wants, and the ruin of their vacation becomes the least of their worries.

**Finding Sadie: A Prequel by Brandace Morrow

**Can be read as a stand alone novella**
*Intended for readers 18+*
A Los Rancheros novella

At fifteen, I took on the role of Popper out of necessity, forgetting the person I was. That's when I became the lead singer of a grunge metal band.

Now at twenty-two I'm cocky, a pessimist, and violent. My shrink is even fed up with me, suggesting I try something radical to appreciate the value of life.

She gives me a card that leads me to him, and ultimately I find . . . me.

**Wrap Me In Your Love by Lisa Survillas

After realizing the marriage to her first ever boyfriend was too good to be true, Isabella files for divorce and leaves their life in California for the home of her youth in Chicago. Upon her arrival, she reconnects with her cousin and best friend Daniel, who has been taking care of her parents' home since they passed.

When Daniel enlists the help of his friend Taylor, who Isabella had a childhood crush on, will she be forced to face the pain of rejection again, or will Taylor see what he has missed all these years?
*Coming Home and Christmas Stalkings is a part of the Mistletoe & Kisses Anthology by six of your favorite contemporary romance authors. Make sure to check it out – on sale for a limited time!*
Coming Home by Rebecca Brooke
I thoroughly enjoyed Coming Home but before you read this book or this review you need to read Letters Home, a book I love and highly recommend.
I was so excited when I learned Ms. Brooke was writing a short story for Danni and Tanner. Letters Home is very much Danni's story and although Tanner plays a big part towards the end of the book, I truly loved that as readers we get to see Tanner and Danni's happy.
Warning if you have NOT read Letters Home stop here… OK last warning.. so in Letters Home, Danni's Army Ranger 1st husband, Nate dies at war; Danni is devastated and broken. Much of Letters Home is Danni with Nate as the reader does not meet nor does Danni meet Tanner until after Nate's death.
This was not in my review of Letters Home as I wrote it spoiler free so here I get to say that Tanner was immediately endeared into my heart as his care of Danni truly touched me. And I love the way in which Tanner was brought into Danni's life!
Coming Home was such a heartwarming read; life truly is about taking what life gives you and moving forward. I loved seeing Danni move forward; not forgetting, not burying the past but moving forward.
Towards the very last pages of this one, I was again reminded why Tanner touched my heart; his gestures, the use of a name was perfect and spoke volumes to his depth of understanding and love for Danni (ALL of Danni).
****************************************************************************
Christmas Stalkings by Jade C. Jamieson
Christmas Stalkings was a wonderful novella, a look inside the lives of Val and Brad Payne.
Ok, if you have not read Bullet by Jade C Jamieson stop reading this review and Go 1-click and dive into Bullet; it is an epic love story.
Back to this short story, I love Brad, wait did you hear me, I LOVE BRAD! I fell in love with Brad in Bullet and the love affair continues in this one.  In Christmas Stalkings, Val and Brad are taking on parenthood while both trying to pursue their music careers.
This story adds a bit of suspense as Val is dealing with a stalker, I truly love how this story took a look at the challenges of fame and to some extent the challenge of being working parents.  I do not want to give away the who or the how this person is caught, but I love Brad.
And this story proved to me in spades yet again that Brad is Val's forever.
I am so excited for Slash and Burn the next book in the Bullet series!