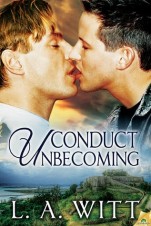 4 STARS!!
Summary:
As long as no one asks and they don't tell…
First class petty officer Eric Randall is less than thrilled about taking orders to Okinawa. Three long, lonely years on a crappy island that's thousands of miles from his daughter? Oh. Yeah. Sign him up. But as long as he's stuck here, he might as well make the best of it, so he discreetly checks out the local gay scene.
Shane nearly drops his drink when the gorgeous, cocky-looking guy strolls into Palace Habu. He buys him a drink, and before long, they're making out in a booth. Eric is a straight-to-the-point kind of guy and doesn't want to play games. Since Eric's idea of not playing games is getting the hell out of there and going back to one of their apartments, Shane is more than happy to go along with it.
What starts as a scorching hot one night stand leaves both of them wanting more…until Eric finds out Shane doesn't just outrank him, he's an officer. DADT may be repealed, but an enlisted man getting involved with an officer falls under conduct unbecoming.
Still, they can't resist their mutual desire. There's no reason anyone has to find out. But secrets have a way of outing themselves.
Warning: Contains two military boys who keep forgetting they're not supposed to be together. Probably because they never have their uniforms on for any length of time…
Denise's Review:
The book opens with First Class Petty Officer Eric Randall arriving at his new 3 years deployment in Okinawa, Japan. Eric is gay being stationed on a very small island so he convinced his life is going to miserable for the next few years. Enter Commander Shane Connelly, the two men meet at a gay bar, and this book opens with some real sizzle; two aggressive hot men finding their way home together.
Given the population of the island they both assume the other is military but they both go into the evening thinking one hot night to relive some stress and enjoy the company of another.
After that night the reader is allowed into each man's head as the book provides alternating POV's and you see that neither man can stop thinking about the other. Ms Witt relays the pull these men have toward each other in a way that is powerful for the reader.
The second time they find each the chemistry is tangible, but they soon discover Shane is an Officer and Eric is enlisted which means despite Don't Ask Don't Tell (DADT) they are not allowed to be together and are both risking their military careers. These men are not young men each having served more than 15 years in the Navy.
Now seems like a good place to add that this is the first M/M book that I have read where both men are divorced and have children so in this case risking their careers also means risking their ability to provide for the children they had to leave behind in the states.
The use of these men's families was really well done, it was used to show emotions and to move the story forward. Eric's teenage daughter comes to visit and provides for some wonderful scenes between father and daughter and daughter and Shane. These interactions drive Shane to make changes in his live; changes for the better. Providing even more proof that these men are soul mates as they each bring out the best in each other.
Ms Witt did a wonderful job allowing the reader to experience these two men falling in love, their banter was enjoyable, you witness them uncover common interest as Shane shows Eric the island, the parts of the island where American's don't travel. The chemistry from the bedroom takes hold during the day and the emotional connection from their day trips finds its way into the bedroom.
I really liked how the book portrayed the life of servicemen overseas, how they miss their families, and the price they pay for defending our freedom. Eric and Shane have already given so much for their military careers, it is gut-wrenching to watch them question if they are willing to give each other up as well.
LA Witt did a wonderful job describing Okinawa, the scenery was breathtaking and part of the book felt like a guided tour of the Japanese islands; really well done.
I do have to say that while she described the island, the water, the images while the men snorkeled and even the shrines they visited, I do not think I ever got a great mental image of the men. They both speak of the other being hot and their bodies are discussed while they eye each other up and down, but I am not sure I even know how tall each man is. So for me I would have like a more vivid description of each man.
I enjoyed the ending to the book but I personally would have preferred the epilogue a bit further out or maybe watching both families together.
I read some reviews that said they wanted me angst, I disagree, I enjoyed watching these men enjoy each other. There is a point of conflict and I though that was well executed.
The men were forced to truly answer "is this worth it". The prior scenes painted a picture for the reader that had you wanting them to see it was worth it! Because you witnessed their relationship develop and got to see so much of them enjoying each others company in and out of the bedroom.
LA Witt created two men with such a strong connection that you did really feel they would allow themselves to risk everything to be together. The relationship she created for them was engaging to watch develop, so thank you for allowing me to watch Eric and Shane fall in love.
About the Author:
L.A. Witt is an abnormal M/M romance writer who, after three years in Okinawa, Japan, has recently relocated to Omaha, Nebraska, with her husband, two cats, and a three-headed clairvoyant parakeet named Fred. There is some speculation that this move was not actually because of her husband's military orders, but to help L. A. close in on her arch nemesis, erotica author Lauren Gallagher, who has also recently transferred to Omaha. So, don't anyone tell Lauren. She's not getting away this time…
Visit her website at http://www.loriawitt.com/.