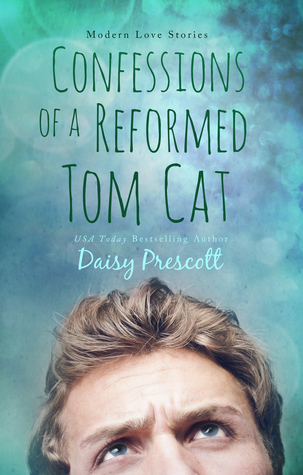 Confessions of a Reformed Tom Cat

by Daisy Prescott
on February 23, 2015
Buy on Amazon
Goodreads


I, Thomas Clifford Donnely, am a manwhore.

I've been told I'm irresistible to women. Like catnip for a different type of pussy-cat. I guess you could call me a Tom Cat.

This is the story about how I lost my wingman, broke all my own rules, and found myself falling in love.

Tom Donnelly isn't the marrying kind, or the dating kind. Even after losing his #1 wingman to love, he doesn't see the point in relationships. When his sister's best friend returns to Whidbey Island and propositions Donnelly for a one-night stand, he breaks one of his biggest rules—no fooling around with his sisters' friends. It's just sex, nothing more. That's what Tom does and does well.

What happens when "just sex" isn't enough?

Hailey King is more than a match for Tom's flirtations. She's known him most of her life and has heard the rumors about his "skills" for years. When her perfectly planned future falls apart, will the last man she should ever fall for turn out to be more than a one-night stand?
I was so excited when I learned Ms. Prescott was writing a story for Tom. I was intrigued by him as John's manwhore best friend in Ready to Fall. You do not need to read Ready to Fall to enjoy this book, though I do think you will enjoy it more if you do. (it is not necessary to read the other books in this series as they are about other characters).
This book is written from the male POV and is so well done. Tom is funny and engaging. It was so much fun watching Tom break his own runs…. I adored how each chapter started out with a line about him or one of his rules or confessions. Ms. Prescott did a wonderful job with the male POV. I truly felt like it was Tom's voice.
This book was also full of cute and funny moments such as this:
"You know what's worse than being naked in front of my sister? Tenting my jeans in front of your mother."
Yes, I often found myself smiling while reading. 🙂
So who does Tom fall for you ask… he falls for Hailey King, Tom's younger sister's best friend. She was a tomboy when he knew her and though she is now all grownup, she still carries some of those tomboyish traits. Yes, I loved Tom loving her assertive side in bed.
Ms. Prescott did a wonderful job with… not sure what the word is.. maturing Tom, growing Tom up… but in the end Tom's falling in love. Tom's heart being captured by Hailey or as he calls her "Idaho" was so well done. It was slow progression; a journey the reader went on with Tom! Hailey and Tom became friends, true friends and this friendship developing was just as enjoyable as the physical side of their relationship.
The book is set on a small island, a tight knit community; this not only adds to the feel of the book but added complications to this developing relationship, I won't tell you what happens but I will say it felt true to the town, to the characters and was masterfully used to move the relationship forward.
The end of this book and the epilogue was perfect for these two!
♥READ THE SERIES♥
Book 1 – Geoducks Are for Lovers
Book 2 – Ready to Fall
Book 3 – Missionary Position
Book 4 – Confessions of a Reformed Tom Cat