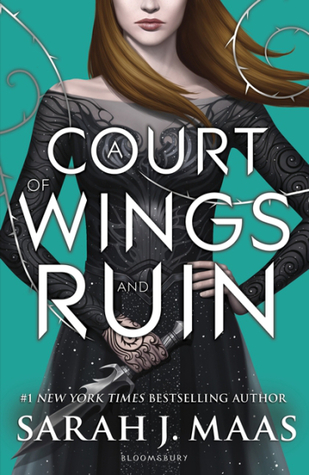 A Court of Wings and Ruin

by Sarah J. Maas
on May 2, 2017
Pages: 707
Buy on Amazon, Buy on B&N, Buy on iTunes, Buy on Kobo
Goodreads


Looming war threatens all Feyre holds dear in the third volume of the #1 New York Times bestselling A Court of Thorns and Roses series.

Feyre has returned to the Spring Court, determined to gather information on Tamlin's maneuverings and the invading king threatening to bring Prythian to its knees. But to do so she must play a deadly game of deceit-and one slip may spell doom not only for Feyre, but for her world as well.

As war bears down upon them all, Feyre must decide who to trust amongst the dazzling and lethal High Lords-and hunt for allies in unexpected places.

In this thrilling third book in the #1 New York Times bestselling series from Sarah J. Maas, the earth will be painted red as mighty armies grapple for power over the one thing that could destroy them all.
I really enjoyed this series and am so excited to hear that there will be more in the future about secondary characters.
I was so excited to get the conclusion to Feyre and Rhys's story in A Court of Wings and Ruin. There was the right amount of humor, angst, anxiety, and heat. I LOVE their bond and connection *le sigh*
I enjoyed the drama, the sneakiness, and ultimately the conclusion but at times felt like I wanted more or less of things.
Let me explain…
There was a lot of introductions to new characters in this one and some times I found it hard to keep them all together, trying to remember who was who. I guess the reason for this is to have some of these characters have their own books later which is something I would definitely read but at times I also felt that there was back story that I was missing and wanted to know more about. There would have been some conclusions that I would have loved to get in this book but this already being a 700+ page book I could see how that would make a long book even longer.
Speaking of long book… there were times that I was kind of bored. And I hate saying that as I love this series but some things were almost too detailed, too explained and I just wanted to move on to get to the action or to maybe get some of the backstory that I felt was missing.
I wanted more of the battle and fight, to get more action so I could feel the heart palpitations of who was going to make it and survive—that gut wrenching/ominous feeling in my heart was missing. Yes, there was the big fight in the end, but I guess I would have thought that there would be more spread out throughout the book.
Did I feel some emotion and heartache—most definitely but I just wanted more.
I wish I saw more of the power of some of the characters. But again, maybe this will come out more in the future books? I hope so!
I continue to love the world building—Sarah knows how to create beautiful worlds and I was there, I could see it in my mind. I loved the friendship of these characters—going above and beyond for each other and doing anything to protect each other made me love them even more. That friendship of this circle is probably one of the best things about this series and one of the strongest ones I have seen in any series for that matter.
"The great joy and honor of my life has been to know you. To call you my family. And I am grateful – more than I can possibly say – that I was given this time with you all."
I can't wait to see what she has in store for us in 2018 and whose story is next!
I want to add that this took longer for me to read than the previous books… Again I enjoyed it but I would have liked it EVEN MORE if was a bit more faster paced.
Oh and to add one more thing – I really WISH they would stop marketing this series as a YA because I would NEVER allow my teens to read this book with some of the graphic things that happen. If this is meant to be YA then some of those scenes should definitely not be included.