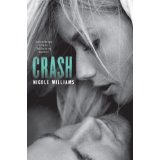 4 STARS!!!
Summary
Southpointe High is the last place Lucy wanted to wind up her senior year of school. Right up until she stumbles into Jude Ryder, a guy whose name has become its own verb, and synonymous with trouble. He's got a rap sheet that runs longer than a senior thesis, has had his name sighed, shouted, and cursed by more women than Lucy dares to ask, and lives at the local boys home where disturbed seems to be the status quo for the residents. Lucy had a stable at best, quirky at worst, upbringing. She lives for wearing the satin down on her ballet shoes, has her sights set on Juilliard, and has been careful to keep trouble out of her life. Up until now.
Jude's everything she needs to stay away from if she wants to separate her past from her future. Staying away, she's about to find out, is the only thing she's incapable of.
For Lucy Larson and Jude Ryder, love's about to become the thing that tears them apart.
Christine's Review
Another book that kept me up all night – two very different people from very different worlds.
Jude is your bad boy with issues but once I read more about him, I understood why he is the way he is.  Lucy also has her issues – family has no money so they had to move, mother and father dealing with the grief of losing their older son, and regular high school drama.
I really enjoyed this book.  I liked how despite Jude trying to warn Lucy to stay away from him that they just couldn't let each other go.  I liked that when Jude messed up that he tried to be better for her because she made him a better person.   I liked it even more that there was a strong chemistry and bond for each other so that when they weren't together that they were always still on the lookout for each other and wanted to protect each other.  I loved how Jude went to college to be closer to Lucy and I am excited to see where this relationship goes.  I am glad that despite their differences that they were able to work things out even with the surprise connection that they have in their past.  I think this book is about forgiveness, love and moving together in the future.  Will be starting Clash tonight! 🙂  Great job Nicole for getting us readers to want more!
About the Author
I'm a wife, a mom, a writer. I started writing because I loved it and I'm still writing because I love it. I write young adult because I still believe in true love, kindred spirits, and happy endings. Here's to staying young at heart *raises champagne glass* . . . care to join me?
Nicole loves hearing from her readers. You can contact her at nwilliamsbooks@gmail.com.
Twitter nwilliamsbooks
Website http://www.nicoleawilliams.blogspot.com
Facebook http://www.facebook.com/nwilliamsbooks?ref=ts&fref=ts