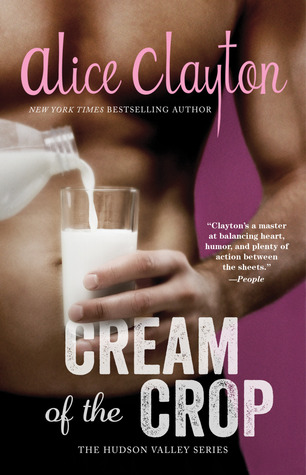 Cream of the Crop

by Alice Clayton
on July 12, 2016
Pages: 384
Buy on Amazon, Buy on B&N, Buy on iTunes
Goodreads


New York Times and USA TODAY bestselling author Alice Clayton brings her trademark blend of funny and sexy to this second contemporary romance in the brand-new Hudson Valley series!

Manhattan's It Girl, Natalie Grayson, has it all: she's a hot exec at a leading advertising firm, known industry-wide for her challenging and edgy campaigns. She's got a large circle of friends, a family that loves her dearly, and her dance card is always full with handsome eligible bachelors. What else could a modern gal-about-town wish for? The answer, of course, is...cheese.

Natalie's favorite part of each week is spending Saturday morning at the Union Square Farmer's Market, where she indulges her love of all things triple cream. Her favorite booth also indulges her love of all things handsome. Oscar Mendoza, owner of the Bailey Falls Creamery and purveyor of the finest artisanal cheeses the Hudson Valley has to offer, is tall, dark, mysterious, and a bit oblivious. Or so she thinks. But that doesn't stop Natalie from fantasizing about the size of his, ahem, milk can.

Romance is churning, passion is burning, and something incredible is rising to the top. Could it be...love?
Cream of the Crop kept me engaged and entertained!
Bearing witness to Manhattan native Natalie Grayson experience the beauty of a small town in upstate New York kept a smile on my face for much of this read.
I loved how Natalie comes face to face with Oscar Mendoza, owner of the Bailey Falls Creamery and why she ends up in his orbit truly played to this story of a professional women with drive and ambition.
I loved how this exchange played out throughout the book. Despite Oscar being a man of few words (in the first portion of the book) these two develop a wonderful banter:
"Brie?"
"Oh. Yes."
Natalie is a big girl who makes no excuses for that, her confidence should be lesson to many! Beauty comes in all sizes and often it is how we carry ourselves that means more than anything!
Size-eighteen women were supposed to be timid. Size-eighteen women were supposed to be shy. Size-eighteen women were supposed to be grateful for any male attention, and to feel especially honored if a good-looking man paid attention to them….F*ck all that, I took the best-looking guy home with me whenever and however I pleased. Confidence went a long way.
Oscar is such a mystery, until he isn't and when his story unravels, my heart was drawn even more to this big man!
Similar to the first book in this series, Ms. Clayton does a wonderful job at painting the beauty of upstate New York and the world of small town USA.  It was so much fun to revisit this town and it's inhabitants.  As with the prior book, I adored Chad and Logan.  This book had Chad as a center piece of the storyline and I loved it!
Natalie and Oscar develop a wonderful eb and flow, as they start to  open up to each other and work to be a part of each other lives, you will find yourself hoping they find a way to make it work.
I won't tell you how a city girl and dairy farmer (who happens to make amazing cheese) find their happy, but I will say it was believable for the characters crafted.
 ♥ READ THE SERIES ♥