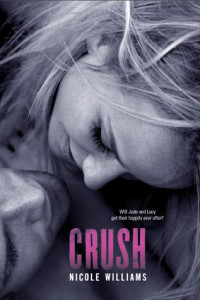 ---
5 STARS!!!
Synopsis
Football glory. A giant diamond. A wandering eye.
Jude and Lucy are happily engaged . . . but that doesn't mean life's a bed of roses.
Once again, Jude and Lucy are torn apart by football training and a summer job that creates new tensions. This time Jude's the one with trust issues. Will Lucy's life-changing news bring them back together or end their relationship for good? Can love triumph forever?
Christine's Review
---
"Better make it a good one."
3 years later and Jude and Luce are going strong as ever.  Reading Crush reminds me of why I fell in love with Jude back in Crash and Clash.  I'm so happy to be back with Jude and Luce and am so interested to see how they have grown and matured as a couple throughout the years.
The opening scene brings a smile to my face to see Jude and Luce still so in love and still HOT for each other.  They are both still in college, still engaged and Jude is about to be drafted into the NFL as a quarterback in his junior year.  I'm so proud to see how he has changed from a troubled youth felon to the most sought after quarterback – it shows how far he has come.
When Jude is picked up by the San Diego Chargers and set to move across the country from Lucy, who is still in school in NY, my hope is that the newfound fame and fortune and the distance don't change them and that this couple, after going through everything they have been through together, will be able to make it work.
Jude wants to be married to Lucy and I understand her need for wanting to wait as she wants to finish school and build a name and career for herself.  I was bothered at times by her though as I felt that Jude did so much to try to make her happy.  Yes, now he is making the money by playing in the NFL and wants to provide for her as he has never been able to before, and I felt bad at times that he just couldn't get anything right.  Is buying a home for them or a new car THAT bad?  Some of her reactions to things really got to me – why couldn't she cut him some slack too?  I understand that she doesn't like the changes but that's what happens in life – not everything can stay the same and sometimes you have to go with the flow.
So while Jude is in L.A., Lucy takes a summer job working for her friend India's brother, Anton.  Ugh – I don't like him from the start!  He's forward and admits he wants to pursue her.  And cue the angst people because this caused my heart to beat much faster and like Jude and his crazy possessive attitude, I literally wanted to beat the crap out of Anton!
So what will happen with this couple?  Will the fame and the distance destroy them or will the love that has built over the past 3 years overcome it all because their love for each other is so strong that even I the reader can feel every emotion, every word of love that is spoken between this couple?  I must admit that I am SOOOOOOOO sad that this is the end for this couple but am SOOOOOOOOOO happy with how it all turned out.  Jude and Luce are the epitome of a perfect couple both inside and out.  The epilogue was complete PERFECTION and for all of you Jude and Luce fans out there, it will make you love them even more if that's possible.  To be loved like this, is something pretty special and this couple will remain in my heart and will remain as one of my favorites for all time.  They have come full-circle and this was truly a beautiful Happily Ever After.
Nicole Williams – you truly have outdone yourself with Crush and should be so proud.  You are so talented and to have so many fans love these characters because of the beautiful words you have written is truly a wonderfully blessed thing!  JOB WELL DONE!
P.S.  Facetime Sex is pretty damn HOT!!!  That is all 🙂
About the Author
I'm a wife, a mom, a writer. I started writing because I loved it and I'm still writing because I love it. I write young adult because I still believe in true love, kindred spirits, and happy endings. Here's to staying young at heart *raises champagne glass* . . . care to join me?