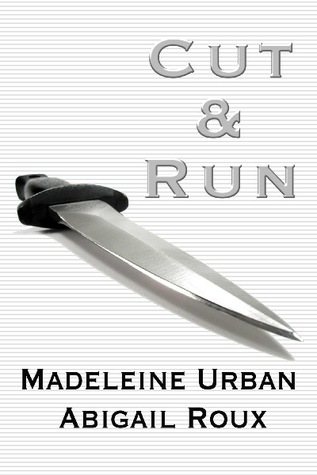 ---
4 STARS!!!
Synopsis
"Cut & Run Series: Book One"
A series of murders in New York City has stymied the police and FBI alike, and they suspect the culprit is a single killer sending an indecipherable message. But when the two federal agents assigned to the investigation are taken out, the FBI takes a more personal interest in the case.
Special Agent Ty Grady is pulled out of undercover work after his case blows up in his face. He's cocky, abrasive, and indisputably the best at what he does. But when he's paired with Special Agent Zane Garrett, it's hate at first sight. Garrett is the perfect image of an agent: serious, sober, and focused, which makes their partnership a classic clich: total opposites, good cop-bad cop, the odd couple. They both know immediately that their partnership will pose more of an obstacle than the lack of evidence left by the murderer.
Practically before their special assignment starts, the murderer strikes again this time at them. Now on the run, trying to track down a man who has focused on killing his pursuers, Grady and Garrett will have to figure out how to work together before they become two more notches in the murderer's knife.
Denise's Review
This book introduces readers Special Agent Ty Grady and Special Agent Zane Garrett.  These two men are thrown together by the FBI direction to solve a series of murders in New York City.
At first glance Ty is cocky with a rebellion streak that he could only get away with if he was an outstanding agent; Zane is present is the serious perfect FBI "suit."
Their first encounter is full of banter that will have you grinning ear to ear as these men push each other buttons.
As these two start to work together the chemistry they develop is tangible to the readers.  And as these two men open up to each other it becomes clear that looks can be deceiving. Both present to the outside work what they want them to see.
Ty and Zane will pull you in as they come to understand each other and when they give in to into their attraction to each other.
These are two grown men with pasts; they are not perfect. And as things develop the reader is shown these men are not so sure they can even accept their feelings for each other.
As the bond grows, the depth of connection is something that the reader can feel and in the end the attraction helps each men become a better person.
I look forward to continuing to learn about Ty and Zane thorough the series. I love that their profession will offer the authors many story lines.
For those who have not read a M/M before this may be a good introduction; yes there are sex scenes but very few and are very tasteful done.
About the Authors
Abigail Roux was born and raised in North Carolina. A past volleyball star who specializes in sarcasm and painful historical accuracy, she currently spends her time coaching high school volleyball and investigating the mysteries of single motherhood. Any spare time is spent living and dying with every Atlanta Braves and Carolina Panthers game of the year. Abigail has a daughter, Little Roux, who is the light of her life, a boxer, four rescued cats who play an ongoing live-action variation of 'Call of Duty' throughout the house, a certifiable extended family down the road, and a cast of thousands in her head.
Madeleine Urban is a down-home Kentucky girl who's been writing since she could hold a crayon. Although she has written and published on her own, she truly excels when writing with co-authors. She lives with her husband, who is very supportive of her work, and two canine kids who only allow her to hug them when she has food. She wants to live at Disney World, the home of fairy dust, because she believes that with hard work, a little luck, and beloved family and friends, dreams really can come true.
Abigail Roux