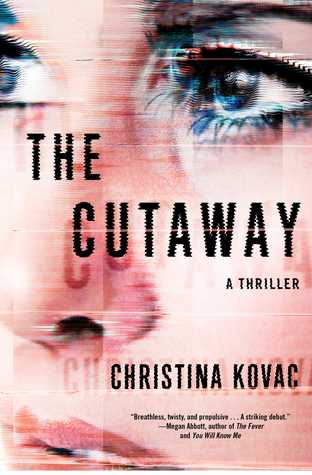 The Cutaway

by Christina Kovac
on March 21, 2017
Pages: 320
Buy on Amazon, Buy on B&N, Buy on iTunes, Buy on Kobo
Goodreads


The Cutaway draws you into the tangled world of corruption and cover-up as a young television producer investigates the disappearance of a beautiful Georgetown lawyer in this stunning psychological thriller, perfect for fans of Paula Hawkins and Gillian Flynn.

When brilliant TV news producer Virginia Knightly receives a disturbing "MISSING" notice on her desk related to the disappearance of a beautiful young attorney, she can't seem to shake the image from her head. Despite skepticism from her colleagues, Knightly suspects this ambitious young lawyer may be at the heart of something far more sinister, especially since she was last seen leaving an upscale restaurant after a domestic dispute. Yet, as the only woman of power at her station, Knightly quickly finds herself investigating on her own.

Risking her career, her life, and perhaps even her own sanity, Knightly dives deep into the dark underbelly of Washington, DC business and politics in an investigation that will drag her mercilessly through the inextricable webs of corruption that bind the press, the police, and politics in our nation's capital.

Harkening to dark thrillers such as Gone Girl, Luckiest Girl Alive, and Big Little Lies, The Cutaway is a striking debut that will haunt you long after you reach the last page.
I enjoyed The Cutaway, a debut book by Christina Kovac. Another different type of book to read than my usual norm. I love psychological thrillers for the edge of your seat feelings they elicit that you just can't put the book down and you just don't want to stop reading because you have to know what happens!

This book follows Virginia Knightly, a news director for a top rated news station.

I liked the fast paced "who did it" type feel I got while I read this, questioning all angles, all suspects and trying to figure out what happened to the missing woman Evelyn Carney, a woman whose picture was seen by Virginia in the newspaper.

Virginia looking for her next big story becomes engrossed in finding out what happened to this woman and is on the hunt, speaking with her sources and trying to uncover the truth.

While I truly enjoyed the different perspective of this story from the eyes of a journalist and seeing the behind the scenes of what goes on at a news station and investigative journalism, I found it sometimes hard to connect with the heroine Virginia who seemed so one dimensional, without any real feelings – she just felt cold as ice.

And when the truth is finally uncovered, while yes I was surprised, it did feel somewhat convoluted – like I didn't really understand the full explanation for why the person did all that they did.

I have to admit that I was a bit disappointed with how it ended on the potential love interest part and felt that some characters were left hanging with no resolution but overall this was an interesting read that definitely held my attention.

I would definitely read this author again and look forward to seeing what she is working on next.