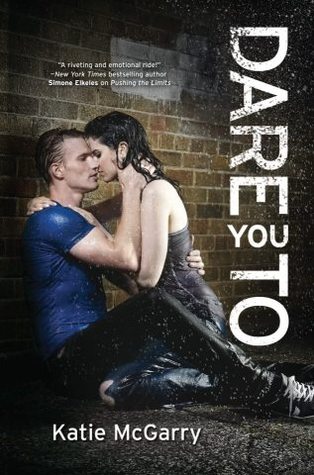 ---
5 STARS!!!
Synopsis
Ryan lowers his lips to my ear. "Dance with me, Beth."
"No." I whisper the reply. I hate him and I hate myself for wanting him to touch me again….
"I dare you…"
If anyone knew the truth about Beth Risk's home life, they'd send her mother to jail and seventeen-year-old Beth who knows where. So she protects her mom at all costs. Until the day her uncle swoops in and forces Beth to choose between her mom's freedom and her own happiness. That's how Beth finds herself living with an aunt who doesn't want her and going to a school that doesn't understand her. At all. Except for the one guy who shouldn't get her, but does….
Ryan Stone is the town golden boy, a popular baseball star jock-with secrets he can't tell anyone. Not even the friends he shares everything with, including the constant dares to do crazy things. The craziest? Asking out the Skater girl who couldn't be less interested in him.
But what begins as a dare becomes an intense attraction neither Ryan nor Beth expected. Suddenly, the boy with the flawless image risks his dreams-and his life-for the girl he loves, and the girl who won't let anyone get too close is daring herself to want it all….
Kim's Review
I was provided an advance read copy of Dare You from the publisher and I have to admit I adored this book so much that I purchased it ~ heck I have all three of Kate's books that are out to date and I cannot wait for the next one but I'll touch on that briefly at the end of my review.
Dare You is the book following Pushing the Limits and I highly recommend you read Pushing the Limits to understand the dynamics between the characters before you jump into Dare You. We briefly meet Beth (Elisabeth) in Pushing the Limits and we know that she is a stoned punk girl who spends all her time hanging out with her BFF's Isaiah and Noah ~ they are her ENTIRE world and they have stood by her through thick and thin. Isaiah's feelings for Beth were revealed in Pushing the Limits but that's something that only Noah & Isaiah are aware of Beth well she doesn't have a clue.
Beth's character is complex and even though she was rough around the edges in Pushing the Limits I fell head over heels in love with her in Dare You. See if you read Pushing the Limits then you know that Katie doesn't hold back with her characters and the book is ripe with angst and I mean tremendous unthinkable tragic angst. Beth's back story had me in tears many times and I cried for what she had lived through and what she went through in the book. She ultimately wants to be loved and loved for the RIGHT reasons not for what she can provide or what she "gives." Don't think for a minute that Beth is what people automatically think ~ she is painted with that brush just by association with her Mother (Sky) and who her father was.
Beth used to be the girl who adored all things frilly, lacey and pink. She wore ribbons and was the apple of her Uncle Scott's eye but when she was in 3rd grade her world came crashing down and her tweaker of a mother lies the blame solely on Beth's shoulders which infuriated me when the book finally revealed what it was that Beth had supposedly done. Well as always Beth takes care of Sky and Beth ends up taking the fall for Sky for something she didn't do and this one act changes Beth's entire world ~ literally upside down and shaken like a snow globe and every tiny particle is displaced. Her Uncle Scott who she hasn't seen since she was 8 years old gains custody through honorable intentions and moves Beth with him back to her hometown of Groverton and ladies from there let the "games" begin. Beth has long held a grudge against Scott for "leaving" her when he left town at age 18 to enter the ranks of professional baseball and Scott can provide Beth a life she never even fathomed, but will she allow her? She has always relied on herself, did what she want, how she wanted and said exactly what she wanted.
Ryan is a country boy, Mr. Popular, Pitcher for the State Champion Team he led and All Around American boy who is downright gorgeous. He leads the "perfect" life. He has a stable home life, best friends, and things go exactly his way. His passion is baseball ~ lives, sleeps, breathes it and is wanting to enter the "pro's" after high school ~ well that is his dream ~ isn't it? Oh and people in glass house shouldn't throw stones so remember that when you really get to know about Ryan and his life behind closed doors.
Ryan is a boy who has to win at all cost and he will never back down from a dare and I mean NEVER ~ and ladies that's exactly how this book opens ~ a dare, Taco Bell, a chance meeting, can becomes can't and then fate decides to drop in and let the games begin.
I ran through the gamut of emotions with this book and anyone who follows my reviews know how much I adore a book of this nature. I guarantee you will:


And right along side that you will


You will


You will become


Heck I certainly was a good portion of the book cause life simply isn't fair sometimes and then there were times I wanted to


someone times I so wanted to


Beth heck I wanted to hug Ryan too and then sometimes I was


And by the end of this fantastic YA read I certainly was


Don't let the YA scare you or have you cast judgment on Katie's books ~ they are so freaking awesome that the main reason I bought all her books was so my 17 year-old daughter can read them too!
This is a story of coming to terms with what life has dealt and realizing that perhaps what you thought was love wasn't all along and what you feel you don't deserve you deserve more than you know~ a story of taking a stand and not hiding and running away from feelings. A story of hope amidst utter tragedy!
Dare You is more than 5 stars and I guarantee Katie's books will move you in ways you never thought you could be moved!!!
About the Author

KATIE MCGARRY was a teenager during the age of grunge and boy bands and remembers those years as the best and worst of her life. She is a lover of music, happy endings, and reality television, and is a secret University of Kentucky basketball fan.