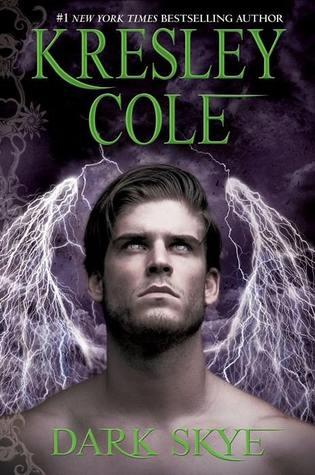 Dark Skye

by Kresley Cole
on August 5, 2014
Pages: 432
Buy on Amazon
Goodreads


In this highly anticipated fifteenth novel in the Immortals After Darkseries, #1 New York Times bestselling author Kresley Cole spins a sultry tale of a mighty warrior scarred inside and out and the beguiling sorceress with the power to heal him—or vanquish him forever.

ETERNAL OBSESSION

As a boy, Thronos, prince of Skye Hall, loved Lanthe, a mischievous Sorceri girl who made him question everything about his Vrekener clan. But when the two got caught in the middle of their families' war, tragedy struck, leaving Thronos and Lanthe bitter enemies. Though centuries have passed, nothing can cool his seething need for the beautiful enchantress who scarred his body—and left an even deeper impression on his soul.

ENDLESS YEARNING

Lanthe, a once-formidable sorceress struggling to reclaim her gifts, searches for love and acceptance with all the wrong immortal suitors. But she's never forgotten Thronos, the magnificent silver-eyed boy who protected her until she was ripped from the shelter of his arms. One harrowing night changed everything between them. Now he's a notorious warlord with a blood vendetta against Lanthe, hunting her relentlessly.

CAN THE HEAT OF DESIRE BURN BRIGHTER THAN VENGEANCE?

With their families locked in conflict and battles raging all around them, will Thronos and Lanthe succumb to the brutal chaos that threatens everything they cherish? Or will the fragile bond they formed so long ago spark a passion strong enough to withstand even the darkest doubts?
Before I started blogging in 2012, I had read most of the books in the Immortals After Dark Series. Once things on the blog picked up, it was hard to catch up (there are 14 books in the series!) I was ecstatic to find some time in between other commitments to catch up on this series and after reading the last 3 books in the series so far (with hopefully many more to come!), I remember why I love anything paranormal and Kresley Cole so so much!
I've been reading books since a child, reading the gamut of different genres and finding my love of books growing bigger and bigger with each book I came across. Reading paranormal for me has always been one of my favorites. I've taken a mini break for about a year from reading paranormal but after reading three Kresley Cole IAD books back to back, I feel rejuvenated and refreshed and remember why I love paranormal reads so much. Maybe it's because of this other worlds experience where authors such as Ms. Cole create these worlds that are so vivid in your mind that you want to live there. Maybe it's the bond and love between true mates that gets me every time; that raw sexuality and physical connection that nothing can break. Or maybe it's just the compelling writing that pulls you in so you can't put the book down; wishing that time can stop still for a moment so you can devour the book in one sitting. IAD books consume me over and over and I LOVE THEM COMPLETELY! For those who have read this series, you likely know and feel my sentiments exactly. For those who have not, read on and understand why this is a series (all 14 books!) is a must read and experience because it is on a level all on it's own!
For those who haven't read this series…here is a brief summary of the entire series from Kresley:
Every creature or being that was thought to be mythical . . . isn't.

They all secretly exist alongside humans and enjoy the gift of immortality. There are hundreds of different kinds: from Vampires to Lykae, from Furies to Shifters, from the Fey to Valkyries.

These immortals call their world The Lore.

You may have had a brush with one of Lorekind already. The eccentric billionaire with hypnotic charisma—and an aversion to sunlight. The ethereal waif of impossible beauty—whose fingernails look more like claws. The Highlander with a seventeenth-century Scottish accent and animal magnetism—who can never be penciled in on the night of the full moon.

They walk among us, but they war among themselves. Each faction has its strengths, weaknesses, and age old prejudices against the others. Every five hundred years, the Accession, a battle for supremacy, rages. That time is now. . . .
Dark Skye is a beautiful story of 2 beings from different factions of the Lore met as children and formed an unbreakable bond of friendship and love. Thronos, a Vrekener has loved Lanthe, a Sorceri girl from the moment they met as children knowing from the get go that they were fated to be mates. As they are young, its innocent and fun until the unthinkable happens because of the war between their families and they become bitter enemies; Lanthe continuously running from Thronos who searches for her for centuries because of his need for his mate.
This story is truly a series of hardships that these two will have to overcome in order to get over their hatred and distrust for one another. I have to say experiencing their thoughts of how much they really broke each other to the core, the guilt and remorse broke my heart completely. But being with them and seeing their interactions gave me hope for something more – survival, finding the meaning of true love and knowing that any challenges that could come into their path could be overcome because they were together.
Like many of Ms. Cole's male heroes, Thronos is a good man; soulful, honest, romantic and protective – a fine man that any woman would fall in love with. And Lanthe is a strong woman,standing up for her beliefs and not backing down, being true to her faction of the Lore while challenging her mate. What I love most about Ms. Cole's books is feeling the powerful, strong love and emotions emitting from the pages of her books and she has again succeeded in creating another epic love story complete with adventure, thrills and that all consuming love that is beautiful to behold.
The Immortals After Dark Series is one of my favorites and I look forward to more. Ms. Cole interweaves many other stories and characters within her books making the reader completely vested into this magical world she has created; always being on the lookout for what character she will write about next. To truly experience this dynamic series, I encourage you to lose yourself in this world..this is one not to be missed!
♥SERIES READING ORDER♥
Book 1 – The Warlord Wants Forever
Book 2 – A Hunger Like No Other
Book 3 – No Rest for the Wicked
Book 4 – Wicked Deeds on a Winter's Night
Book 5 – Dark Needs at Night's Edge
Book 6 – Dark Desires After Dusk
Book 7 – Kiss of a Demon King
Book 8 – Deep Kiss of Winter
Book 9 – Pleasure of a Dark Prince
Book 10 – Demon from the Dark
Book 11 – Dreams of a Dark Warrior
Book 12 – Lothaire
Book 13 – MacRieve
Book 14 – Dark Skye