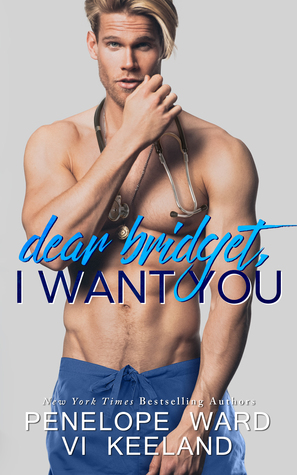 Dear Bridget, I Want You

by Penelope Ward, Vi Keeland
on September 18, 2017
Pages: 350
Buy on Amazon, Buy on B&N, Buy on iTunes, Buy on Kobo
Goodreads


From the New York Times Bestselling authors of Stuck-Up Suit and Mister Moneybags, comes a sexy new standalone novel.

Dear Bridget,
I'm writing this letter because it's highly doubtful I'll ever garner the courage to say this to your face.
So, here goes.
We're totally wrong for each other. You're the proper single mum with a good head on your shoulders. I'm just the carefree British doctor passing through town and temporarily living in your converted garage until I head back to England.
But here's the thing… for some bloody reason, I can't stop thinking about you in very inappropriate ways.
I want you.
The only reason I'm even admitting all of this to you right now is because I don't believe it's one-sided. I notice your eyes when you look at me, too. And as crass as I appear when we're joking around about sex, my attraction to you is not a joke.
So, what's the purpose of this note? I guess it's a reminder that we're adults, that sex is healthy and natural, and that you can find me just through the door past the kitchen. More specifically, it's to let you know that I'm leaving said door cracked open from now on in case you'd like to visit me in the middle of the night sometime.
No questions asked.
Think about it.
Or don't.
Whatever you choose.
It's doubtful I'll even end up sliding this letter under your door anyway.
--Simon
Dear Bridget, I Want You kept me glued to my kindle. This was the kind of book that had me opening the kindle app on my phone to sneak a read any second I could!
Simon and Bridget's first meeting was hysterical as well as well crafted. It had just enough pull and humor to keep the tad bit of inappropriate believable.
Simon and Bridget reconnect having nothing to do with their first meeting and when this happens the chemistry builds almost immediately.
This book was a slow burn—not always my favorite kind of read—but in the context of this storyline, it worked perfectly.
Dear Bridget, I Want You is filled with fabulous banter, wonderful character interactions, and scenes that have the reader feeling the connection these two share. I know I often found myself smiling while reading this book!
Simon may be one of my favorite male lead characters of the year—his tenderness, his love, and his willingness to eventually embrace what is in front of him—stole my heart! Oh and the scene with his mum, I fell even more in move with him there for sure!
The twist, the twist was epic! How it tied Simon's profession to Bridget's past is something you will likely NOT see coming but your heart will hurt for Simon.
In the end, I adored the theme of… you don't know what you want until you find it!
The life Simon builds with Bridget is the life he was meant to live—he just didn't know it until he met her.
As an aside, it is amazing to me that this book was written by a writing duo… the writing is flawless, it truly feels like one voice telling a masterfully woven story that will keep you captivated from cover to cover.


Buy Dear Bridget, I Want You