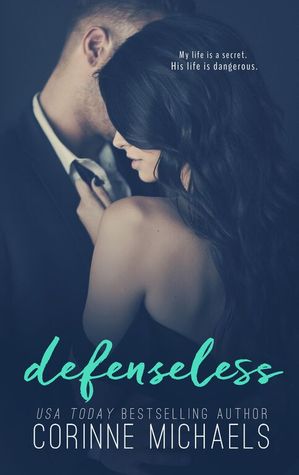 Defenseless

by Corinne Michaels
on January 19, 2016
Buy on Amazon
Goodreads


My life is a secret.
His life is dangerous.
We're both stubborn, calculating, and controlling.
Mark Dixon doesn't know what he's getting into. He doesn't know his games could cost us our lives. I have to do what is necessary to keep us alive, and that means guarding my heart.
But I know I'm defenseless against him, and in the end, he'll force me to surrender.
Defenseless is a romantic suspense that can be read as a standalone. Though I do encourage anyone who has not read a Corinne Michaels book to read her books, as readers will meet the characters in those prior books and will really be vested in their stories and for each one to find their HEA.
To start off with…I have loved Mark since the very beginning. Mark is the funny guy that you are immediately drawn to, that you can't help but smile at his every interaction. Yes he is a guy's guy, but its his funny charismatic persona and his heart just grabbed me and my heart.
Defenseless is Mark's story to finding his happy. What starts off as a mission to find his friend ends up being so much more.
For those who haven't read the prior books, Mark Dixon is a former Navy Seal now working for Cole Security. Charlie Erickson is a CIA Agent out for revenge.
Without giving anything away of their story, Mark and Charlie have this awesome dynamic between them – not only insanely HOT but their bantering was equally amazing. Mark can take Charlie from 0 to 60 where they are arguing in an instant. It was this connection that made Defenseless such a fun read and I was immediately vested in them.
Where Mark is charming and hilarious, Charlie is serious and in control. So it was fun to watch the attraction between them and that despite "the job" there is this underlying current that screamed to me that there was more to this couple. Watching Mark try to break down Charlie's walls because he sees beneath her tough exterior coupled with his romantic words completely melted my heart and turned me to mush.
So while careers and their missions have always come first for these two, it was entertaining for me to experience the battle of wills when it comes to matters of their hearts.
But with the constant danger surrounding them and the fear for their lives and that of their loved ones, will this couple be able to make it through and survive together?
Well of course you will have to read this book to find out!
Readers looking for a book that will make you laugh and where the sexual tension will be emitting from every page, where the suspense will keep you on the edge of your seat should look no further than Defenseless. I liked that though these books can be read as standalones that this book gave us more insight into the suspense aspect that started off in prior books and gave us some answers while still remaining true to Mark and Charlie's story and their HEA. Job well done!