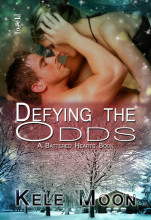 4 STARS!!!
Summary
When struggling waitress Melody Dylan gives a handsome, lonely stranger a simple gift she has no clue her life is about to take a drastic turn.
The stranger ends up being Clay Powers, a famous UFC heavyweight fighter. Clay's large build and dangerous fists have always intimidated. People in his hometown keep their distance and Clay is fine with that. Everything changes when a new waitress at the local diner buys him a piece of pie on thanksgiving. Touched by the gesture when it's obvious she can barely afford to survive, her warm smile and lush body churn up powerful feelings that leave Clay wanting more from her than pie.
Melody is running from her past and the small, country town of Garnet is the perfect hiding place. With an ex-husband after her and scars from her abusive marriage etched deep, the last thing she expects is to fall for a man who makes a living with his fists, but she can't resist Clay or the tender connection they share.
Finding love in the most unlikely of places, the passion is undeniable, but Clay and Melody know their haunted pasts and unpredictable futures leave the odds stacked against them.
Publisher's Note: This book contains explicit sexual situations, graphic language, and material that some readers may find objectionable: violence.
Denise's Review
Melody Dylan is a struggling waitress wounded by an abusive ex-husband.  While being fearful of men, she still manages to maintain her kind soul and when seeing a handsome lonely stranger eating alone on Thanksgiving, she uses what little money she has to buy him a piece of pie.
This simple act sets in motion a heartwarming story of second chances and redemption.
The man she buys that piece of pie for is Clay Powers, a famous UFC heavyweight fighter. Clay has a background that will break your heart; you will feel for him as a child as he worked to find his place in the world. Clay did find a place, a place with the family that took him on (him getting to that family is so fun to read).  That family is the two bonds Clay has in his adult life.  His best friend is Wyatt Conner, the town Sheriff and his sister Jules Conner, the town lawyer.  These three have each other but no one else and until the moment Clay saw Melody he had no issues with that.  
That moment in the dinner Clay sees a light in Melody, her gesture warms him and Ms. Moon makes sure the reader feels that.  Clay starts to see his life in a way he never thought possible, a life with a woman he could love and who would love him for just him, not his money, not his fame and not what he could give them.
This heartwarming story of their relationships builds slowly.  Ms. Moon allows us the experience of both of these wounded souls opening up to love and their connection. When these two do finally connect physically in typical Ms. Moon fashion, it will light up your kindle.  It is one of those scenes that will stick with you! Clay is tender and powerful, caring and lustful all at the same time.
These two know they have found something together but when Melody's abusive ex-husband threatens will they survive??
Well, you will have to read Defying the Odds to find out!!
Ms. Moon – thank you for the entertaining read, and for creating such a big man with an even bigger heart.
Ms. Moon has become one of my favorite authors.  I am very excited to pick up Star Crossed next and read about Jules Conner!!
About the Author
A freckle faced, redhead born and raised in Hawaii, Kele Moon has always been a bit of a sore thumb and has come to enjoy the novelty of it. She thrives off pushing the envelope and finding ways to make the impossible work in her story telling. With a mad passion for romance, she adores the art of falling in love. The only rules she believes in is that, in love there are no rules and true love knows no bounds.
So obsessed is she with the beauty of romance and the novelty of creating it she's lost in her own wonder world most of the time. Thankfully she married her own dark, handsome, brooding hero who had infinite patience for her airy ways and attempts to keep her grounded. When she leaves her keys in the refrigerator or her cell phone in the oven he's usually there to save her from herself. The two of them now reside in Florida with their three beautiful children who make their lives both fun and challenging in equal parts–They wouldn't have it any other way.
Twitter https://twitter.com/Kele_Moon
Website http://www.kelemoon.com
Facebook http://www.facebook.com/kelemoon
Goodreads http://www.goodreads.com/author/show/4340854.Kele_Moon