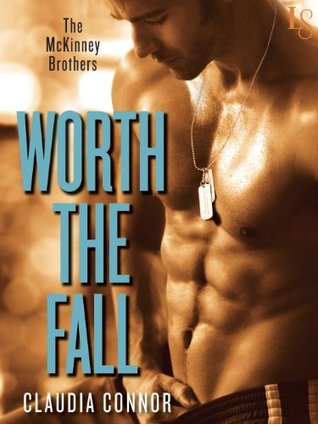 Worth the Fall

by Claudia Connor
on September 9, 2014
Pages: 312
Buy on Amazon


They meet on a beach. . . . Abby Davis isn't wearing a skimpy bikini or sipping umbrella drinks, not when she's busy chasing around four little ones. And Matt McKinney isn't looking for fun—he's a Navy SEAL, a grown man with a long list of missions . . . and fallen brothers.

They only have a week. . . . Abby has brought her children to this beach to start over, to give them the enjoyable memories they deserve. Matt's been sidelined by a combat injury, and haunted by the best friend he lost and the promise he made: to remain a SEAL—focused and dedicated. This leaves no time for what he's always wanted: a family.

But a week is all it takes. . . . Matt opens her heart while Abby soothes his soul. And though they plan to say good-bye when the week is over, something magical happens on that beach, something neither can forget. Something utterly, completely worth falling for.
This is a new author for me; the blurb grabbed attention and I am so happy I picked this one up!
I got lost in this book, like make you late for work, wish you could curl up all day with the book kind of lost.
Worth the Fall is story of Matt McKinney and Abby Davis.  Matt was such a wonderful character, his genuine good nature had me from the first time the reader meets him.  As the blurb says, Abby is a single mom and I truly loved how the opening scenes fit the blurb of Abby not sitting on a beach in a bikini but trying to care for her children; many of us can relate to having children on the beach and the nonstop movements.
Watching Matt develop a bond with Abby and her children was so enjoyable, I was truly engrossed in the story and was so rooting for their attraction to find a way to a forever love.
We do learn later in the book that yes, this SEAL has demons; ones that almost cost him everything and the way this author pulled this off was masterful.
The children in this book were adorable; each was crafted with their own identity and each with their own bond with the lead characters. There are a few times throughout this story these children brought tears to my eyes.
I also loved the use of Matt's family; the McKinney's family helped to layer this book and truly felt true to the story told. I don't want to give away how they are used but the family dynamic was so wonderful.
In the end the happy that Abby and Matt create is one that is prefect for them.  The "how" such a wonderful "hero" this Navy Seals falls for the Mom is 4 truly touched my soul!
No, I am not telling you how they get there because you truly should read this book!
Can't wait for Stephen's story in Worth the Risk: The McKinney Brothers series book 2 http://amzn.to/1mQS1nj
This is a new must click series for me.

This scene comes directly before chapter 7.
Matt stood at the rail overlooking the ocean. A storm was developing and the wind whipped his T-shirt against his body. He'd started his day with an early run, had packed his bag and talked to a few guys from his team. All of that, and he'd been continually drawn to his ninth story balcony where he had a clear view of the beach. And Abby.
What was it about her? He should be on the road. Hell, he should have gone three days ago. He had things to take care of.
But even after her cold brush-off he was still thinking about her, still reliving the feel of her in his arms. He needed to check Charlie's stitches and he'd told Jack they could practice throwing the ball today. Damn it. She had him so twisted up inside he didn't recognize himself.
He tried to tell himself she wasn't worth it, that she'd just been a good distraction for a couple of days. She was a distraction all right, but it was more than that. She'd come into his arms so sweetly. He could still feel her soft body against his, could still smell her.
Then, like someone had flipped a switch, she'd gone stiff and distant. He couldn't give a shit about gratitude. His anger had more to do with his arms being left empty.
In that moment he'd needed to hold her. Just a man with bloody memories he felt painfully guilty for trying to forget. If only he could have stymied the flow of Teddy's blood as easily as Charlie's.
The flimsy plastic chair scraped across the concrete flooring. He looked at the caution flags changing direction, felt the downward blast of cool air. Brilliant streaks of lightning flashed over the ocean in the distance, but he couldn't enjoy the storm as he usually would. Not with Abby and the kids out there.
The wind pulled at the umbrella Abby fought to lower. The mass exodus had begun and people ran past her. Just leave it. Get the hell off the beach.
There was no way she was going to make it ahead of the storm. Another lighting strike spilt the sky followed by a boom of thunder strong enough to shake the ground. Way too close. She might not want his help, but she was damn well about to get it.
Matt shouldered his way through the masses, a lone figure going against the tide of those seeking shelter. By the time he got to Abby, she had the umbrella lowered and was directing the kids to catch the buckets rolling down the beach and hold on to their wildly blowing towels.
He wrenched the umbrella base out of the sand and laid it flat with their beach chairs folded on top to weigh it down. She flashed a surprised look over her shoulder then went back to her task, stuffing things in her bag as fast as she could.
When the next crash of thunder shook the ground, Gracie and Charlie ran straight into his arms. He swung them up, one on each side, and grabbed her bag. Just in time.
The skies opened up and the rain assaulted them in sheets so hard it stung the skin. Matt jogged toward the boardwalk, making sure Abby was right behind him. Annie and Jack ran ahead but another crack of thunder froze them in their tracks and the lightning struck so close he swore. "Forget the shoes," he yelled. "I'll come back for them later."
They reached the lobby of elevators along with about a hundred other guests. Jack and Gracie talked excitedly, recounting their mad rush. Annie stuck close to his side and Charlie shivered in his arms. Neither Matt nor Abby spoke, though his skin felt so tight just being this close to her it might split.
Now that he had his head out of ass and had gotten over his hurt feelings, he got it. She was scared. She'd already told him she didn't want to need anyone and although he didn't know all of it, he'd bet her childhood had been way more crappy than she let on. He'd been an idiot for letting her push him away.
Their turn finally came and Matt ushered them into the small elevator, using his body to shield Abby and the kids from more people who would have packed in. He didn't want her or the kids crowded, plus he didn't care for the way men were looking at Abby now, there eyes stopping to rest just a little too long.
The door closed and with her back to the wall, he faced her, bringing them chest to chest. Her nipples were hard against her soaked shirt and he fought to keep his gaze and his mind from getting stuck there.
There was something beyond attraction going on here. Chemistry? He'd never understood what people meant by that. Maybe now he did. Because he wasn't a boy, he was a man who'd done enough laps around the female test track to know when something was different. Merely standing close to a woman shouldn't effect him this way. But then again, Abby wasn't just any woman.
A multitude of emotions played across her face and he zeroed in on her eyes, willing her not to look away. A startled deer under the harsh fluorescent lights of the elevator, so uncertain, so afraid to lean on anyone. Dripping wet, no make up, dark strands of hair plastered to the side of her face, and still she was the most beautiful thing he'd ever seen.
She shivered and the pulse in her neck caught his attention. He wanted to put his mouth there, kiss his way up her throat and across her shoulder. He wanted to pull her against him until he felt every curve. Take those kissable lips that looked so silky soft it was driving him crazy that he didn't know first hand. He wanted—
Too soon the elevator doors opened with a happy ding, seemingly mocking him. Damn elevator.
He cautioned the kids to be careful on the slick floor then repeated the warning three more times before they reached their condo door.
With everyone safely inside he had no reason to stay, but he didn't move. Just continued to stare into her upturned face. God knows he wasn't one to stick around for uncomfortable conversations with the opposite sex. Though that was rapidly changing. "You need to change," he said. "You're shivering."
She bit her lip, looking up at him like a prisoner facing a firing squad. "I'm sorry about last night. I—"
"It's okay." He couldn't stand her beating herself for being afraid.
"No." Her gaze slid over his chest, then dropped to the floor. "It's not. I just–"
"Abby." He cupped her cheek, brought her face up to meet his and the heat of her skin burned him. "Go change. You're freezing."
Before she stepped away, Gracie bounced between them like Tigger on crack. "Matt, we bwought games for a wainy day and guess what? It's a wainy day."
When he didn't respond, she recited a long list of game choices, throwing in other enticing activities like playing hair, whatever that meant.
Abby cleared her throat. "Gracie, go change out of your wet bathing suit."
"Okay. Then we can pway."
Gracie bounded off and Matt waited and watched Abby looking anywhere but at him. Seconds passed and he reached for the door but stopped at the sound of Jack's voice.
"Matt, it's pizza night. Can you have pizza with us?"
"Umm…" As far as Jack was concerned, nothing had changed. What the hell was he supposed to do? He knew what he wanted to do.
"Don't you like pizza?" Jack asked.
"Sure I do."
Jack thought about that for a second. "Don't you like us?"
Matt knelt down in front of him, hating the hint of insecurity in the boy's voice. "Of course I do, bud." He shifted his gaze to Abby. "I'm just not sure tonight is the best—"
"You should come," Abby said.
Surprised, he waited for her to say more, but evidently that was all she could manage.
"Okay." He never took his eyes from hers even as Jack cheered. "I'll change clothes. What time should I come down?"
"Five-thirty?"
"Sure." Three hours, but Abby looked like she needed time to regroup, build up her walls. That was fine, because tonight, he was going over them, whether she liked it or not.