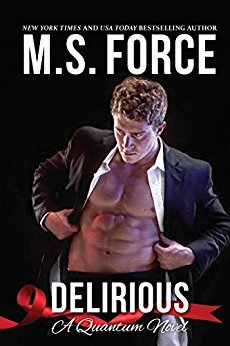 Delirious

on September 12, 2017
Buy on Amazon, Buy on B&N, Buy on iTunes
Goodreads


As one of Hollywood's hottest producers, Kristian Bowen is on top of the world. With the Quantum team is fresh off a clean sweep of awards season and looking ahead to the premiere of their new film, Insidious, Kristian's life is exactly how he likes it, complete with a stable of willing subs to tend to his every desire. Until he attends the wedding of his friend and business partner Flynn Godfrey and meets Aileen Gifford, the close friend of Flynn's new wife, Natalie. Since meeting Aileen five months ago, Kristian's carefully cultivated life has changed in ways he never could've expected. Now Aileen and her children are moving to Los Angeles, and he's not sure whether to be excited or terrified about his powerful feelings for the single mom…

Aileen is coming off the worst year of her life, spent battling breast cancer while taking care of two young children. When Natalie, Flynn and their other friends encourage Aileen to move to LA and work for Quantum, she jumps at the chance to give her family a fresh start. And with her off-the-charts attraction to Flynn's business partner in the mix, the idea of living in LA becomes that much sweeter. Until everyone shows up to welcome her and the kids to their new home in LA—except Kristian.

He can't avoid her forever, and when these two finally see each other again, sparks fly between the single mom and the producer with a past he's kept hidden from everyone who matters to him. When that past rears its ugly head, will he run away from the woman he loves or turn to her for comfort in the storm? And will she prevail in convincing him that he can be himself, in every possible way, with her?

Kristian and Aileen's long-awaited story is full of heat, heart and humor, as well as appearances from all the Quantum characters readers love!
Enjoy a sneak peek into DELIRIOUS by M.S. Force below!
Delirious is easily read as a standalone but I think you will enjoy it so much more if you read this amazing series that lead up to Kristian and Aileen's story.
As the blurb reveals and those who have read the prior books know, Aileen is single mom and a breast cancer survivor.  I want to pause here and say Ms. Force did a wonderful job at making Aileen's journey palpable to the reader. Her journey back to healthy, her children having to deal with that—well it layered this story with deep emotions that touched my soul!
Kristian Bowen is one of Hollywood's big producers and a Dom at heart. His connection to Aileen and the deep pull within his soul to her bled off the pages.
I can not express enough my profound love for this character—the scene toward the beginning of the book with Aileen's daughter was so powerful.  The reader feels Kristian's instinct to be there for her children.  It is made very clear that Aileen is different for Kristian; his feelings are different than anything he has ever experienced (yes I love that in a book).
Kristian's past was WOW. The way it moved the story forward, the way it allows the reader to feel Aileen's connection to him and how the team comes together—it all made my heart sing.
As a reader who loves this series, curling up with this book was like coming home.  This world feels real and I feel connected to the characters.  I was lucky enough to have this book with me on a day where I needed to escape in a great book. I am so grateful to the author for providing that to me with her masterfully crafted story.
The sex in this book is hot, but it was so much more. It was woven with emotion and healing for Aileen. This is not your typical BDSM, it is so much more.  The sex is only a small piece of the story and I adored that about this book.
I have no doubt that Kristian and Aileen were meant for each other.
Oh if you read the prior books in the series you will love spending time with the cast of the series!

Aileen
A knock on the door has my heart doing backflips. He's here. I jump up to open the screen door for him, and I'm struck once again by how beautiful he is. Dark wavy hair, incredible blue eyes, made more so by the light blue shirt he's wearing, and a body to die for. He's carrying a huge armload of flowers and a bag.I hold the screen door for him. "Come in."
"For you," he says, handing me the gorgeous and fragrant arrangement. I recognize lilies and snapdragons and my favorite, white hydrangeas. I love that he included them, which means Natalie must've told him they're my favorite.
"They're beautiful. Thank you."
He offers a small smile as his gaze lands on my lips, letting me know he wants to kiss me but won't with Logan looking on.
I burn for that kiss.
"Hey, Logan."
"Hi."
"How's Maddie?"
"She's napping. The cut was hurting earlier." I nod toward the kitchen. "Want to help me put these in a vase?"
"Um, sure."
In the kitchen, I put the flowers on the counter and turn to him, resting my hands on his hips. "Hi," I whisper.
"Hi, yourself." His voice is gruff and sexy, and I wish I could be alone with him. That thought is unprecedented for me. I'm not the kind of mom who yearns to be free of her kids. I love being with them, and they're never too much for me. The three of us have been a unit for so long. But now…
His lips brush against mine, clearing my brain of every thought as I process his nearness, his scent, the tingle of his late-day scruff against my face.
I take a deep breath.
He shifts his attention to my neck. "Long fucking day," he whispers.
"Were you busy?"
"Yeah, but that's not what made it long."
"No?"
He shakes his head. "Waiting for this made it long." His arms slide around me, bringing me in close to his fully aroused body.
My reaction is instantaneous, my legs are like rubber bands wobbling under me. The last thing I want is to put a stop to something that feels this good, but we can't do this now. "Kristian…"
"Hmm?" He seems to be breathing me in, which I find wildly erotic.
"The kids."
He freezes, raises his head and takes a step back, but his eyes… His eyes are on fire for me. "I'm sorry."
"Don't be. I wanted that as much as you did."
"I'm not sure that's possible."