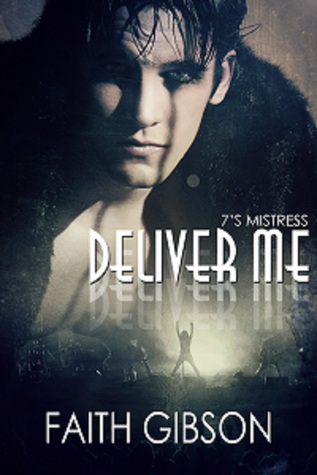 Deliver Me

by Faith Gibson
on October 2, 2015
Buy on Amazon
Goodreads


Taggart Lee has it all.
Fame.
Fortune.
Everything except love.

Tag is the jaded lead singer for 7's Mistress, the biggest rock band in the world. After fifteen years in the business, he's drowning in it all. When tragedy strikes, he takes a break from the road and the monotony his life has become. When he meets a gorgeous man on a park bench, he sees his lifeline.

Dr. Erik Henrikson thought he'd met the one.
He had.
The wrong one.

A year after his breakup, he still has a lock on his heart. Then he meets Lee, someone whose life has just been turned upside down. When he finds out Lee's true identity, Erik throws away the key.

Tag has two weeks to make the doctor want him. He has three months to prove he won't hurt him.

Tragedy brings them together.

Lies and betrayal push them apart.

Is love enough to deliver them?
Deliver Me is my first book by Faith Gibson, and it is one I truly enjoyed!
I have to say the first time it was recommended to me, the cover turned me off a bit, the second time it was referred to me (Thank you Pam) I was willing to overlook the cover and read it!
I am so happy I did because Lee and Erik's story truly warmed my soul and at times had me gripping my kindle!
Now the trick is sharing my love of this one without spoilers…. because from chapter 1 the thing that pulled me in is a major spoiler…. so ……
Taggert Lee is rocker who appears to have it all but when Tag whose real name is Lee… is sitting on a park bench at his wits end, his chance encounter with doctor Dr. Erik Henrikson and his dog Duke is the beginning of something so beautiful. It eventually helps add light to the darkness Lee has found himself in. (vague I know sorry).
I want to add Taggert's band's name is 7's Mistress and the explantation behind the name had be laughing out loud! I also want to add that the story behind how Erik ended up with Duke touched me so deeply (though that may be because I had a similar event happen in my life).
Lee and Erik's next meeting is a bit stranded but it was so true to both men and the head space they were in.
As Lee and Erik build a friendship and start to give into the attraction, this relationship was clearly something so very different than anything either had experienced before and I loved it!
This book has an extraordinary use of secondary characters. Deliah stole my heart (such a major role throughout the story), Echo made me smile, Cade often made me want to punch him and Sarah, well her I wanted to shake.
In the end, the happy the Erik and Lee find warmed my heart and the epilogue stole my heart!
Thank you, Ms. Gibson for a wonderful read!