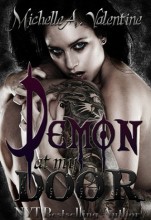 Stop by our blog on February 26th for an exclusive outtake from Demon at My Door!
5 STARS!!!
Summary
Gothic outcast Natalie Sugarman bartered her soul for her dying mother's life sixteen years ago to a boy demon that could stop time. Now, days before her twenty-first birthday, the lifelines on her palms are slowly vanishing, and she knows it's just a matter of time before Satan's little helper collects.
Natalie's tried numerous times to kill the demon and regain control of her soul's destiny, but she always falls short. When she decides to try and gain the element of surprise for her next attempt, Natalie seeks answers about his location from a freaky, glowing-eyed fortuneteller. Creeped out by the psychic's methods, she bolts from the reading and misses the warning that the demon who stole her soul is always closer than she thinks.
After some strange incidents with her new boyfriend, including a hot, levitating sex session, she realizes he's the grown-up version of her little nightmare and he's returned to collect on their deal. Natalie must figure out how to win her soul back from the demon before her lifeline completely disappears and she becomes his forever—even if that means making a deal to damn three other souls to take her place.
*Demon At My Door is a New Adult Paranormal Romance with very mature scenes*
Christine's Review
I love Michelle Valentine's Black Falcon Series so when I heard she had a paranormal book, I jumped right in!  And I'm sure glad I did!  I am a HUGE paranormal fan and haven't read it in a while and this book has sucked me right back in and now it's all I CRAVE to read!
Natalie Sugarman can sense when people are about to die.  This unfortunate gift she has is because she promised her soul to a demon to save her mother from dying when she was just 5 years old.  In promising her soul to the demon, he tells her he will be back to collect it when it's the right time.  Now at 20 years old, she watches as people are dying, begging for her help yet she can't do anything to save them.  Nor can she kill the demon which she has tried to throughout the years over and over.  What makes her so special that she is the only one to live?
Nat is a social outcast so it surprises her when her golden boy next door neighbor Stewart Masterson starts to pay attention to her and they have a secret relationship throughout the summer.  They are complete polar opposites yet there is an undeniable attraction between them.  Nat's hopes are crushed when Stew reveals that their relationship will continue to be a secret when they return to school and Nat realizes what an ass he is to want to keep up with false pretenses rather than admit his true feelings for her.
When Rick Steele walks into Nat's life, with his "great smile and a deep throaty voice that makes me think of hot caramel over smooth, cool ice cream.  He'll do well in the girl department here.  Especially with those intriguing gray eyes – the kind that peer into your soul – and thick, dark hair that nearly touches his shoulders" – be still my heart – SWOON!  Rick immediately treats her as any woman would want to be treated – not only is he gorgeous he is also protective, honest, and real – it's EXACTLY what Nat needs to build upon her confidence.
Without revealing anything, I read this book in ONE sitting…that's how captivated I was not only by the story and the characters but also by the suspense that kept me guessing throughout the book.  I thought I had things figured out but then I didn't.  I love a good love triangle and Michelle did not disappoint.  Will Nat choose the popular golden boy or will the seemingly bad boy with tattoos capture her heart?  Will her demon come back for her soul or will she be able to find a way to get out of her bargain?  You will have to read this book to find out!
I was completely satisfied with the ending but know that there will be a book 2 and I CAN NOT wait til it gets here!  Thank you Michelle Valentine for providing me with an ARC of this beautifully written book.  You have reminded me why I have such a love for paranormal and these characters will not easily be forgotten!  THANK YOU!
Character Inspirations
About the Author
New York Times Best Selling Author Michelle A. Valentine is a Central Ohio nurse turned author of erotic romance of novels ROCK THE HEART (2012), ROCK THE BAND (2013) and ROCK MY BED (2013). Her love of hard-rock music, tattoos and sexy musicians inspired her BLACK FALCON series.