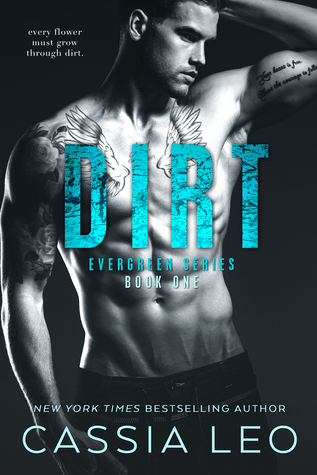 Dirt

by Cassia Leo
on January 12, 2018
Buy on Amazon, Buy on B&N, Buy on iTunes, Buy on Kobo
Goodreads


A hard-hitting, emotional new series from New York Times bestselling author Cassia Leo.

Jack and I had everything. Then, in one brutal instant, the universe tilted on its side, discarding us into black nothingness.

Now, I have a cocky a**hole for a husband.

The only way we communicate anymore is when we're fighting or f**king.

With nothing left to lose, I write Jack a goodbye letter and head for Portland, where I quickly meet a neighbor who helps me find a job.

My new neighbor—hot, tattooed ex-soldier Isaac Evans—is complicated. Nevertheless, we form a fast friendship, bonding over our mutual desire to create something beautiful from the wreckage of our lives.

But despite the distance between us, Jack and I are still trying to make things work—fighting and f**king dirtier than ever. And he doesn't appreciate my new friendship with Isaac. Not one f**king bit.
Damn that was completely addicting and left me wanting more!!! Dirt is the first book in a new series by Cassia Leo and follows the story of Laurel and Jack as they try to navigate their life after the most traumatic experience any parent can go through.
Their life—though still filled with passion and heat—lacks that all encompassing love they once shared because of heartbreak and hurt and not being able to move forward.
I felt their pain and sorrow and despite the separation I could see the love that was still present. But without trust there can't be forgiveness or the possibility of moving forward when you can't be completely open with your loved one.
Cassia Leo knows how to write heat and OMG that was sexy as hell but even more than that, I loved the suspense and that cliffhanger…just WHOA!!!
I hope we don't have too long to wait because I can't wait to read the next book in the series to see how this will all play out.
I haven't read a Cassia Leo book in a long time and am so glad I was able to early read this one…bring on book two!!!!

I slid out of bed as he knelt down to tie the laces of his gym sneaker. "Why don't you stay a while? It's Sunday. We can have breakfast, then we can Netflix and chill all day."
He stood up and flashed me an uncomfortable smile. "I wish I could, but I have to get home. I have a Q&A in the Facebook group at two p.m."
My stomach dropped. I had just asked him to stay here and basically have sex with me all day and he would rather do a Q&A with some internet sleuths in the Justice for Jack Stratton Jr. Facebook group.
I blinked a few times as I attempted to recover. "Okay. Have fun."
He rolled his eyes. "This Q&A has been planned for months."
"Yeah, I get it," I said, turning to leave the room. "I'm fine. I swear. I have to get started in the garden, anyway."
He followed me down the hall toward the stairs. "Are you sure you're not going to hold this over my head later?"
I bit my lip to keep from lashing out. I wanted to tell him that I had every right to hold this over his head, because this was one of the reasons I had decided to leave. But I had initiated this separation. He was simply adhering to the rules of living separately.
As we reached the bottom of the stairs, I headed straight for the front door. "I'm not going to hold this over your head, but I'm also not going to pretend it doesn't bother me. We can talk about it later, maybe with the marital counselor."
He sighed as he reached for the doorknob. "Great. Something to look forward to."
I flashed him a fake smile as he pulled the front door open. "I'll call you when I've scheduled our first appointment."
He nodded. "Right." He opened his mouth as if he was going to say something else, then he pressed his lips together to stop himself. "All right, well, I guess we'll talk later?"
I nodded, but I remained silent, afraid my words would betray me and we'd end this conversation with an argument.
"All right," he said, eyebrows raised. "This is really fucking awkward. Can we at least acknowledge that?"
"Acknowledged."
"Okay," he said, stepping toward me. "I'll call you later."
He planted a quick kiss on my forehead, then stepped out onto the porch. As I watched Jack's truck drive away, I knew I'd made the right decision. How could two people who knew each other the way we did feel like strangers?